---

*** NEW JERSEY WILD OUTDOOR EXPO ***
September 17th and 18th, 2011, Jackson, NJ

Members and Friends,

TANJ will have a booth and will be demonstrating Traditional Archery both days. We know its the second weekend of Bowhunting season but we are asking you to give up a few hours on Saturday or Sunday for our youth and your TANJ organization!

We need members to step up and help man our booth help teach kids archery, and/or sell our merchandise, and hopefully get people to join our organization.

Below are directions and the itinerary for the weekend ...

TANJ sponsored TANJ member Chris Hurt Archery Trick Shooter for Saturday 11 am & 2 pm show!

Please note that TANJ will be set up in the Shooting Range area and Chris Hurt's demos will be in the .22 Rifle Range area.

Anyone that would like to volunteer please contact Tom Robinson (not me), his email is bldtrailer@aol.com.

PDF files - Expo Agenda ~~~~ Expo Directions

Expo website - www.wildoutdoorexpo.com

P.S. - Your TANJ summer newsletter will be going out this week and the Fall newsletter will be arriving by Oct 1st. We would like to thank our new newsletter Editor Brian Koch and his daughter Portia for all their work and wish them well. Thanks for stepping up!

To All Members - There will not be a Muzzy type Knock-r-Block at Black Knights on Saturday Sept 17th due to no one signing up and or inquiring about the event since Whittingham. Please help! We can't do these events alone we need your help!

We will plan one for next spring as promised but again need your help! Lets get involved!

Gerry DeCaro
President, TANJ


---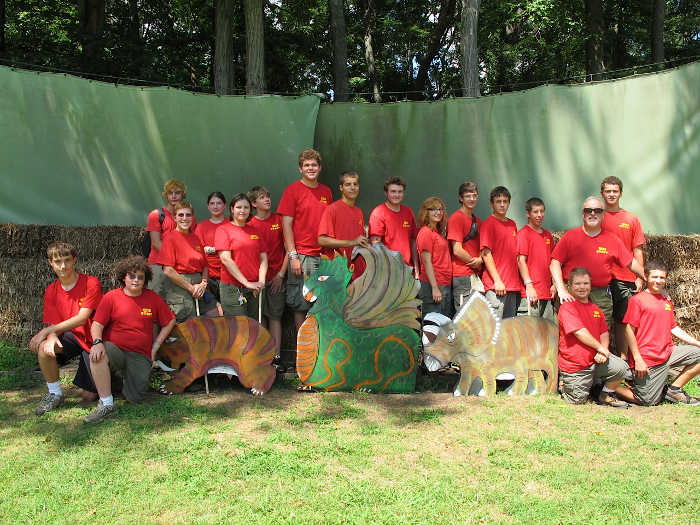 TANJ donated three 3D Rubber Dragon Sabre Tooth Tiger & Dinosaur to the BSA Monmouth County Quail Hill Scout Reservation. Here is a picture of the staff behind the kids targets. These were made by Tom Robinson Shoot Coordinator, Mad Artist and Target Builder. These are also for sale if a parent or guardian would like to purchase for their backyard. Monies generated will go to material to future donation to archery ranges.

Gerry DeCaro
El Presidente


---



A Time of Sorrow


Mary DeCaro, Mother of TANJ President Gerry "Doc" DeCaro, passed away on August 23, 2011. In lieu of flowers donations can be made to Hospice Visiting Nurse Services of Staten Island, NY Prayers and sincere condolences to Doc and all his family.



A Time of Support and Need


A message from Tom Robinson, TANJ Shoot Coordinator ...

"Guys this is where the rubber meets the road - we need someone to step up and FILL Doc's shoes for a shoot, OR WE WILL BE FORCED TO CANCEL KNOCK A BLOCK on September 17th. Doc normally runs the shoot, but due to his need of a surgical procedure for his heart, and family crisis (his loving Mother's death) he's unable to run the Knock a Block event. I would run it BUT I'm already running the TANJ booth and kids shoot at the NJ state EXPO at Colliers Mills on September 17th & 18th.

We need someone to contact Paul Wins Black Knights Bow Benders president and I if you can help. Doc has done so much for others NOW IS THE TIME TO SAY THANK YOU AND SHOW HIM WE CAN STEP UP TO THE PLATE and make him proud!! Paul Wins can be reached at Black Knight Bow Benders - www.blackknightbowbenders.com - or e-mail crkd_arrow@juno.com

Our President is out of action for a little while, so I need to ask and see if anyone can help with running the TANJ booth and kids range on either day (9/17 or 9/18). We will be show casing TRADITIONAL ARCHERY SKILLS making fletching from feathers, cresting, bow string making and having a small kids trad archery range with dinosaur targets. We want to show what makes traditional archery different from those other weapons, that it is an ART form and that the journey is as important as the result (yes I know that the 9/17 date is the same day as Knock a block).

PLEASE! If you want to help, contact me ...

Email - Bldtrailer@aol.comBldtrailer@aol.com
Phone -



Thank you, Tom Robinson"

---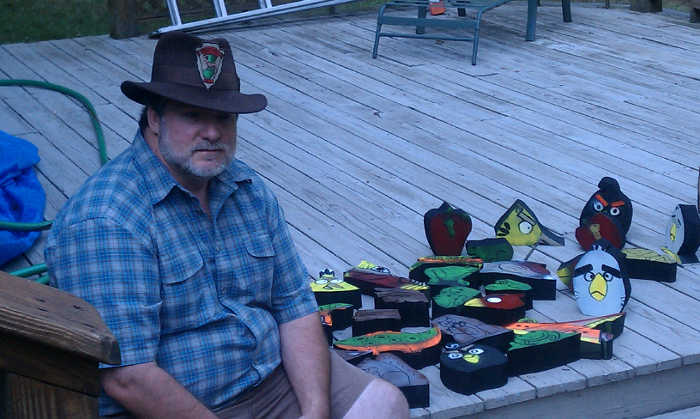 As you can see, TANJ Shoot Coordinator Tom Robinson had some time on his hands and filled my deck and garage with 3 D kids targets! ! Doc.
---
"Eagle Eye" 2011 Winner - Ron Swartz!
Ron (from
KME Sharpener
) bested a tough field of archers at the 2011 Denton Hill Eagle Eye shoot to come out on top! Congrats Ron!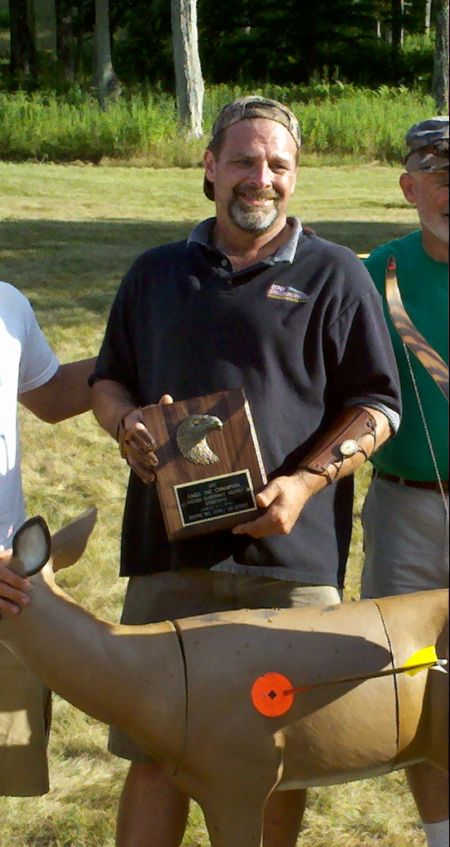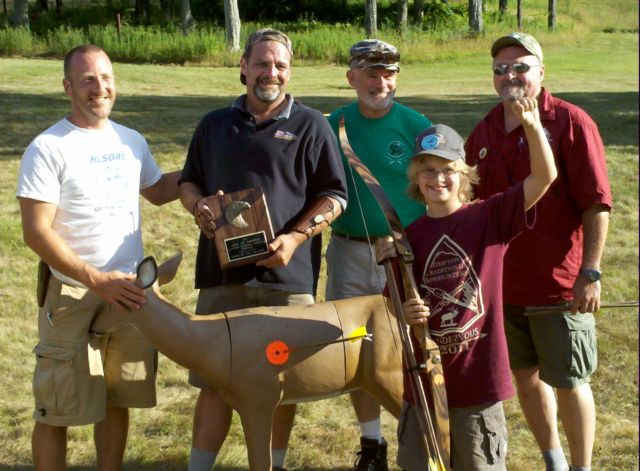 And congrats to Ron's son, Ethan, for qualifying for the kid's Eagle Eye shootout - way to go!!!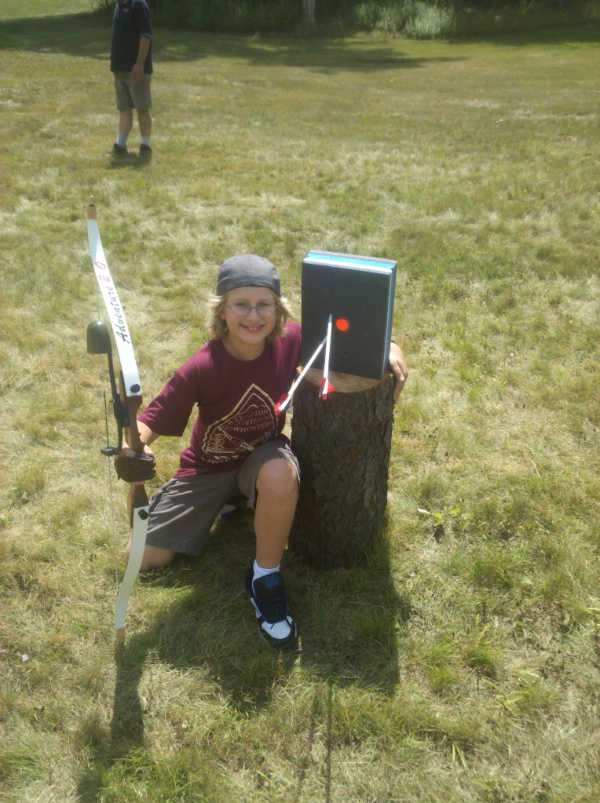 ---
Last Man Standing 2011
---
UBNJ/TANJ Pics from 3D Monday 6/16/11 at BKB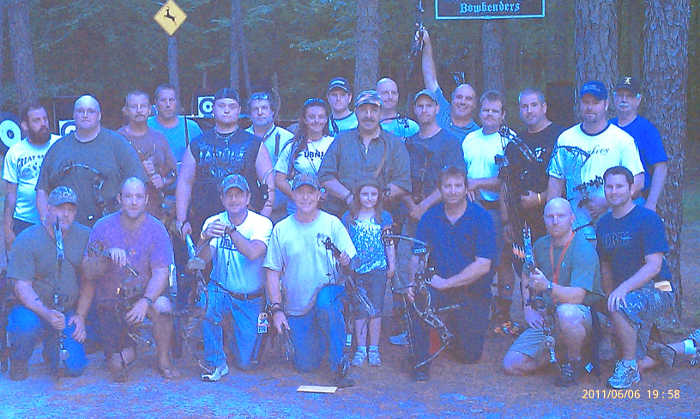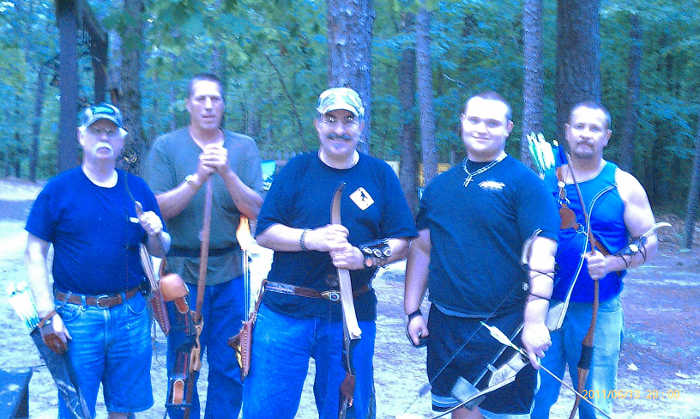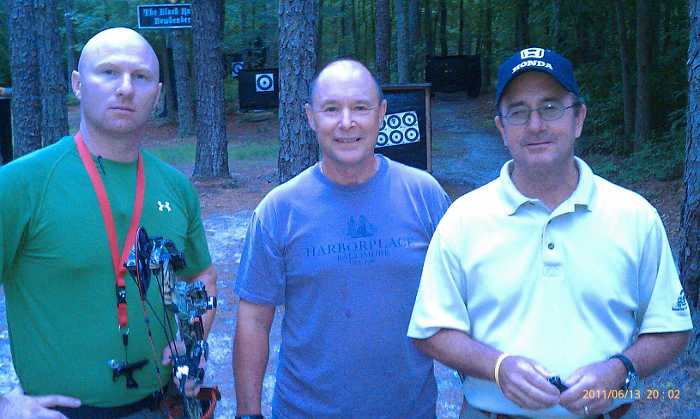 ---
"Dear Mr. DeCaro and The Black Knight Bowbenders Archery Club,

On behalf of Girl Scout Troop 207 in conjunction with the Monmouth & Ocean County Girl Scout Council I would like to personally thank you for the most delightful archery event which you and the Black Knight Bowbenders Archery Club hosted for our girls on May 12, 2011. As troop leader I always try to find activities that the girls would not ordinarily engage in and this archery lesson fit the bill to a tee! All the Girl Scout moms who attended the program where very impressed with the one on one instruction given by the club members and raved about the club facility as well. Needless to say all the folks who attended the archery event had a good time, Great Job! I have attached a few pictures which you can feel free to use in the club news letter as all the Girl Scout parents have given consent.

Thanks Again,
William Patterson
Activity Troop Leader"


---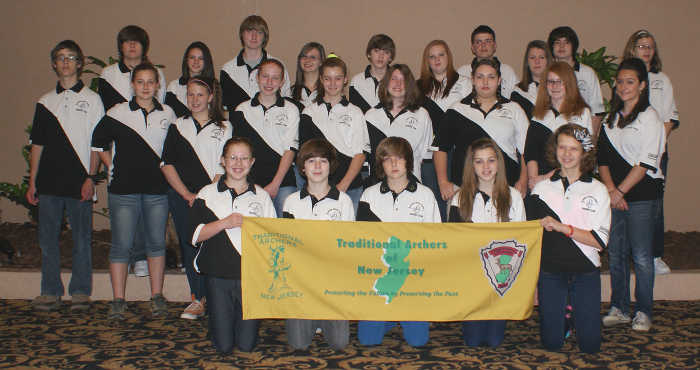 The Oxford Central School Archery Team traveled for the 4th year to Kentucky to compete in the NASP (National Archery in the Schools Program) National competition. TANJ was a co-sponsor and again donated $500 in addition to 26 TANJ patches for their team shirts.
---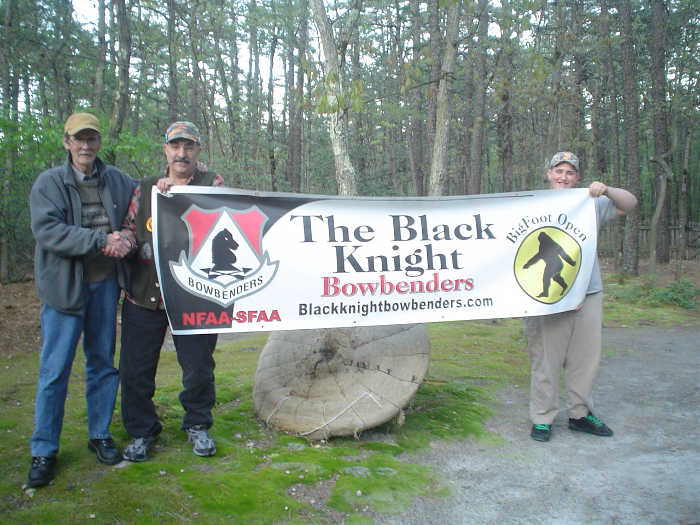 On May 5th during their May 5th. meeting the TANJ surprised the Black Knight members with a custom made banner for their Jackson NJ range. It was to thank Paul Winans BKB President and his membership for their continued support of TANJ throughout the years.

In picture: Paul Winans, Doc, Eric Anthony.