TANJ NEWS!
---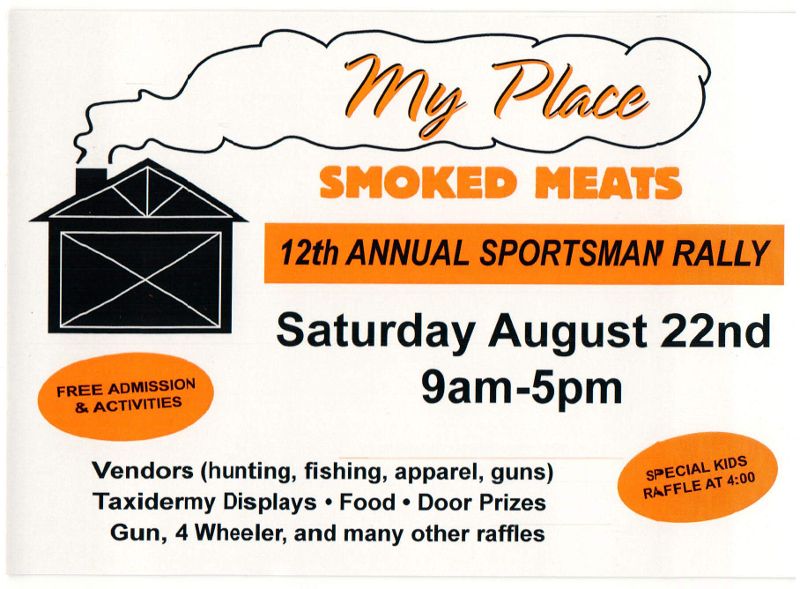 ---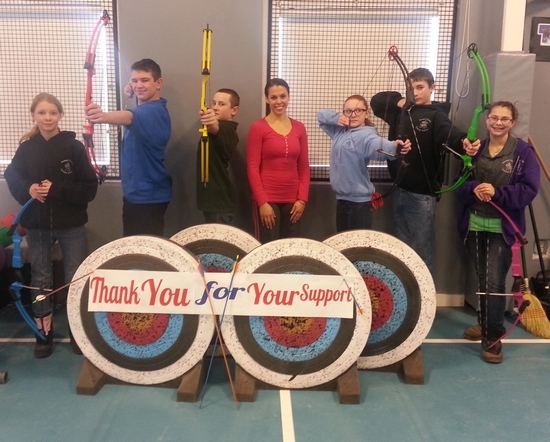 SPARTA - The 225 middle school students at the Sussex County Charter School for Technology (SCCST) have been actively engaged in learning about archery this school year.

Because of the students' efforts to embrace the subject, five grants have been awarded to the innovative public school totaling nearly $3,000 in funding for future archery programs and equipment.

The grants were awarded by the New Jersey Association of Health, Physical Education, Recreation and Dance (NJAHPERD), New Jersey Fish and Wildlife, The Appalachian Bowman's Club of Sussex County, United Bow Hunters of New Jersey, the Traditional Archers of New Jersey, and The Gutyankers.

"We are so grateful to these generous organizations, the local community and our Parent Teacher Organization for supporting our efforts to teach students about the fundamentals of archery in our physical education classes," said Elise Tooker, physical education teacher at the Sussex County Charter School. "We are extremely excited to have our very own equipment at the school so students can enjoy archery throughout the school year."

In addition to learning the fundamentals of archery throughout November, students were also invited to a tournament on Nov. 25 to determine who will compete at the National Archery in the Schools program, which is a statewide competition hosted in the Spring. The SCCST team will consist of 17 members.

"Archery provides us with the ability to connect students to health, physics, nature and athletics all at once," Tooker said. "Archery has become a very popular sport among our middle school students, which has made Physical Education an exciting class where students can learn to develop their skills and passion for the sport."


---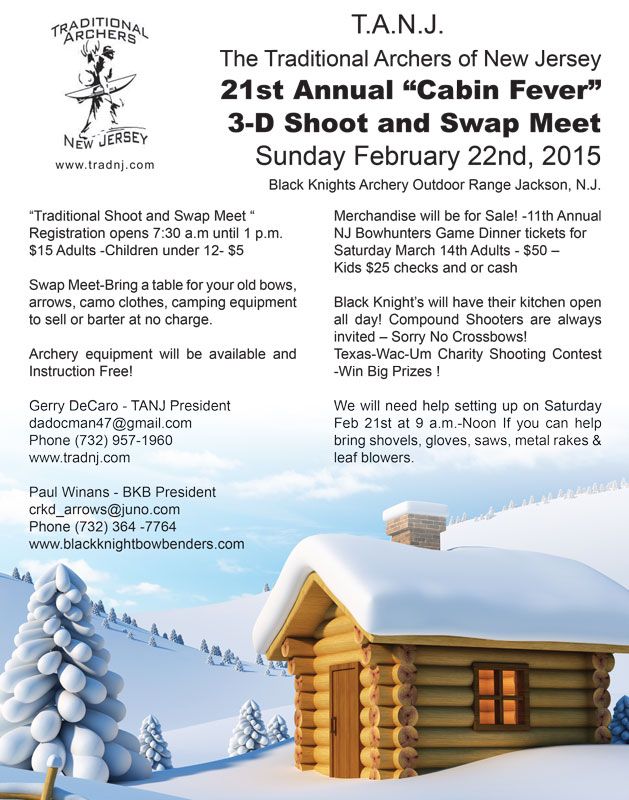 ---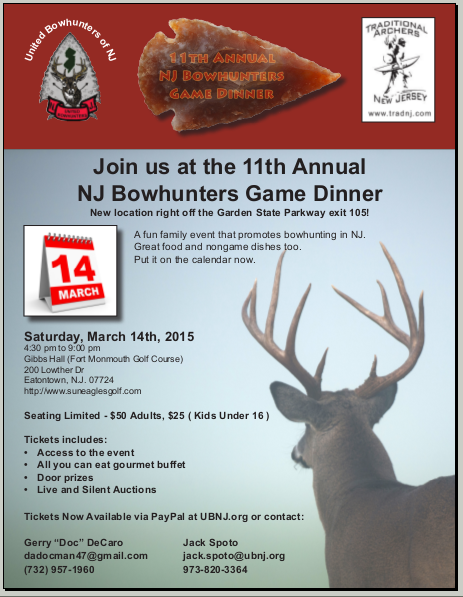 ---
Doc and the TANJ. membership,

Thank you so much for coming to the shoot on Saturday which was held at Shooters Range and for your very kind donation to the National Breast Cancer Foundation . Your participation and organizations"s support meant the world to me!

Hope to see you again soon.
Jen Dean
Rad Strings


---
This is a thank you card from our TANJ Secretary's wife Aimee Hrehowsik who was diagnosed with inflammatory breast cancer. TANJ hosted a 3D shoot at WaXoBe Range and Club back in October and overall we raised over $800. We like to thank all of the Archery organization's members that came to support one of our own.

Doc.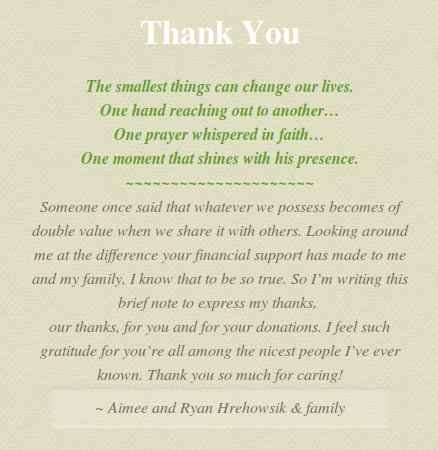 ---
Kids learning to Shoot in the Traditional Way, with Robin Hood Longbows Hats
---
Deer Donations Needed!

If you can, we are looking for deer donations. Please contact Rich Novotny at 605 Wardell Road, Tinton Falls, New Jersey, phone number 732 556-7849. If you are up north we can make arrangements to have the deer picked up!

God Bless Our Troops!

TANJ
---
We are proud to announce that 19 week old Eric is now TANJ's youngest member to date. As you can see he's already dreaming of going bowhunting with his new longbow in New York State for Bear with his proud grandfather Joel Riotto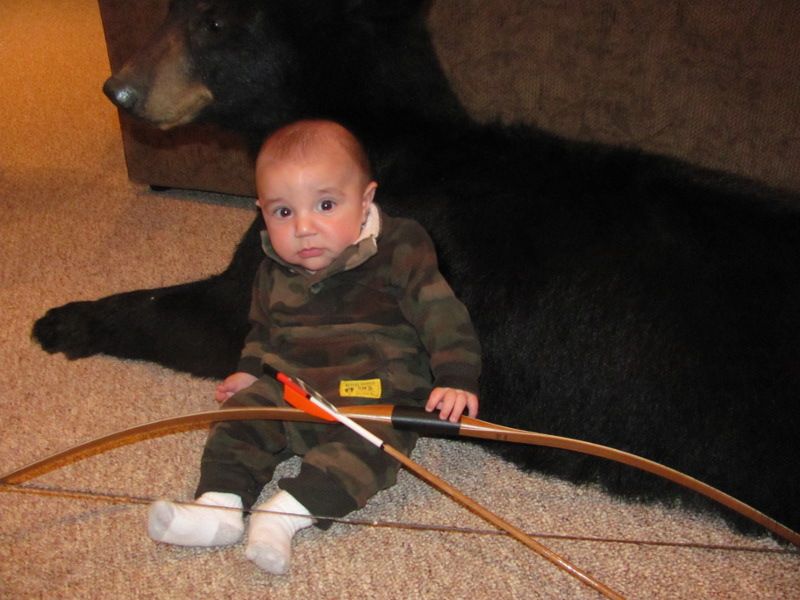 ---
---
The champ 1965 vs 2014

As you can see on the right a famous picture of Mohammed Ali first round knock out of Sonny Liston in 1965.

Now on left wearing his TANJ club shirt a picture a the new Bowfishing Champion of TANJ our Council member Brian Peters who in the first round knocked out a huge Maryland Cow Ray with one arrow guided by past President Phil Muller.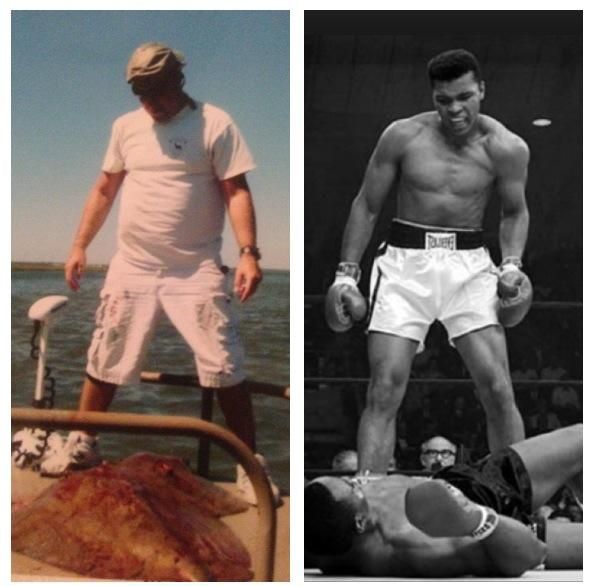 ---
On Sunday Sept 21st TANJ held its 10th Annual Whitetail Fever 3D shoot.

This year we are honoring TANJ member Aimee Hrehowsik who is battling Inflammatory Breast Cancer at WaXoBe Archery Club.

It was a great day and we saw many of members from various archery organization's coming together to support one of their own.

I would like to thank those that came and especially WaXoBe Archery Club for their support and use of their 3D range.

God Bless Everyone
Doc DeCaro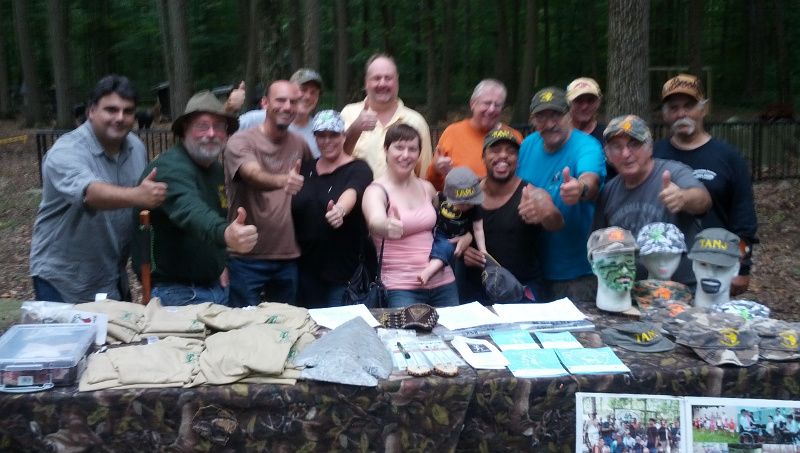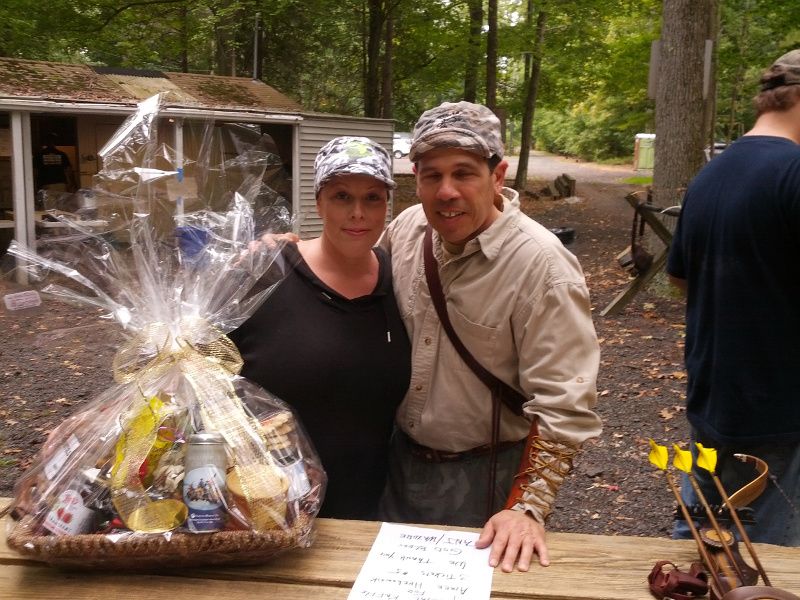 Trish & Lucius G. & Jamie Broadnax.
By the way 9 month old Lucius G Broadnax is our TANJ youngest member!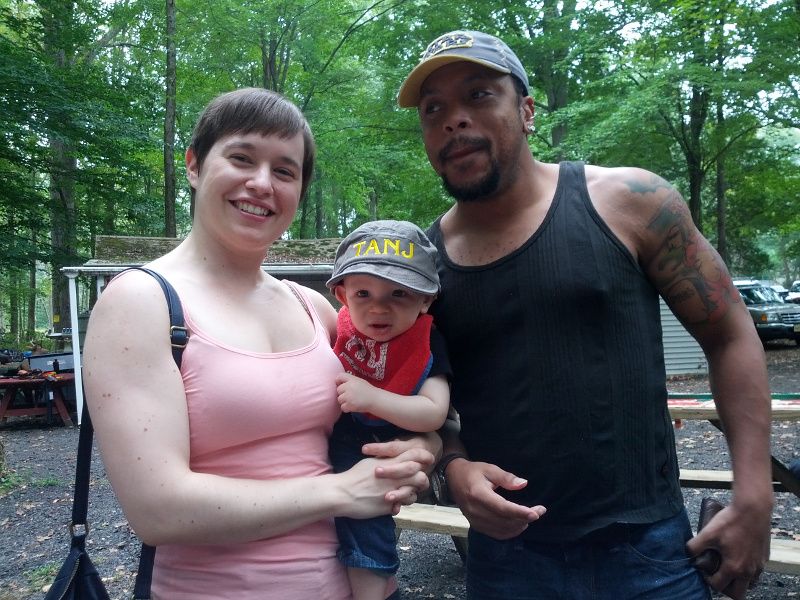 ---
What a great 3D Shoot The Obissquasoit Archery Club had this past Sunday. They had their annual The Frank Sims Fall Spectacular. As always it was just that spectacular.

Their Chicken dinner that was being served form 11 a.m. until 3p.m. was restaurant quality The TANJ organization members are already taking about next year and buying two chicken dinners and it also came with ice cold tea and homemade cup cakes with candy chocolate ants that were to die for we know that 3 of those lime covered icing cupcakes are now history yum yum.

Obiss members had a 3D Championship course laid out besides over 14 moving targets behind the club house that were spread out over acres of woods. Many shot that range twice during the day besides shooting the 3D tournament course for score.

New to the 3D moving targets was a huge 3 foot moving Rinehart Carp suspended behind a running waterfall made from PVC pipe. Whoever designed this course should get a special award thank god I waterproofed my feathers before I came.

One of our TANJ members John Castle took a 80 yard shot at the standing moving bear. I bet him a dozen arrows if he hit it anywhere. John has not shot since last year but practices in his small basement shooting off a chair ( low ceiling ).

He came up to the target then stated "hey guys lets try from way back here?" Then stood over the 80 yd marker and pointed his new Outlaw bow,custom made by TANJ members Justin Flores,towards the sky. After a long 10 seconds he shot and nailed the 6 foot bear on the first shot in the chest while the Bear was rocking back and forth on half of a truck tire wow!

Never again would I make a bet I now owe him a dozen arrows what a shot! But when we got back to my trucks I ended up selling him that same dozen (marketing 101) I know what a wimp I am!

In the first picture is John "The Woodman" Gallagher and Doc.



"The Woodman" shooting at Duck from a sneak boat.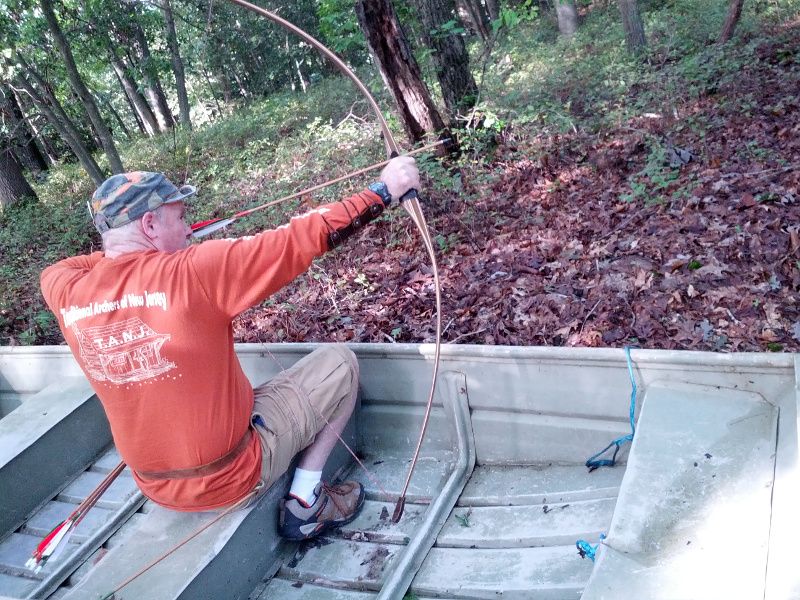 Standing behind the moving Deer if you notice two of orange arrows near the kill zone from the yellow stakes.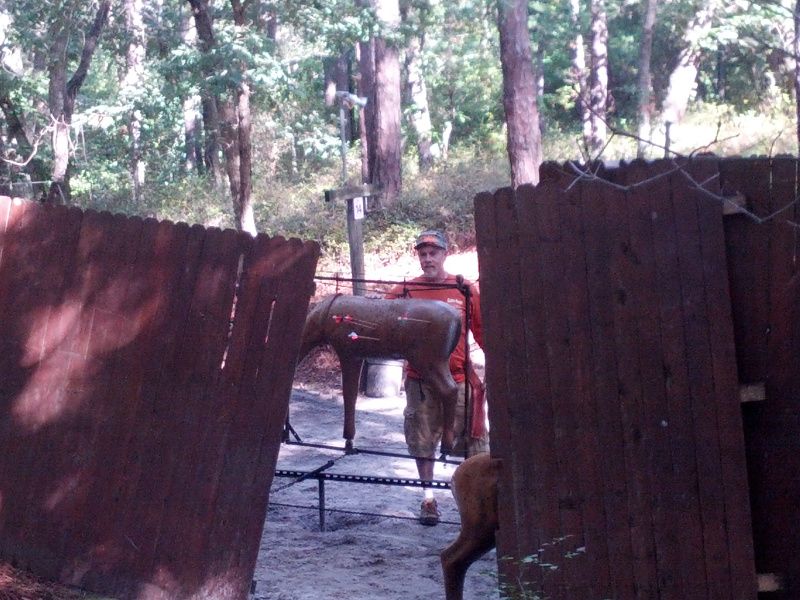 The Damn Skunk we missed it 3 times and then I hit the motor somehow it stopped working for a while.



The lil Duck that you had to shoot from that duck boat 15 yds away.



The jumping Gopher - what a blast!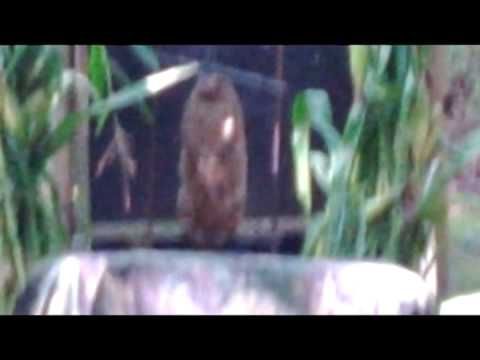 DOC
TANJ
President


---
Here are the first Traditional Deer Harvests, Opening Day morning.

TANJ Member Phil Muller & Frank Zsenak and sons - What a morning!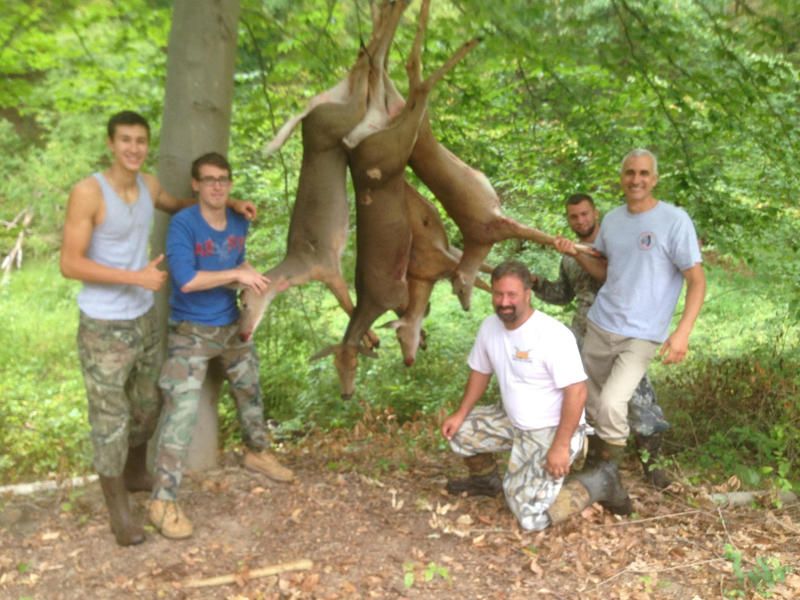 TANJ member Shawn Penn First Traditional Harvest!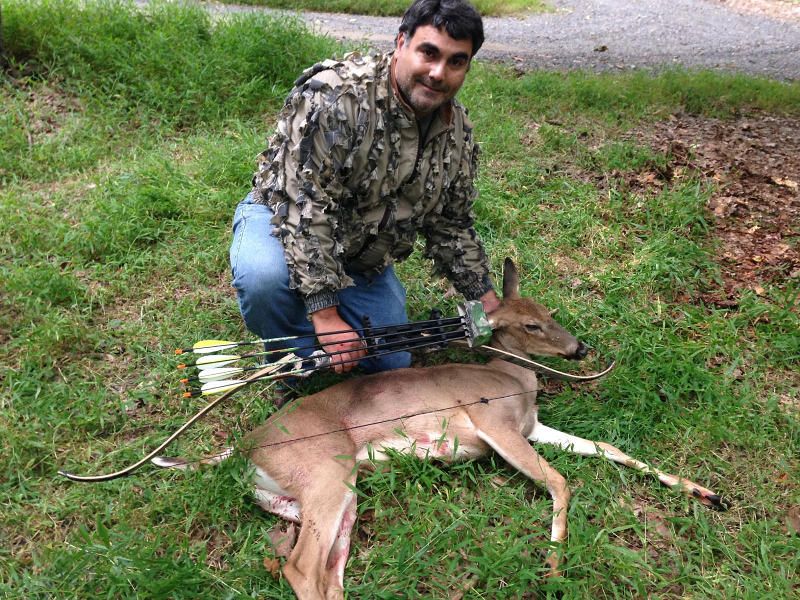 ---
Frankie Viterbo, 9 years old, was so happy with his new arrows donated by TANJ which was presented to him at Black Knight on Thursday public night. After his first few shots he scored a few bullseye's and ran over to tell some TANJ members that were shooting to thank them, and then asked can he go hunting with them too?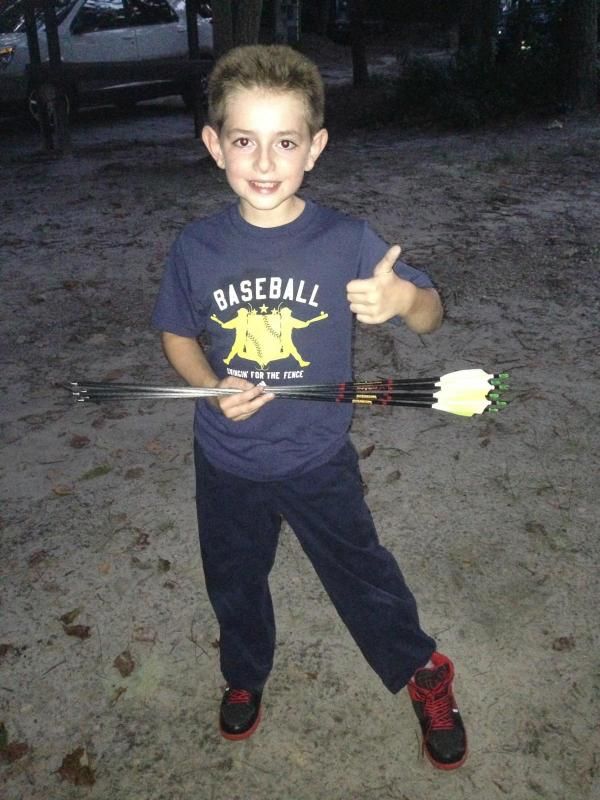 That's what we are about - "Our Youth - they are our Future"

Doc


---
These are pictures of the NJ Bowhunters fishing trip. The winners went out on the Lil Hawk and had a great fluke fishing trip. We like to thank TANJ member Capt. Jack Fleischman for his very kind donation.

Doc DeCaro
President
TANJ
Youth Event Coordinator
UBNJ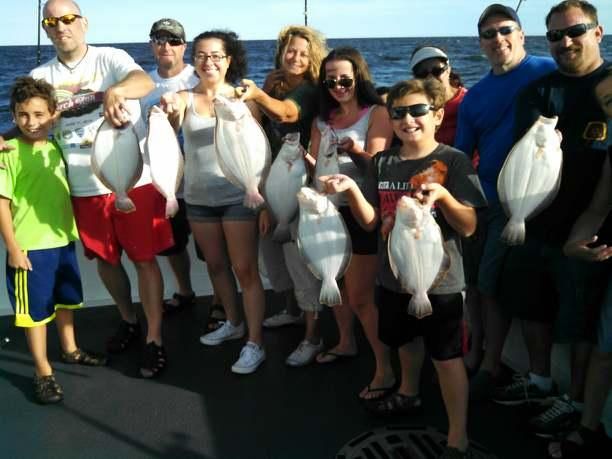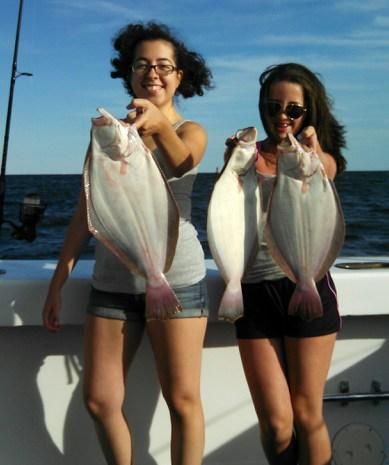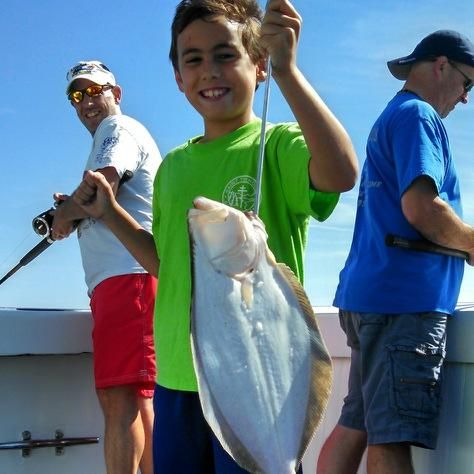 ---
The Traditional Archers of NJ along with UBNJ & Tim Tam Campground door prizes to the UBNJ Jamboree Annual Kids 3D Contest.

The event was run by Mark Dreyfus UBNJ Magazine Editor and Doc DeCaro UBNJ Youth Event Coordinator.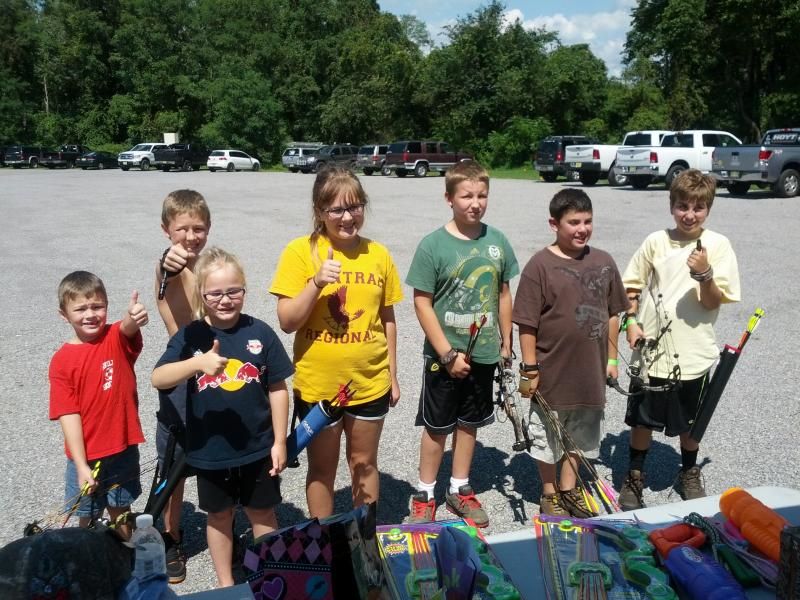 ---
TANJ Custom Fleece Vest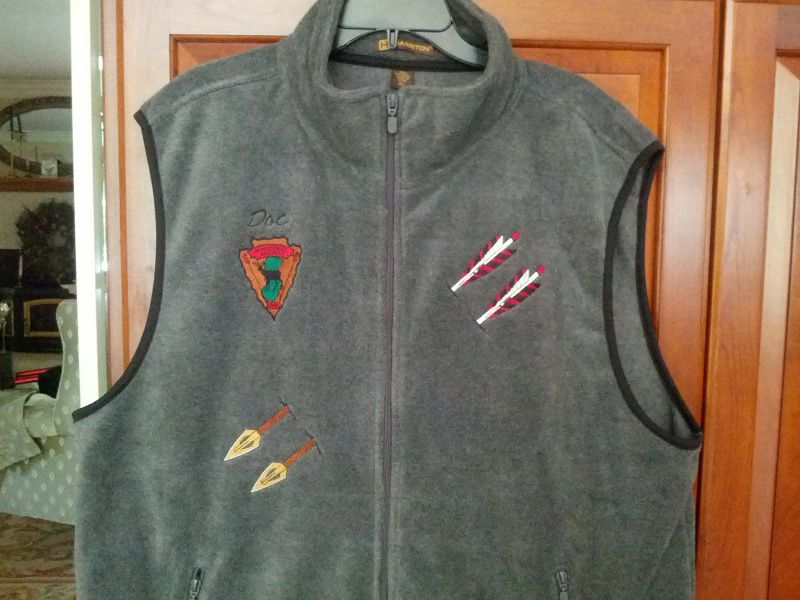 TANJ Custom Fleece vest with TANJ Logo + Arrows includes shipping.

-They will be only $50 S M L XL XXL $55 - XXXL.

Please make sure of your proper size before ordering.

*You can also order with your first name or your nickname*

Note - If you do decide to have your name embroidered and you chose the wrong size Sorry No Returns!

Please send check or cash only no pay pal! I will be at Whittingham Saturday and Garden State Archers Hunter Helping Heros if you decide to order and would like to pay cash

Send a new email with your vest order including your shipping address and proper size and if you would like your name on the vest?

Email your order to me dadocman47@gmail.com and must mail check payable to TANJ before the order will be placed.

No order will be placed unless vest paid in full and TANJ dues are paid up to date for 2014. ( see Ron Ellison for payment of dues)

This will be a special one time order for now. So far 5 vest have been ordered from members.

All orders must be in by September 7th deadline!

Mail check to:
Gerry DeCaro
c/o Vest
20 Spruce Drive
Middletown NJ 07748
(732) 957 1960

I am a XXL and my vest fits great. Any questions please call to speak.

Doc.


---
Archery Hat Trick by TANJ Member Ray Iglesias


This past weekend TANJ member Ray Iglesias won the Muzzy Invitational Stump Shoot Longbow division. That makes Ray's third 1st place win this year, in three of the toughest archery events ....

Big Foot Black Knight/TANJ "Last Man Standing" @ Black Knights NJ
ETAR Denton Hill "Eagle Eye Shoot Off" @ Coudersport Pa.
The "Muzzy Invitational Stump Shoot" @ central New York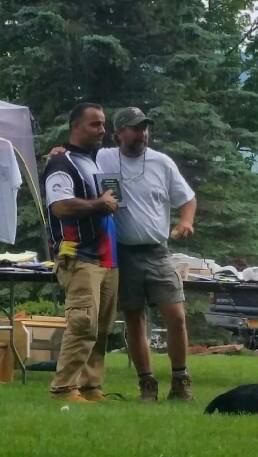 We are proud to have Ray as a TANJ member!!!

Gerry "Doc" DeCaro
El Presidente
Traditional Archers of NJ


---
2014 LAST MAN STANDING!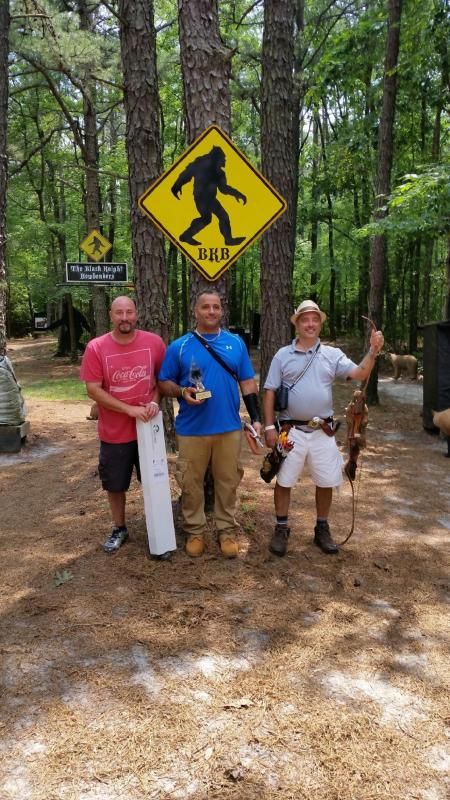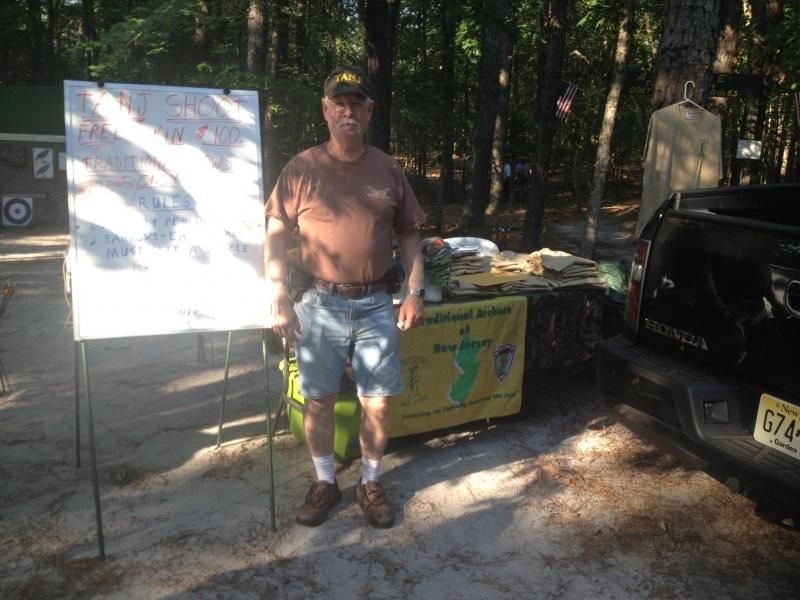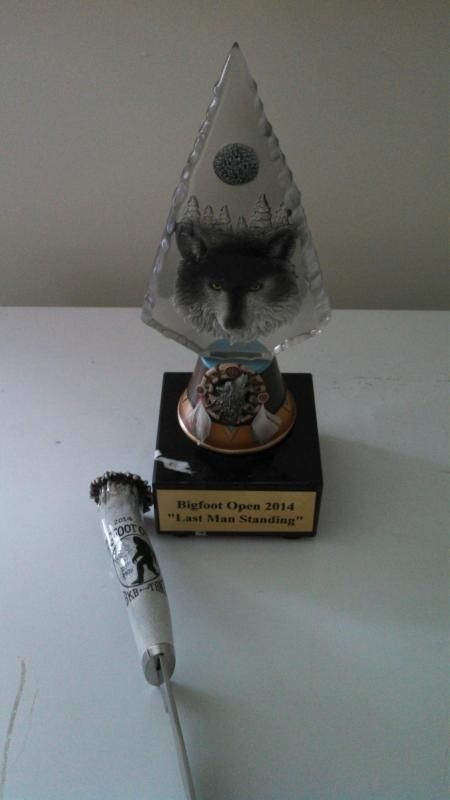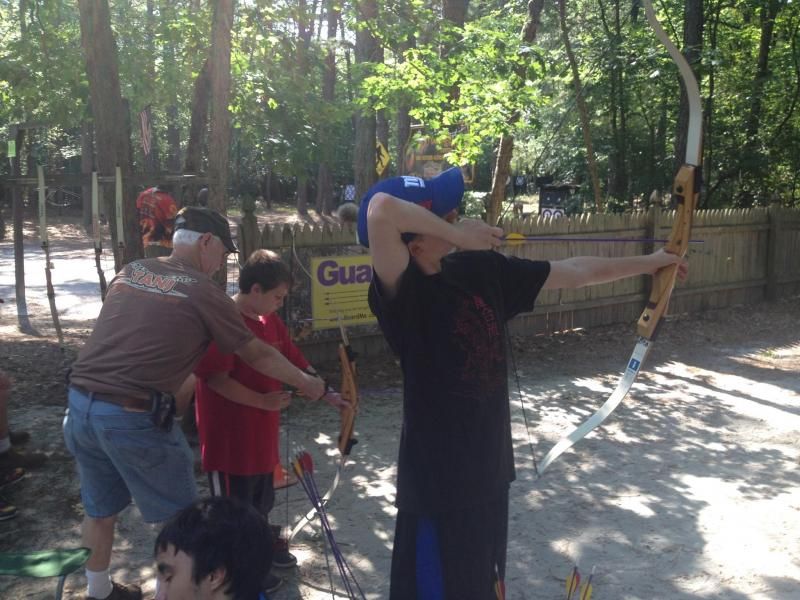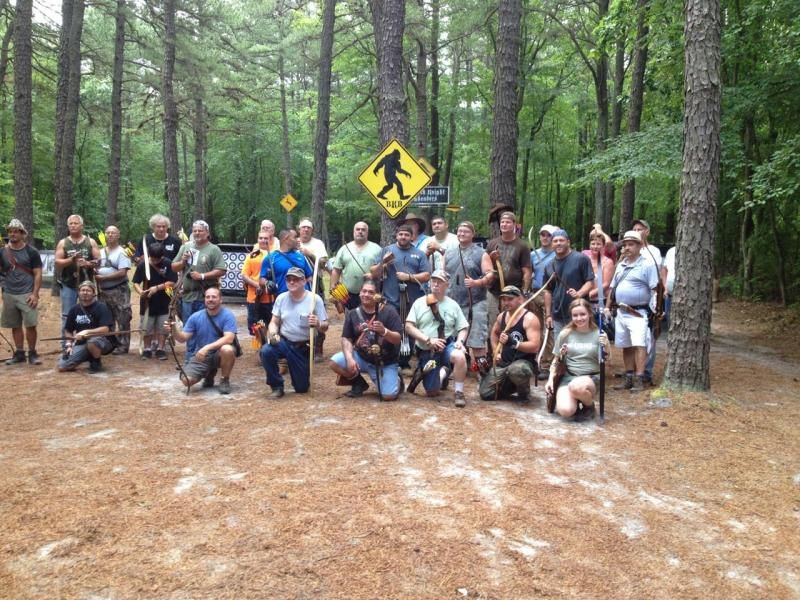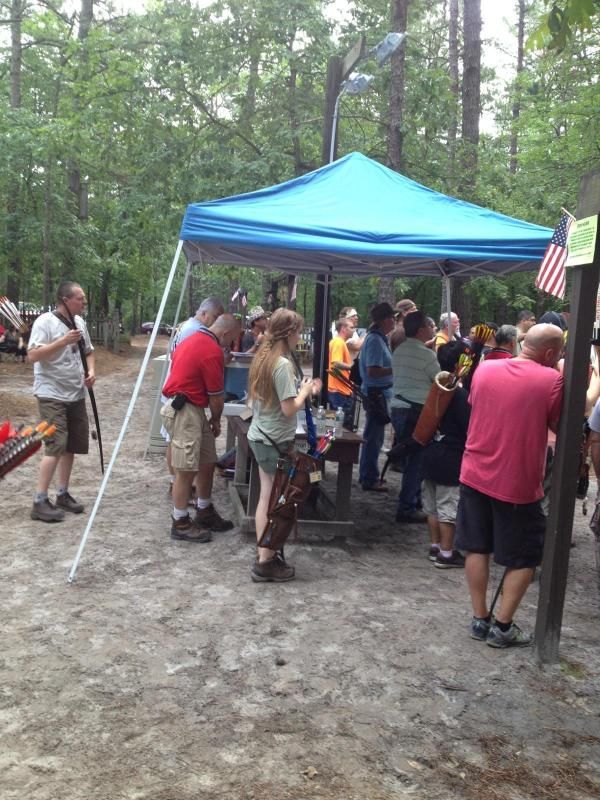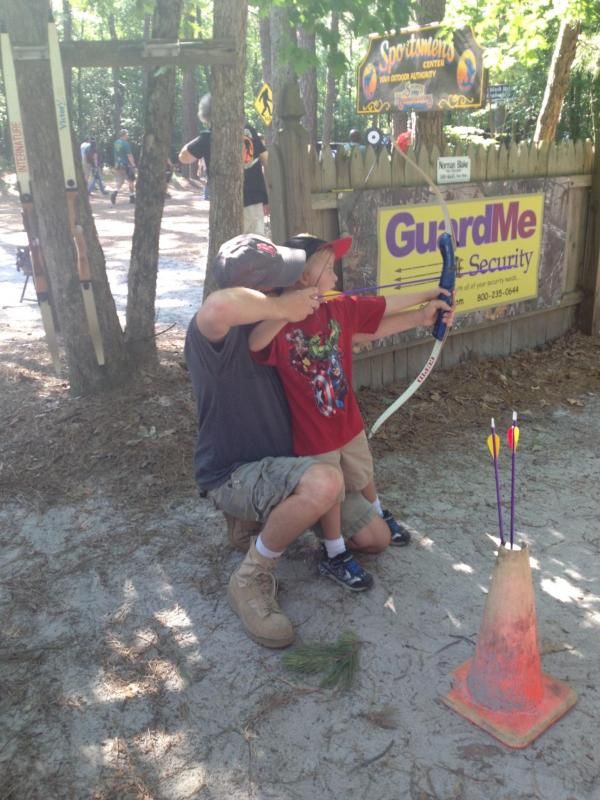 ---
Archery Clinic at Oak Ridge Park Draws Crowd During NJ Olympic Week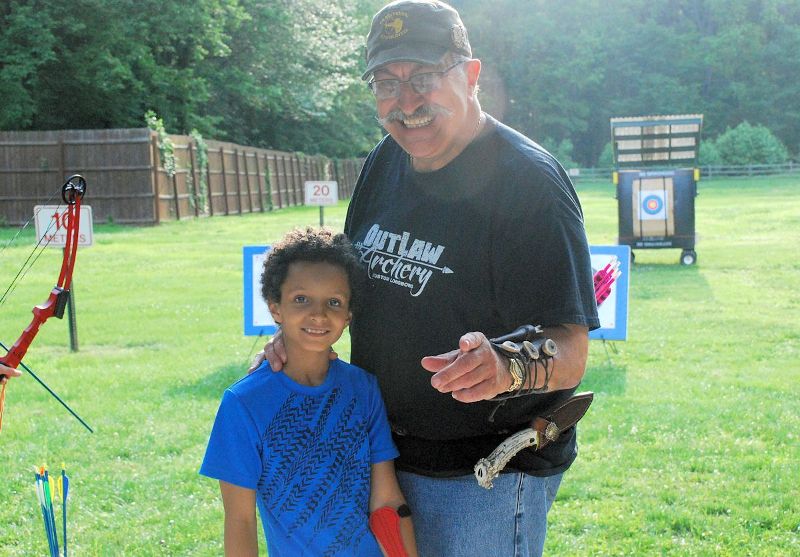 ---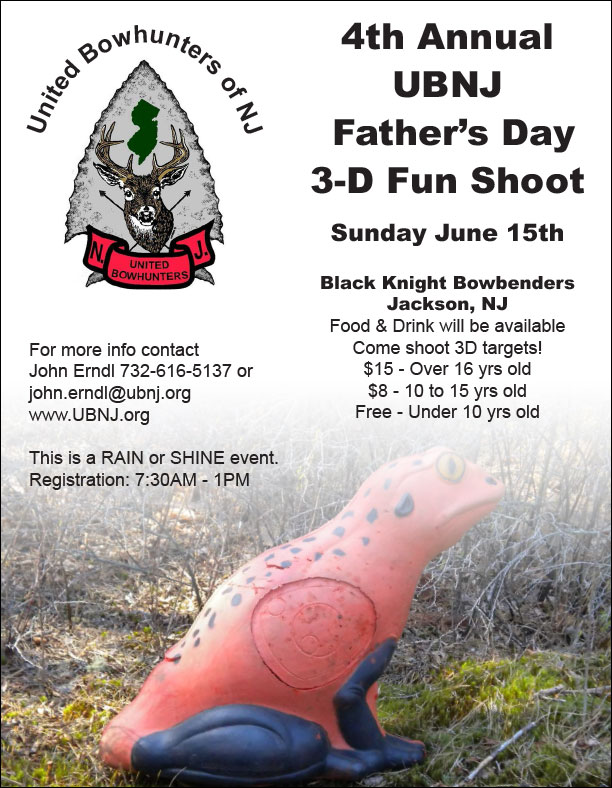 ---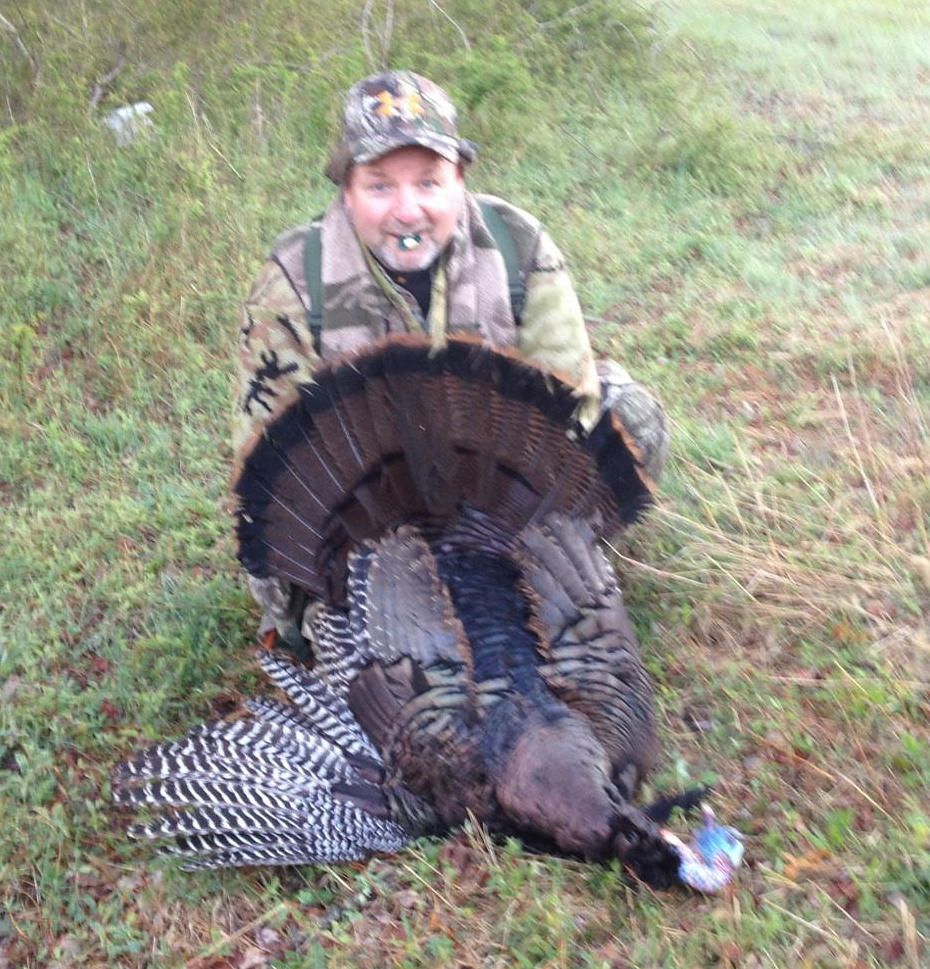 ---
---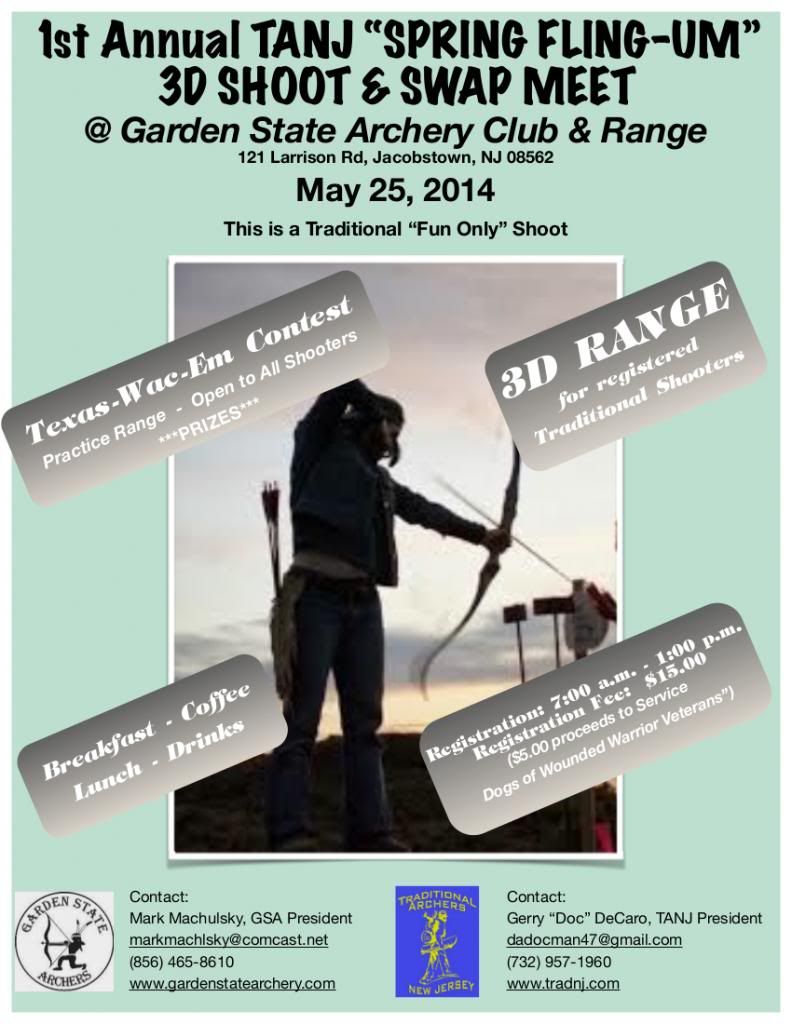 ---
Sunday March 6th was our 8th Annual TANJ Spring Break-n-Wood 3D Shoot & Swap Meet that was held at WaXoBe,New Monmouth Junction. We broke our record their and had 60 registered but also had many of their family and friends just stopping by to see what was going on.

It always great to see George Scocchi & Mel Watts with their crew from Pennsylvania and see them shooting,spelling and bartering archery gear every chance they have. We again like to thank Gutyankers Mike Tully and Shawn Penn of the Heritage Guild and their shop with donating 3D Trophies for 1st and 2nd place.

We had a new shooter and soon to be new TANJ member Michaelangelo (I swear) from Milan,Italy. He is presently living and working in Hamilton,N.J. He was on our website looking for a Traditional club and called me a few weeks before to speak. Michael is a champion longbow competitor back in Italy and stated that traditional archery is very popular in his country. In the summer he competes weekly in tournaments in the Swiss Alps. He said the leather work on quivers and arm guards are works of art but he had to leave his equipment back home. He was shooting today with a Bear bow circa 1970's that he picked up at a flea market a few weeks ago.

He spoke to some TANJ members about having arrows being made to ship back home to his fellow club members in a few months. He loved the WaXoBe 3D course and could not believe how friendly everyone was. He is as also a avid trout fisherman and going home after the shoot to BBQ 4 trout that he caught on Saturday opening day. He planning to come to Whittingham to join us for the weekend.Hopefully he will attend our meeting and give a short talk about himself and Traditional Archery equipment in Italy.

We like to thank Doug Joyce President of WaXoBe for the 3D setup and all his clubs help with registration, breakfast and great lunch. Did you know that every Wednesday WaXoBe at 7 p.m.. has an open Traditional competition at their indoor range but it will now be held on their outdoor 3D range starting in mid April and we hope to see everyone there.

Doc DeCaro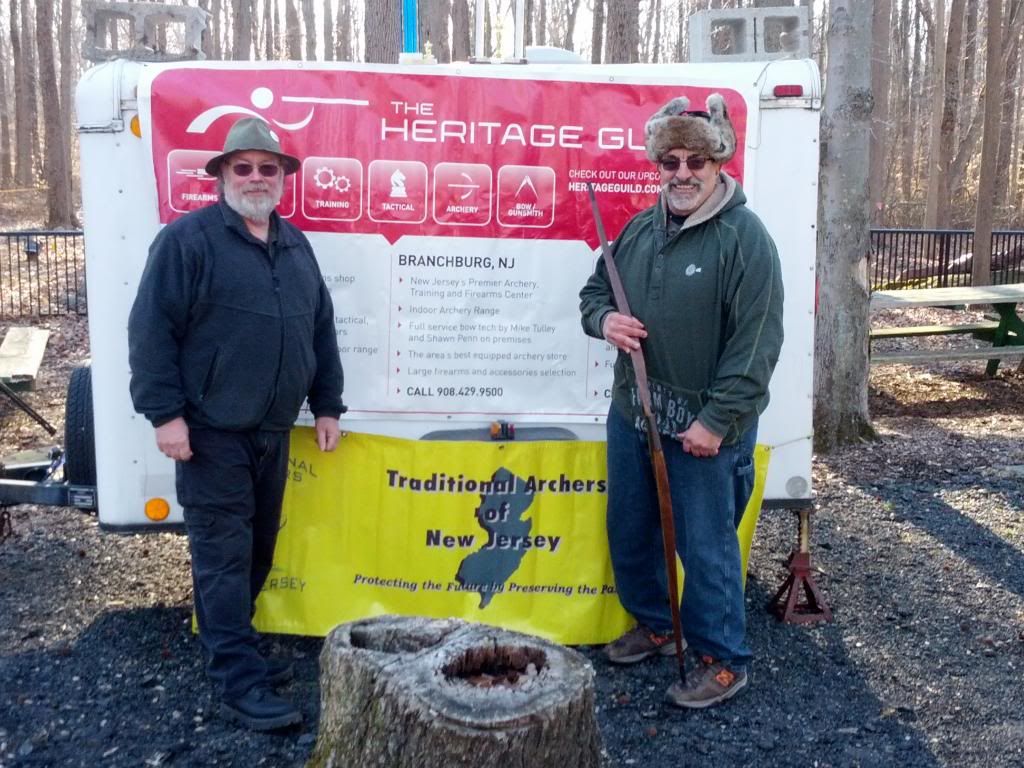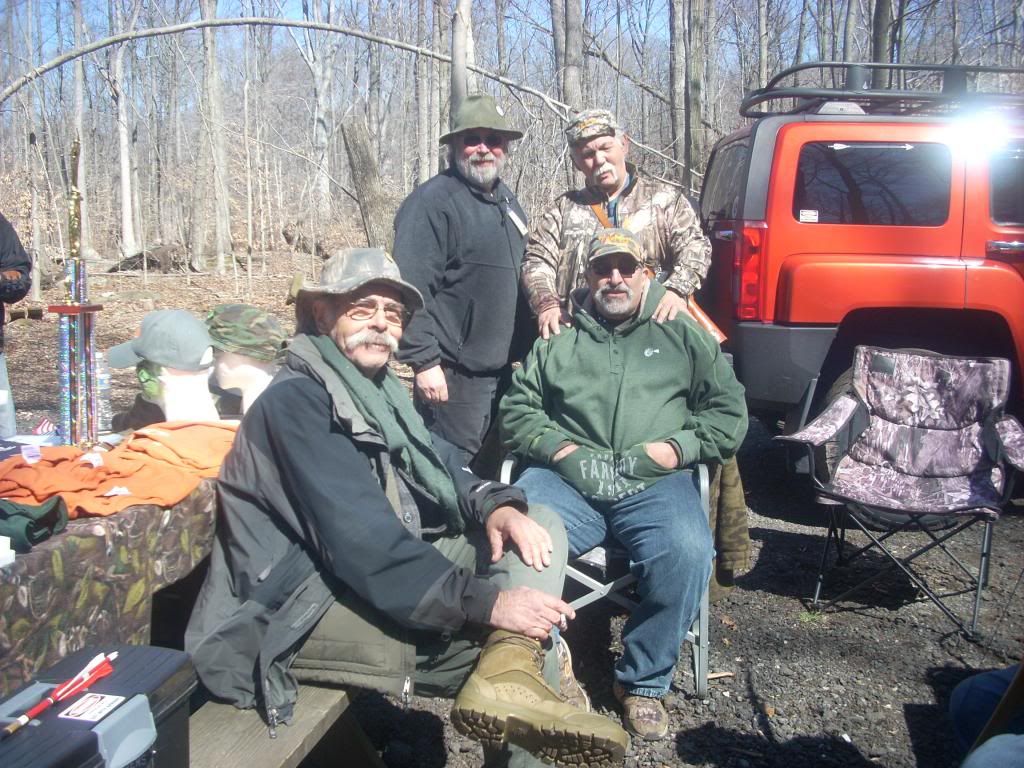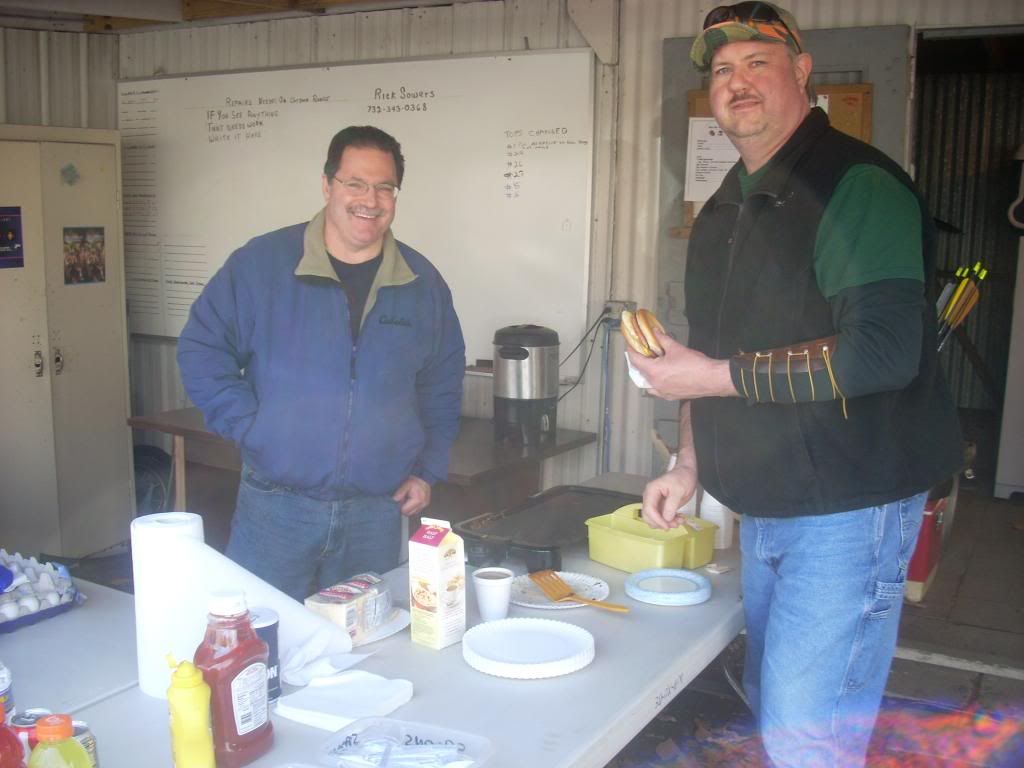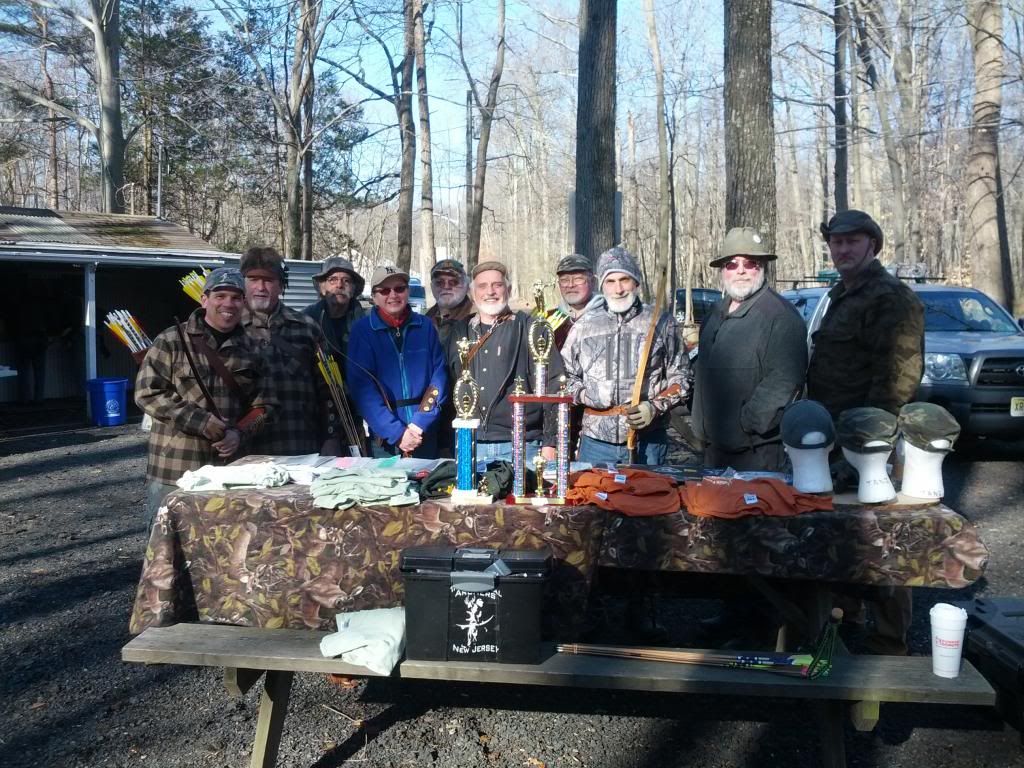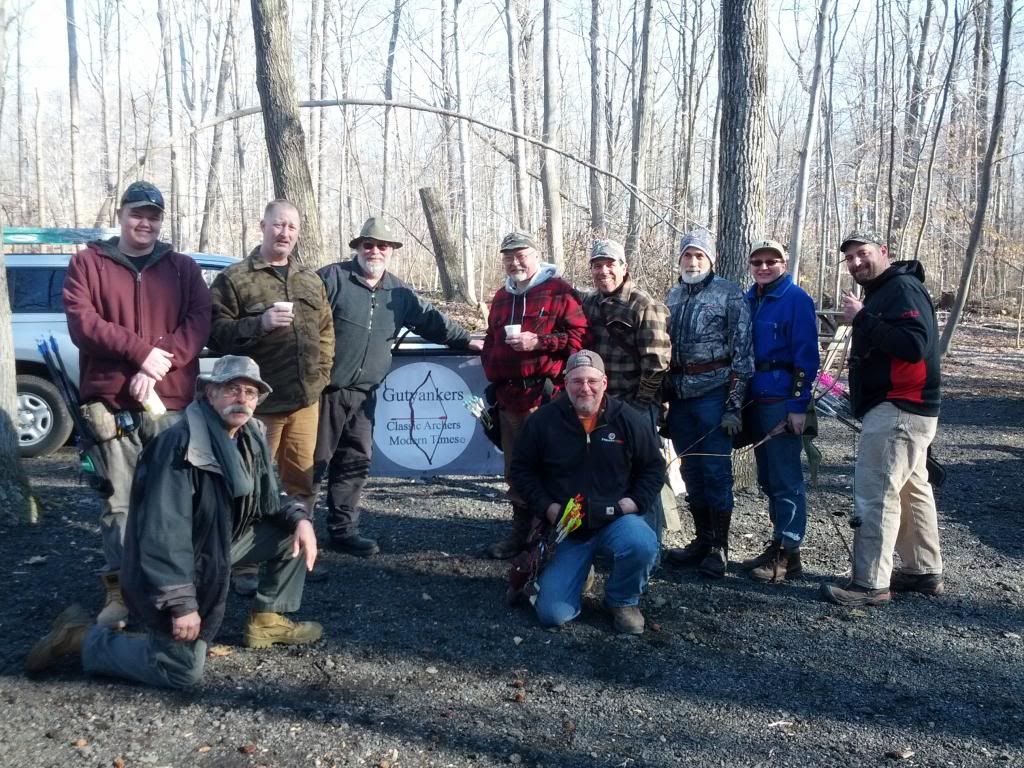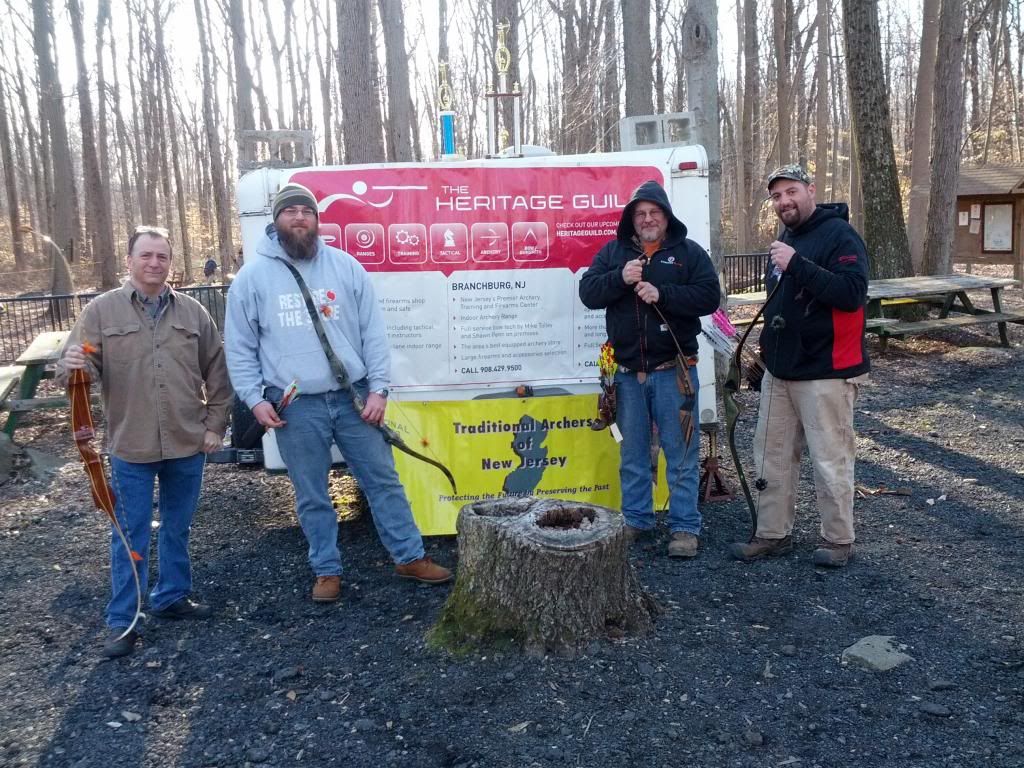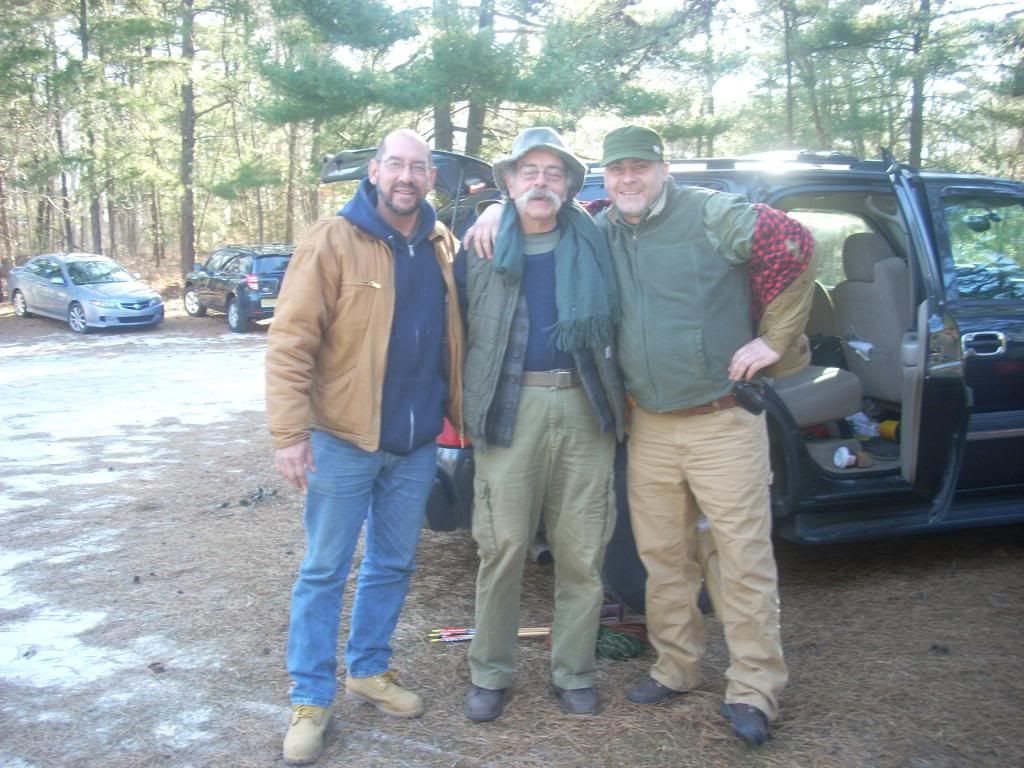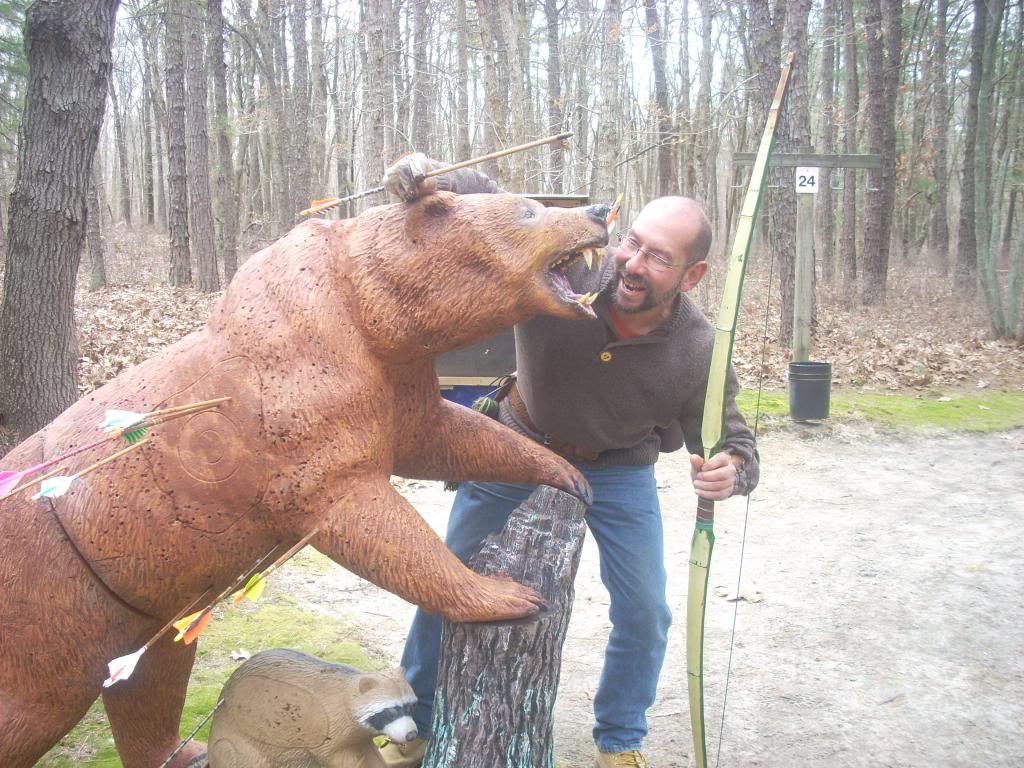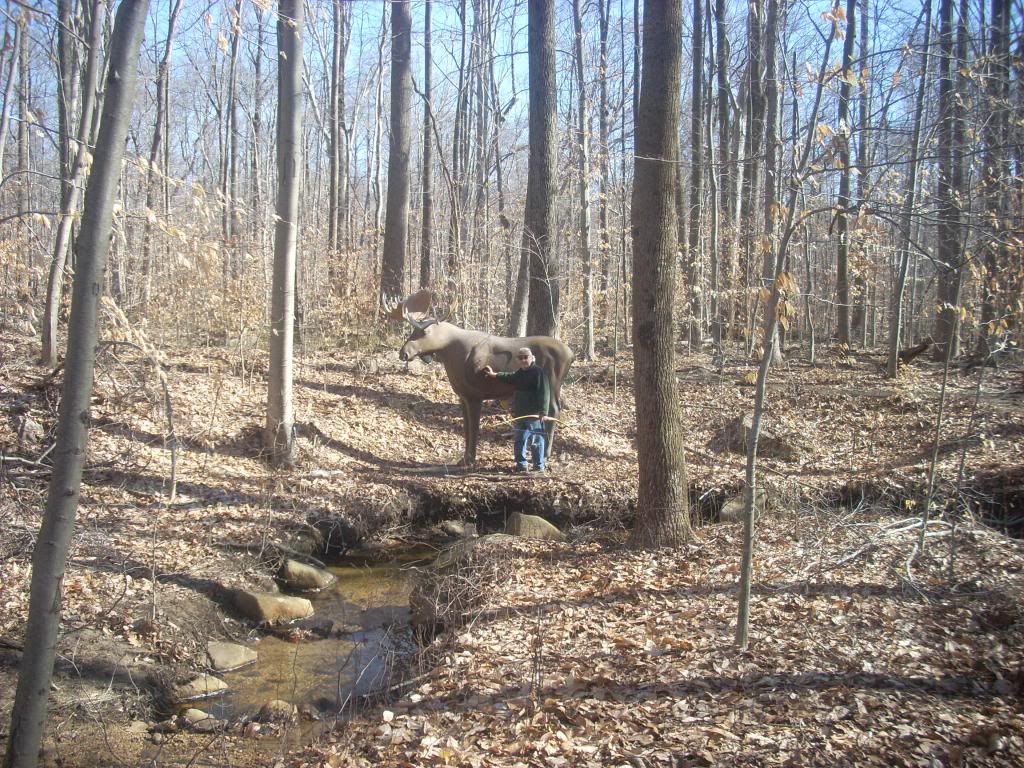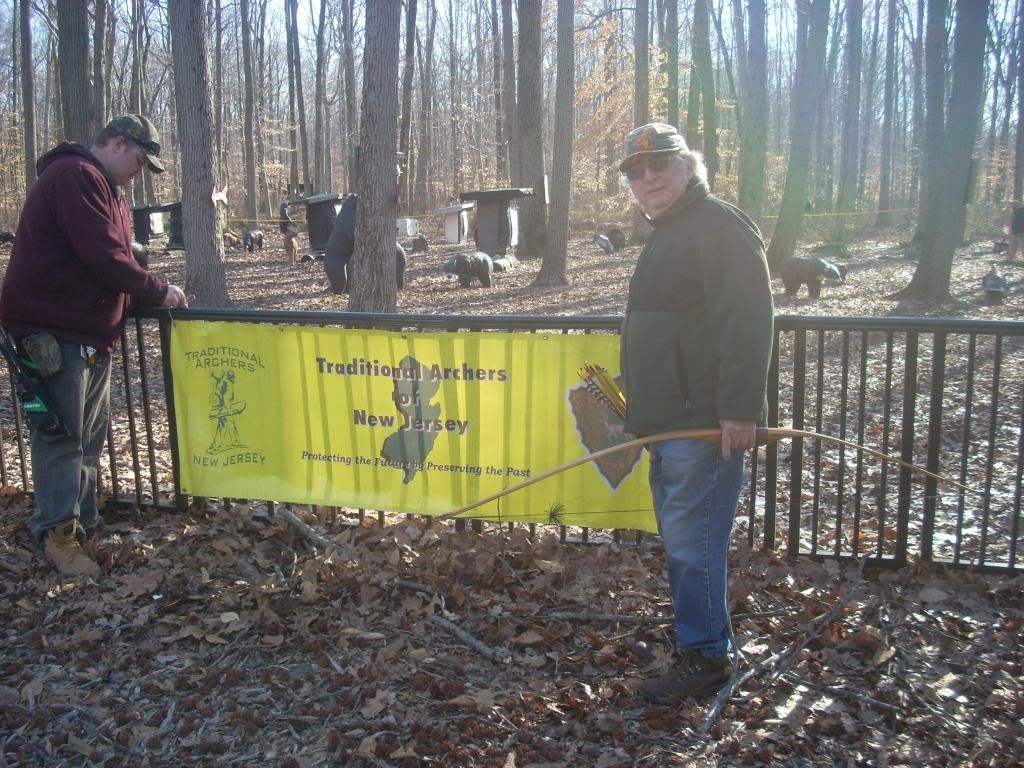 ---
Kids enjoying the TANJ 3D March Madness Shoot at Obissquasoit Archery Range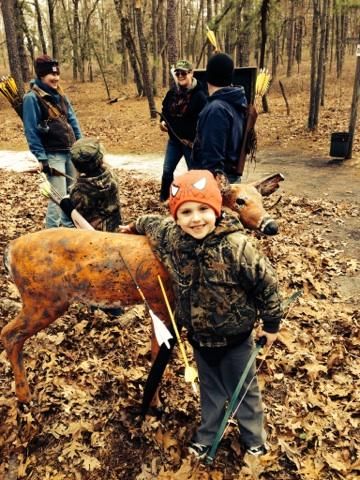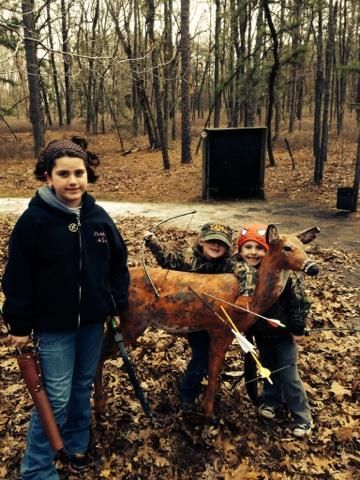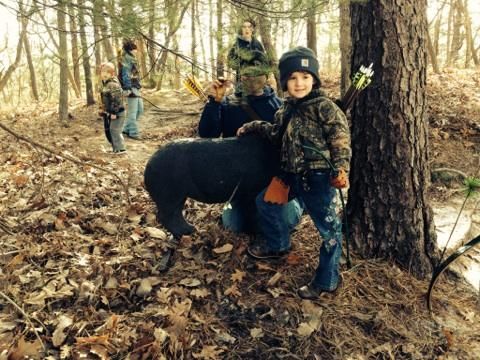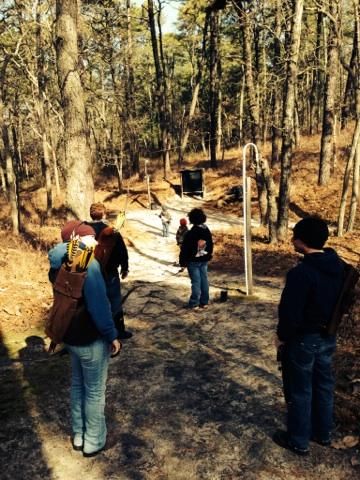 ---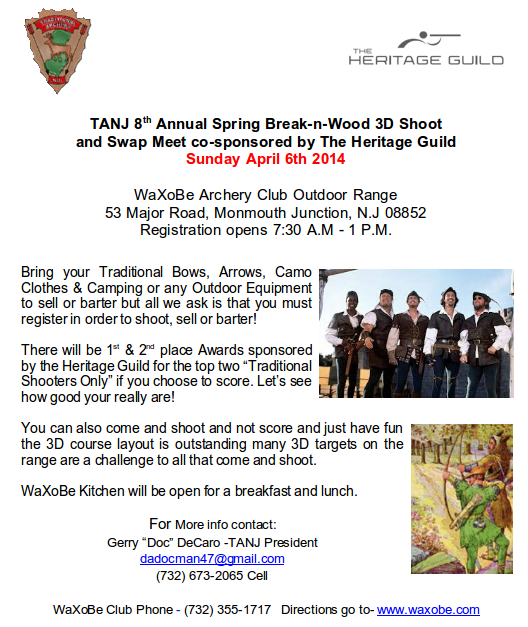 ---
We the Traditional Arches of New Jersey greatly appreciate the opportunity of the Obissquasoit Archery club hosting a March Madness TANJ 3D Shoot and Swap meet this past Sunday on March 16th ,2014. It was very well attended with over 77 registering to shoot. It also amazed us that the FBA Floyd Bennett Traditional Archers of Brooklyn N.Y. had over 22 attend and they all were having a great time.

Many of my members and non members alike were very impressed with this great club, the layout of the 3D animals and especially the hospitality that the members demonstrated throughout the day. TANJ member Pete Onesti and I spoke last year and he stated that he wanted to have a "Traditional Only Bow" shoot at his club down in Salem County. I responded if he would run it we would back him but I could not promise how many members would attend.

Pete should be congratulated by everyone for an outstanding day and the new friendship that developed today between both our organizations.

We are already planning on next year for our 2nd Annual March Madness 3D shoot so please lets all mark our calendars accordingly. We are also planning to return in the Fall to attend your Annual Big event with over 15 moving targets, the "Franks Sims Fall 3D Spectacular" (September 14th) including the best chicken dinner you will ever have..By the way FBA club member Frank Florio told me that they are all coming back, so better order extra chicken.

As the Obiss Archery Club President Howard Neide stated as we were packing up for our trip back home "MARCH MADNESS" now has a new meaning.

Thank you again for everything!

God Bless our Troops

Gerry "Doc" DeCaro
President
Traditional Archers of NJ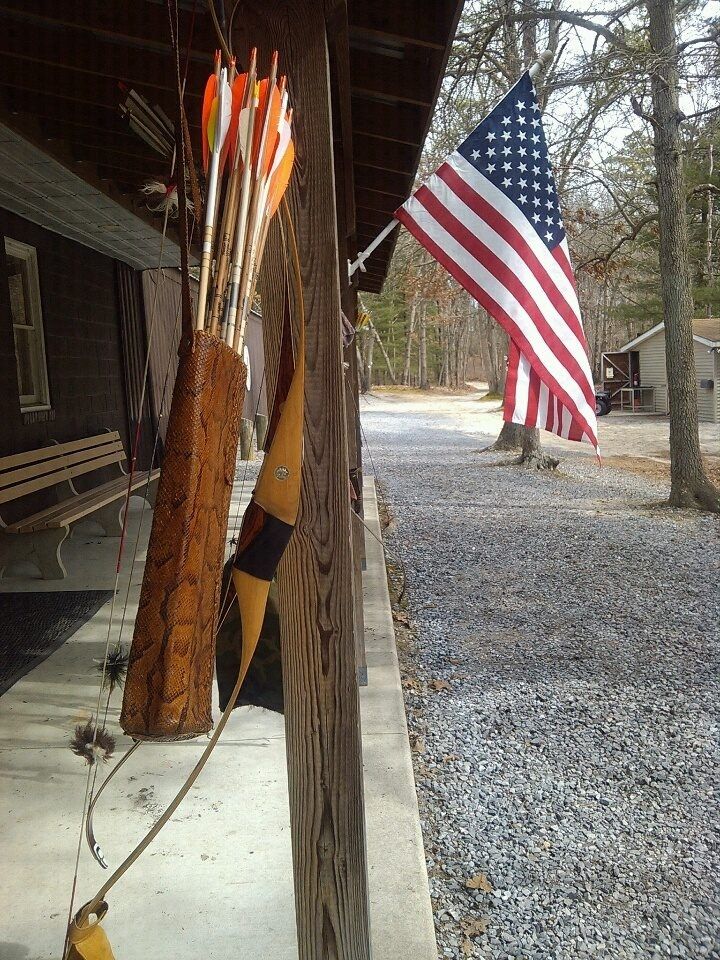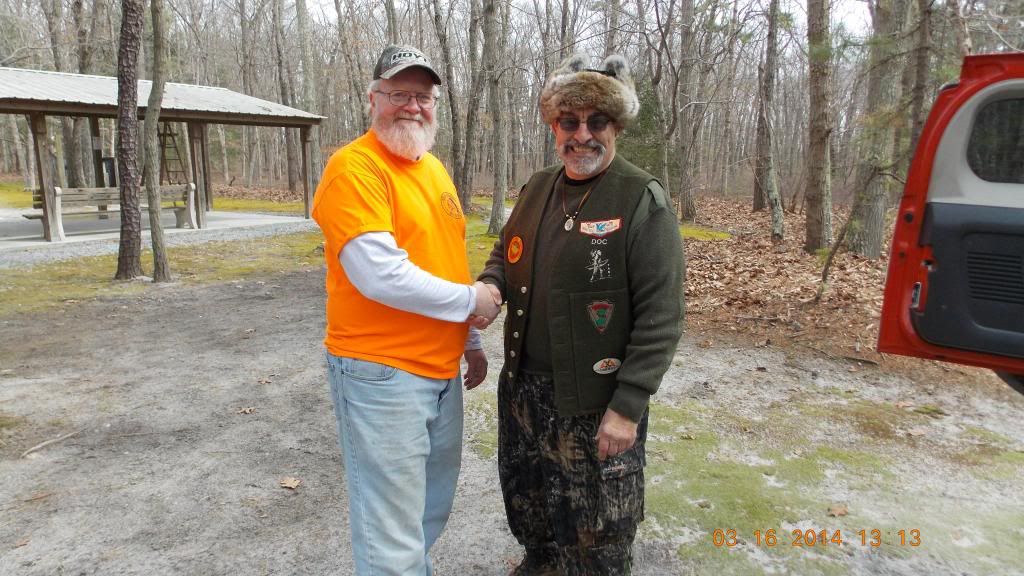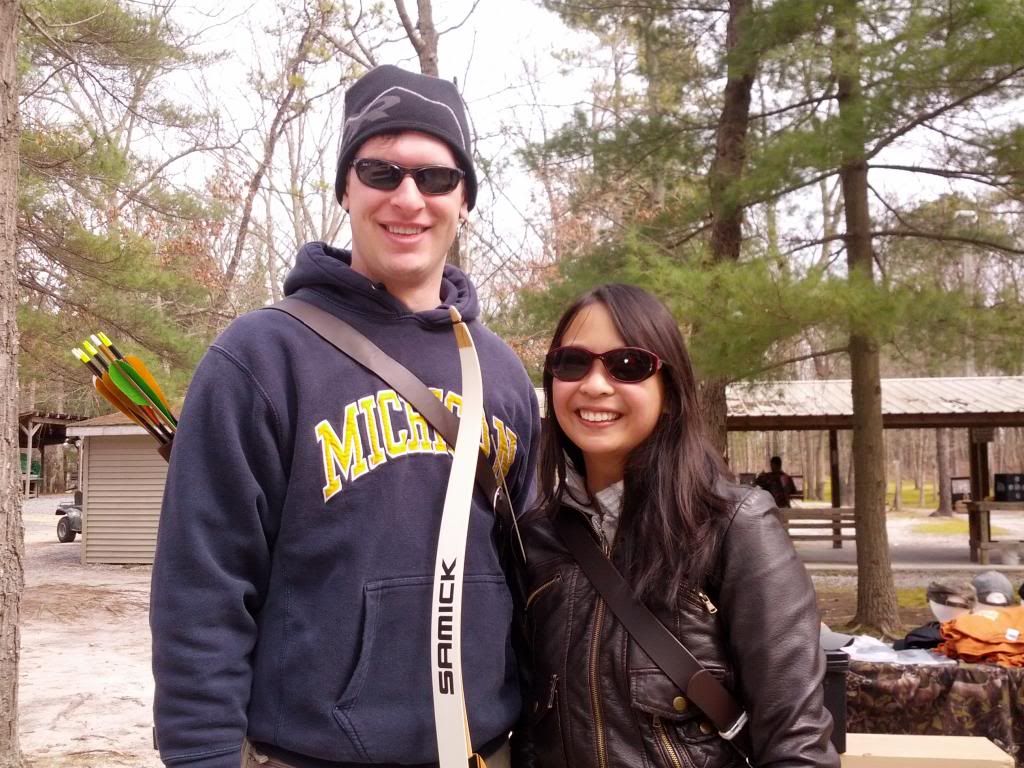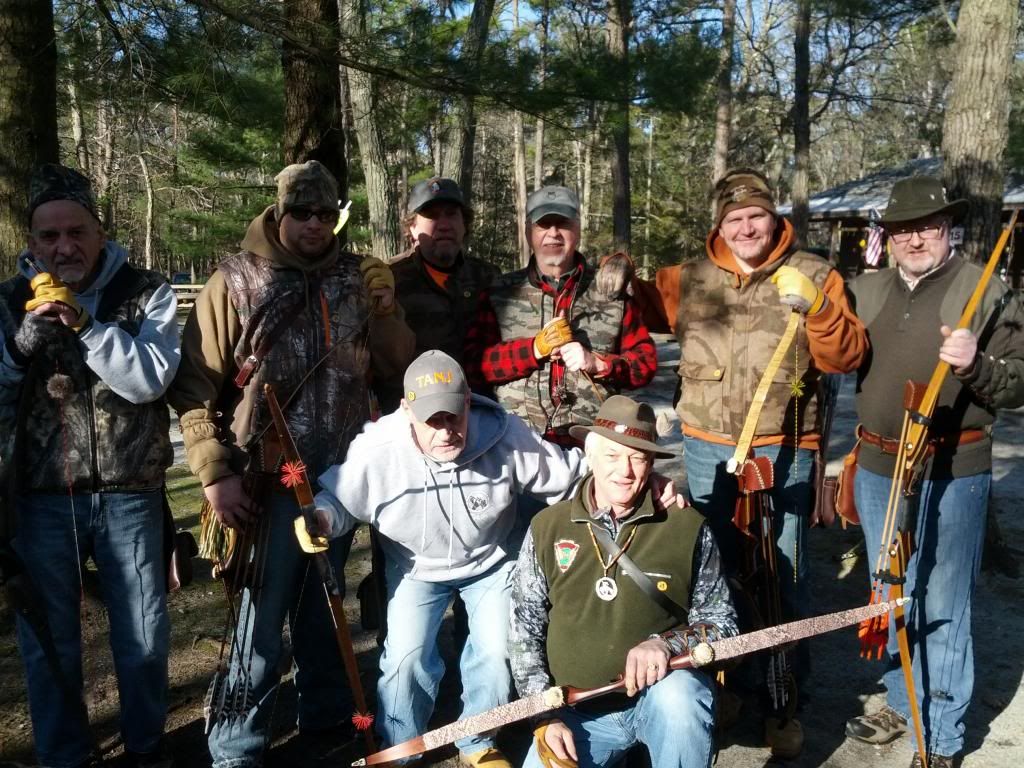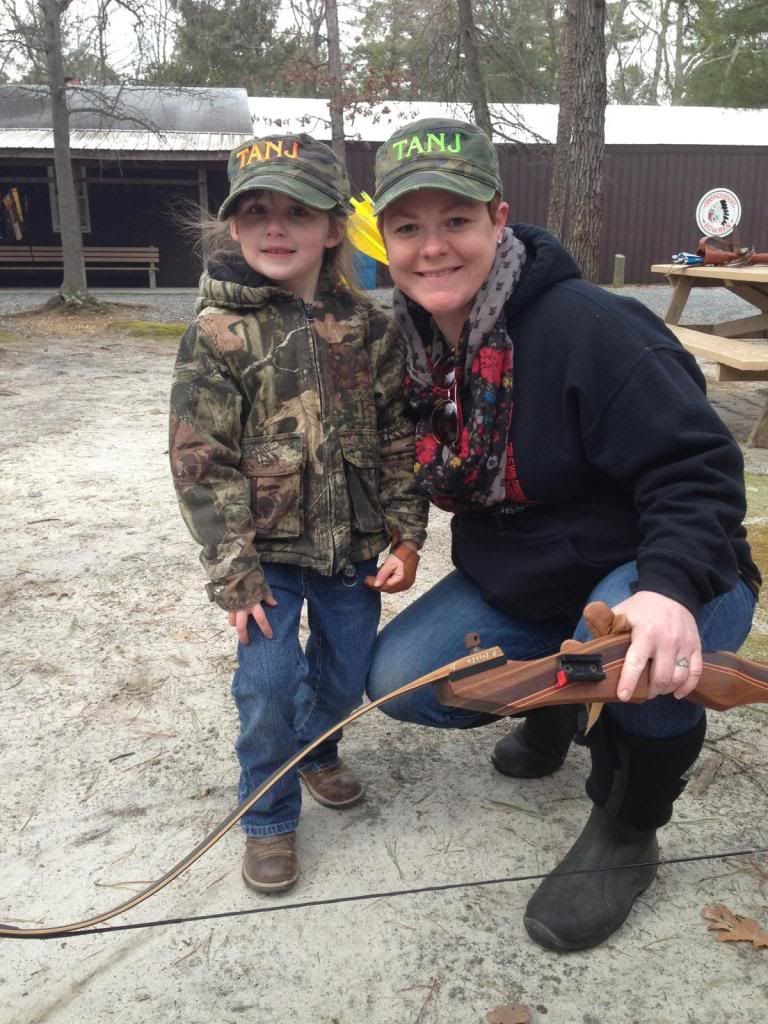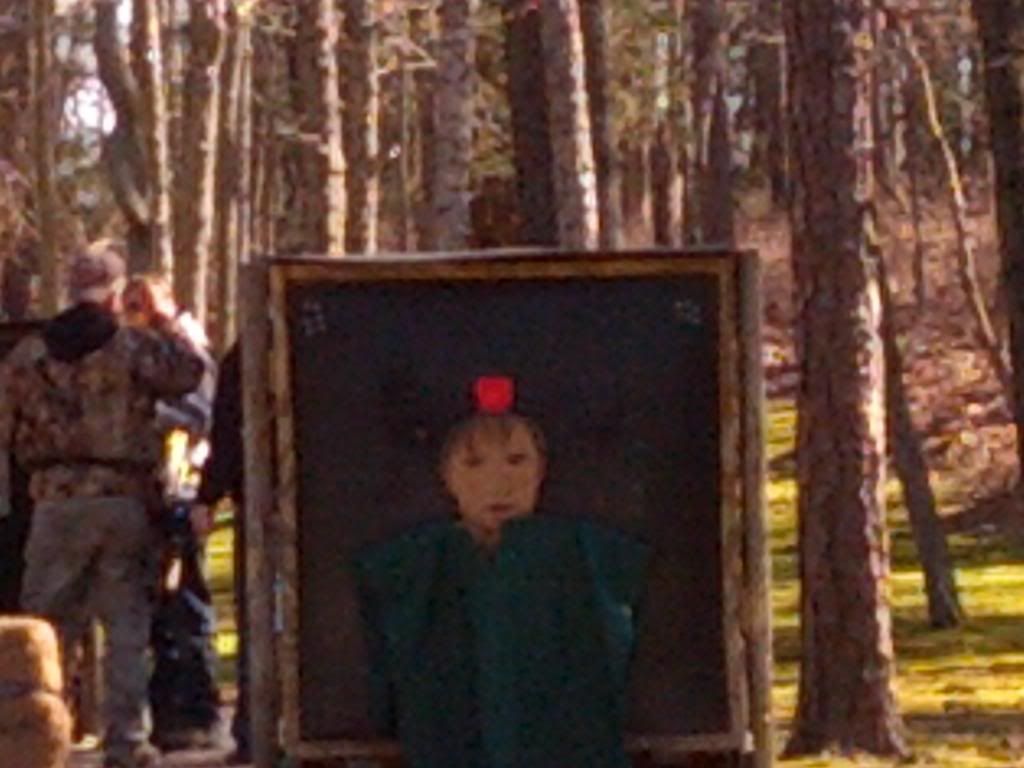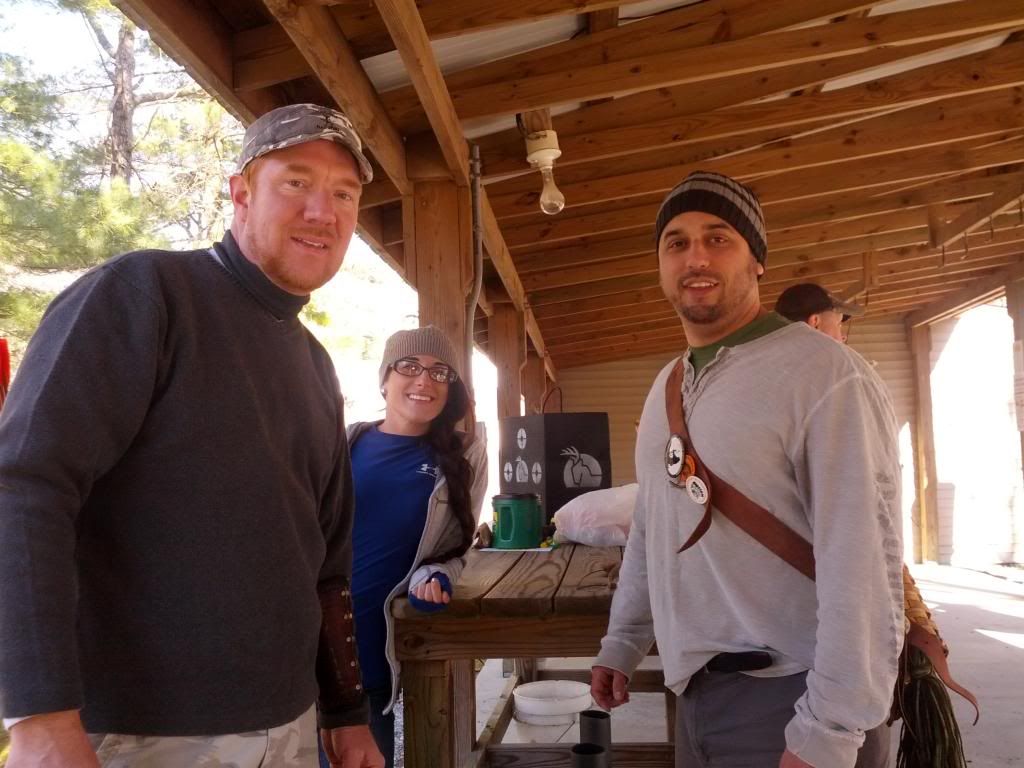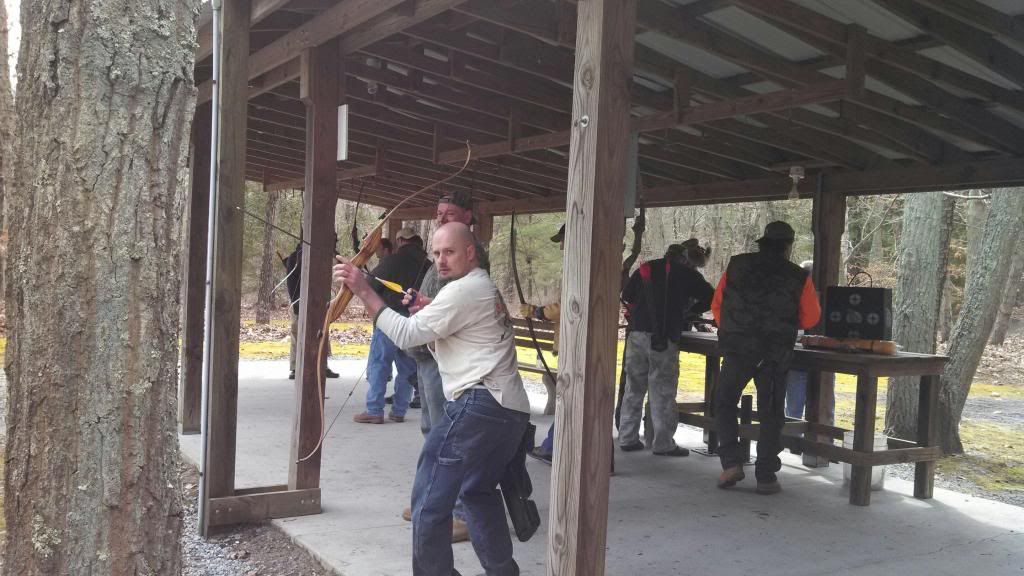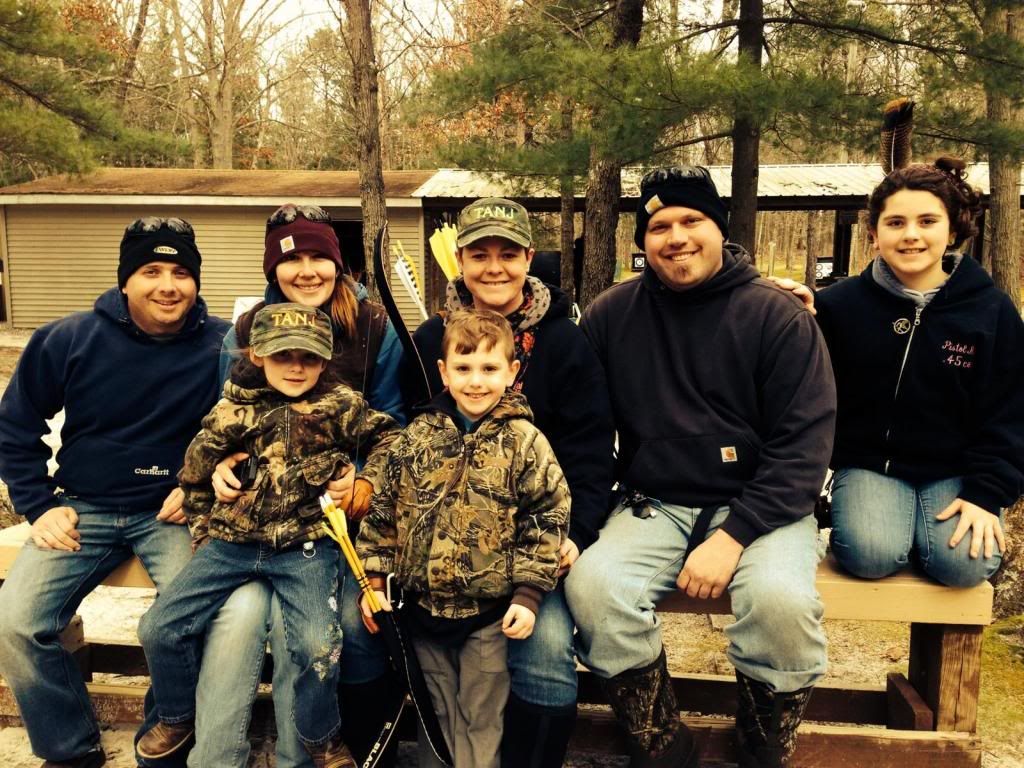 ---
Game Dinner 2014
---
On Friday February 28 and Saturday March 1st I attended as a line judge at the First Annual New Jersey NASP Championship that was held at the Oxford Middle School Oxford, N. J.

I like to thank everyone for your support . TANJ was a co-sponsor along with the Heritage Guild, Branchburg N.J. Strictly Archery & the U.B.N.J.

Numerous schools competed throughout the two days to see who will represent New Jersey in the 7th NASP Championship which will be held in Kentucky on Mother's Day weekend.

Good luck to all the kids and you can see the Oxford School gym floor had a packed audience that both days applauding after every team completed each round.

The kids were great their parents and friends were even greater and the support was overwhelming.

This is what we all do supporting our youth in the art of archery so that the flame will continue to burn for many years to come.

~ Doc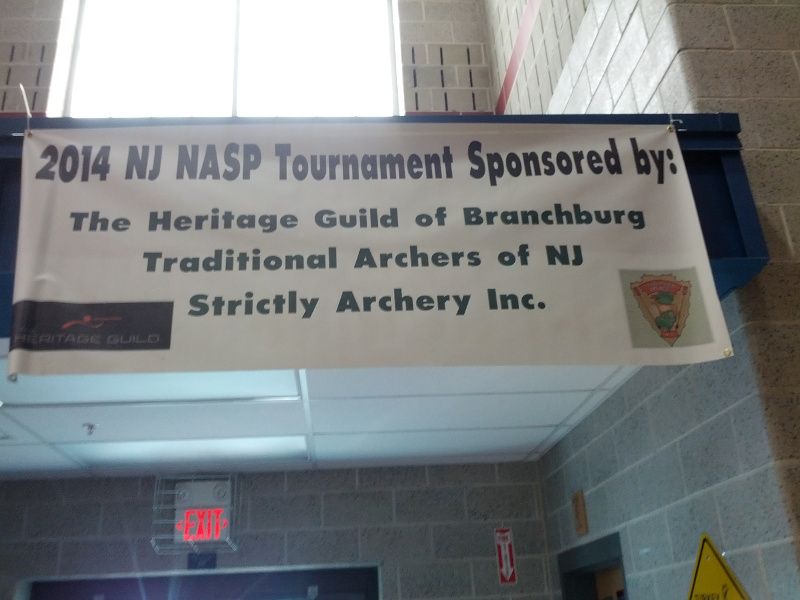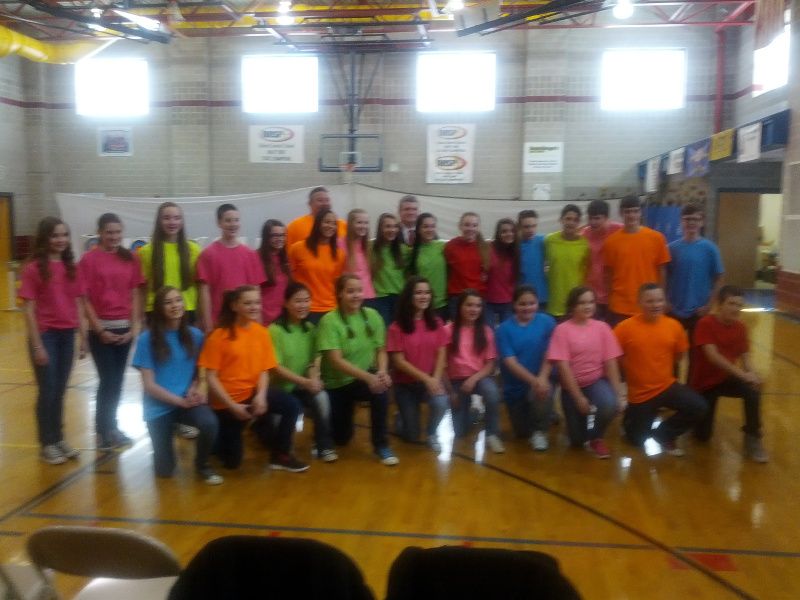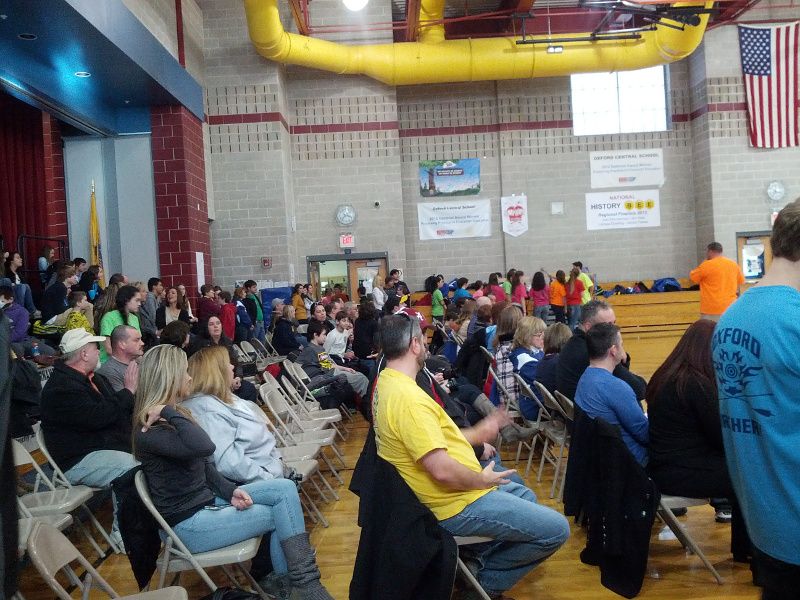 ---
On Saturday a total of 35 members of the Black Knights ,Traditional Archers of New Jersey and United Bowhunters of NJ organizations came together at BKB to prepare the range for the 20th Annual TANJ /BKB Cabin Fever Shoot the following day.

I cannot thank everyone enough for all your hard work both days.

We plowed, shoveled, picked up down tree branches on both practice ranges including front kids practice range then a crew went to Range A to help clean up from the seven winter snow storms over the last few months. It was amazing to see even the kids cleaning their own range.

Members like Lance Blake and Bob Helle who on Tuesday decided to take a drive to BKB and plowed the Club. Then came back Saturday and plowed the back parking lots.That what team work is all about. Jim Farley and Mike Mason who also went over to see what they can do.

We then placed over 28 targets out on the first 15 target butts and paper animal targets on Range B.

On Sunday held our 20th Cabin Fever 3-D Shoot and Swap meet at Black Knights, Jackson. We broke all past records with 160 participants not counting the families & friends that came to watch what the fun was all about.

The practice range had shooters standing shoulder to shoulder traditional and compound from 8 a.m. until 2 p.m. Those that attended were shooting, selling, buying bartering, trading all types of archery equipment & telling hunting stories all day long.

We had a Texas-Wac- Um for the Wounded Warriors and had 2 wounded warriors as guest with their service dogs greeting all the shooters. Monies that we collected with the help of Al Dolce Central Jersey Rifle and Pistol Club will go to Service Dogs for our Military hero's.

For a veteran who perceives many things as a potential threat, the dog generates a significant amount of safety, both physically and emotionally. A sell-out baseball game, a concert, a family reunion, can now not only be tolerated again, but enjoyed.

A dog who can switch the lights on at the bottom of a dark stairwell, refocus and soothe a nightmare with a nuzzle, and literally, block the back of a vet standing in a crowded line at the bank can help to restore a veteran's sense of self and the qualities of leadership that were demanded of him or her.

We received so many compliments during the day of what a great time they were having. There was no scoring just everyone having great time. In the kitchen all the ladies of BKB did an outstanding job the entire day working hand in hand better then any cooking show on cable -Bobby Flay look out.

After all is said and done it still amazes me with the many calls, text messages and email that I received on what a great time everyone had. Some people said while shooting in the woods you could hear people laughing and just having fun. When the snow melts you are invited back to find your lost arrows in fact the lost arrow bucket was filling up after the 3D's were picked up by Roger and his cleanup crew.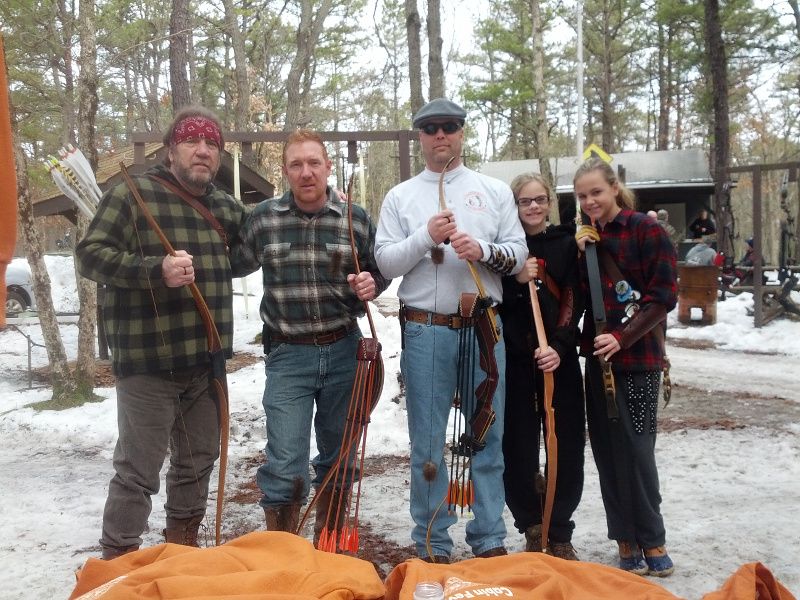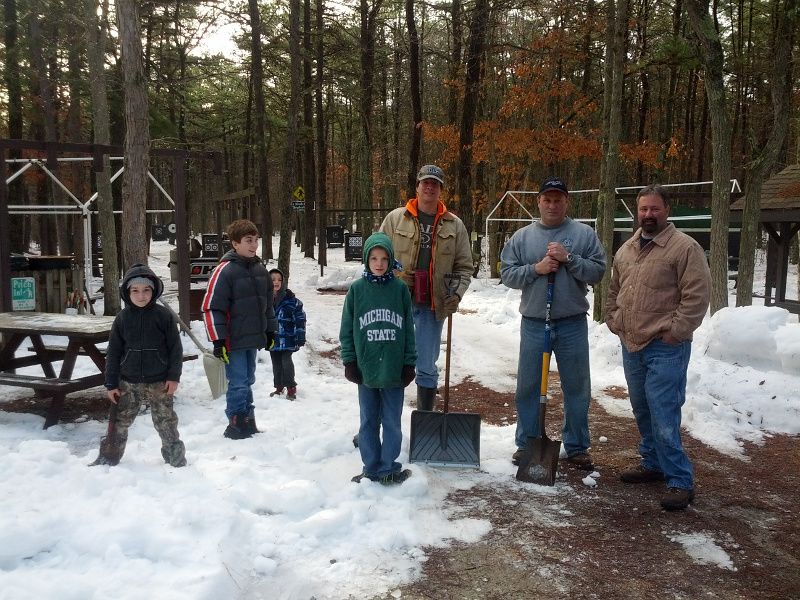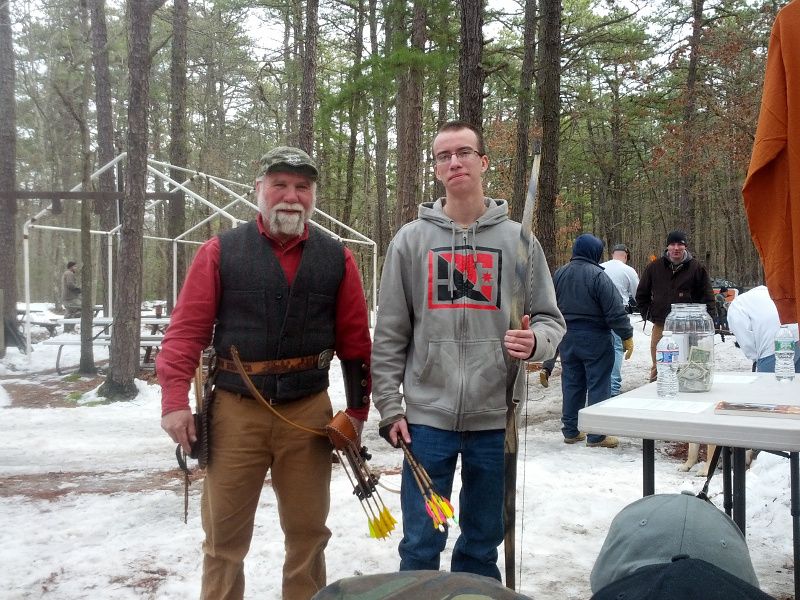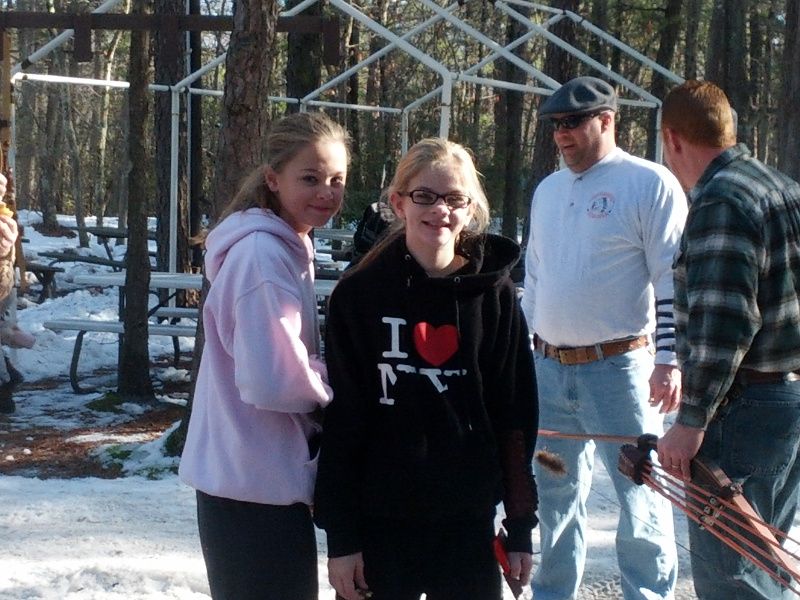 Save the Date

Sunday - March 16th 1st Annual "March Madness" Obissquasoit Archery Range, Bridgeton NJ (our first 3D shoot at this club) What a great range and moving targets and many events win prizes all day .Lets see how good you are. Come and join us. We can car pool so send an email, ring the phone or send a text but come and have some more fun.

~ Doc


---
TANJ Trish and Jamie Golas are proud to announce the birth of their son Master Lucius Golas ...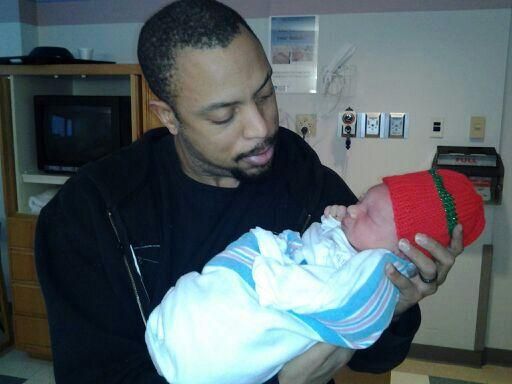 He was born on Dec 20 2013 at 8:13p.m. weighting 8 lbs 9oz. He is now our youngest TANJ member.
~ Doc
---
Zach Muller, while waiting for a shot at a big buck took another deer this morning - a monster doe! The Razor Cap 3 blade went right through its heart. If you look at the does head compared to his Black Widow recurve, you can tell how big this deer was and know it out weighted Zach by around 17 lbs. I lost count again this year with Zach; he's a deer harvesting machine something his Father Phil is very proud of. As they say "the apple doesn't fall too far from that tree" and we know the broad head always fly straight to its target. We guess the Muller family is having back straps for dinner again!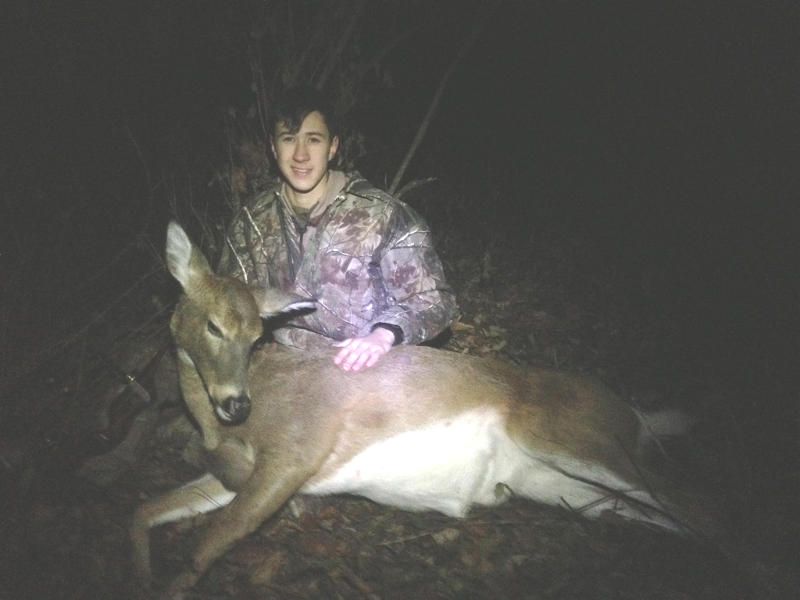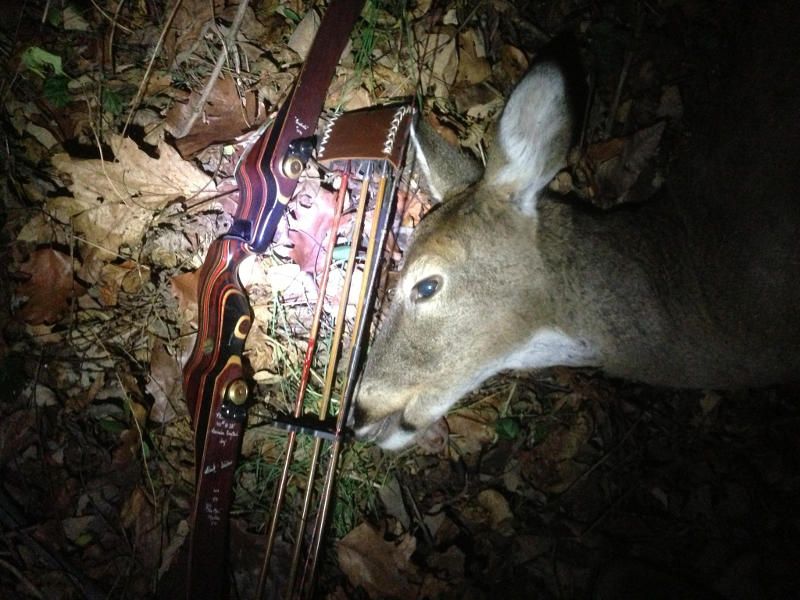 Congratulations to TANJ member Capt Jack Fleishman who harvested his first traditional deer, a 6 point buck, using his 1973 Browning Wasp, 3River Carbon Arrows and Steel Force 2 Blade Heads. This past year, Capt Jack and his girlfriend Jennifer donated a ten man fluke fishing trip on his 54 foot "Li'l Hawk" fishing boat to our 9th NJ Bowhunters Game Dinner.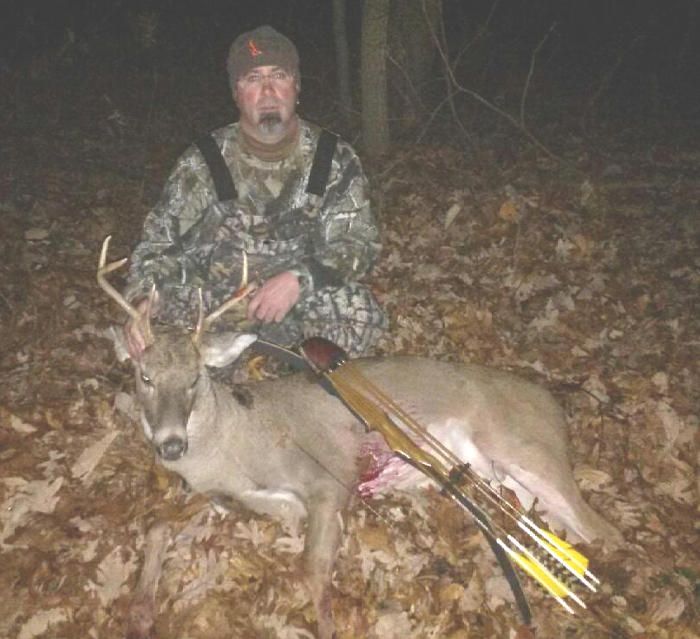 TANJ member Bob Rocca of Hazlet, NJ, harvested this 6 point buck on Nov 14, 2013, in Howell Twp. He used a Bear 50 lb Super Kodiak Recurve, cedar arrow with 160 gr. Grizzly Broadhead wearing his Predator Fleece Fall Brown Camo. Congrats Bob!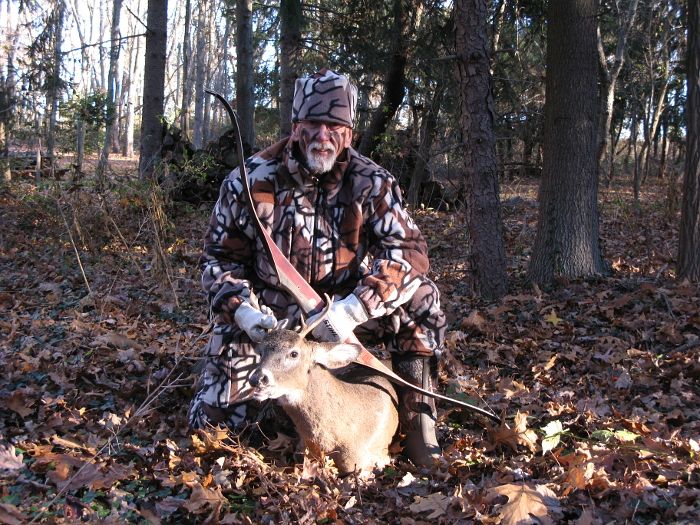 ---
Doc scores big time!!! Congrats El Presidente!!!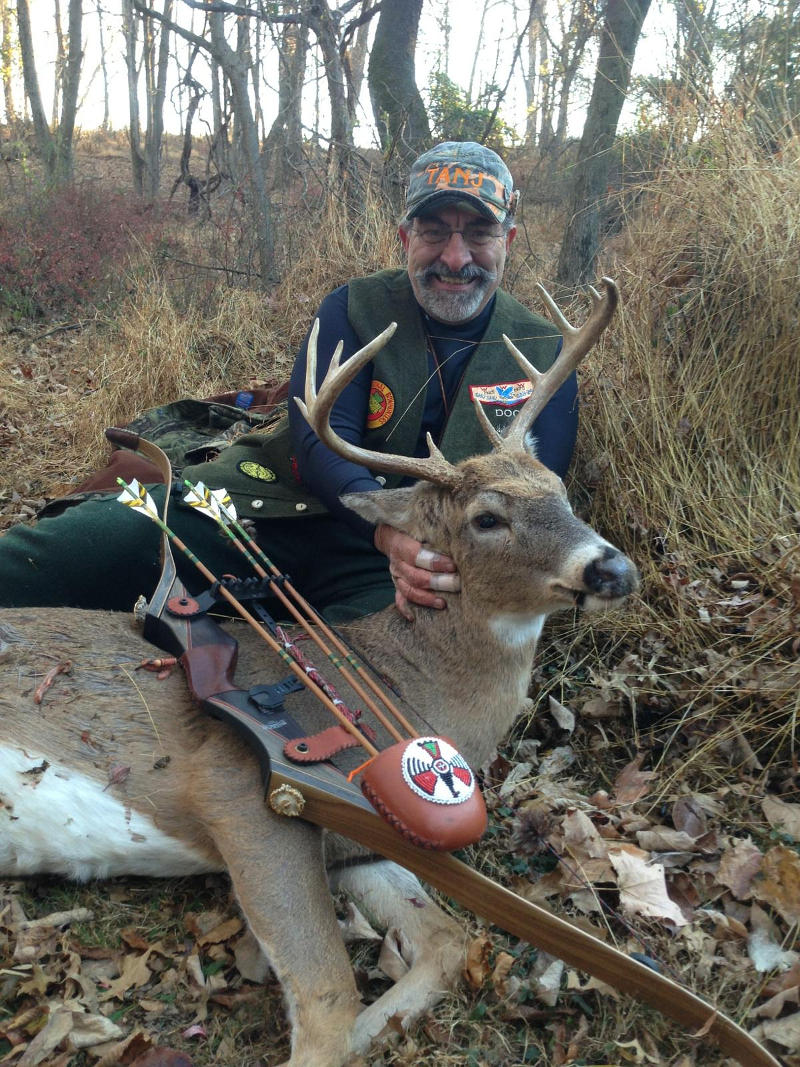 ---
TANJ member Dave Wolf proudly showing off his arrow tattoo that he just had done. His son designed the arrow art work and his daughter decided to get the same matching tattoo but its on the top of her foot - Ouch! Ha!!


---
---
On behalf of all the TANJ membership I accepted a plaque for all that we do for CJRPC Wounded Warriors Day.

I'd like to thank those TANJ members, and our sister organization Black Knight Bowbenders members, for the last four years that have been coming out to help.

We especially like to acknowledge Tom "Sarge" Robinson and this son "Corporal" Tyler for bringing and then setting up the target range with their own targets and Tom for running the day Archery range.

You will also see two awards that I accepted for TANJ members Irene Bowers of Bowers Wildlife Art Studio, and John and Jody Johnson of JRJ Knives Custom Handmade Knives. They have donated from their hearts towards this great event every year.

We tip our Quiver to you all.

Doc DeCaro
President
Ron Ellison
Vice President
The Traditional Archers of NJ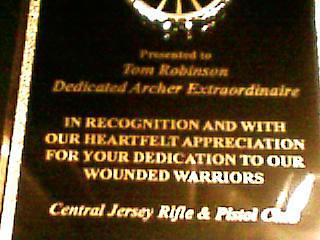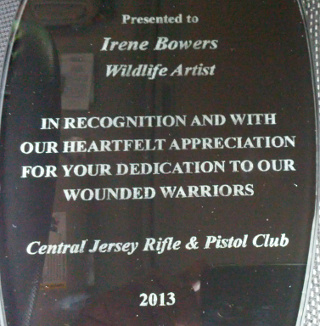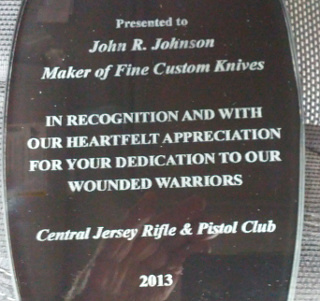 ---
The Central Jersey Rifle Pistol Club Wounded Warrior Day was held on Saturday October 12th. The following archery organizations came together to support our troops especially our Wounded Warriors - The Black Knight Bowbenders, The Traditional Archers of NJ (TANJ) and the WaXoBe Archery Club. They taught the art of archery to all the Wounded Warriors that attended along with those that came to honor them.

We like to thank the following people that gave their time and helped set up and take down the target range. They taught non-stop throughout the day - Ron Ellison, Horace Eckman, Tom and Tyler Robinson, Nick Shannon, Bud Thomas, Stephanie Wixted & Bill Zide.

Doc DeCaro
President
TANJ


---
Saturday, October 12th - TANJ Council member Brian Peters (buck) and Zach "I don't need no sights" Muller (doe) both score venison in the freezer! Way to go, guyz!!!


---
---
"Stickbows and Rays" -- need we say more? :)
---
Phil and Zach Muller harvest two does with longbows and cedar arrows. The TANJ Traditional Tag Team were all said and done by 8 a.m Opening Day, 9/14/13. It does not get better than hunting with your son or daughter and passing on the torch of getting "Stickbow Close".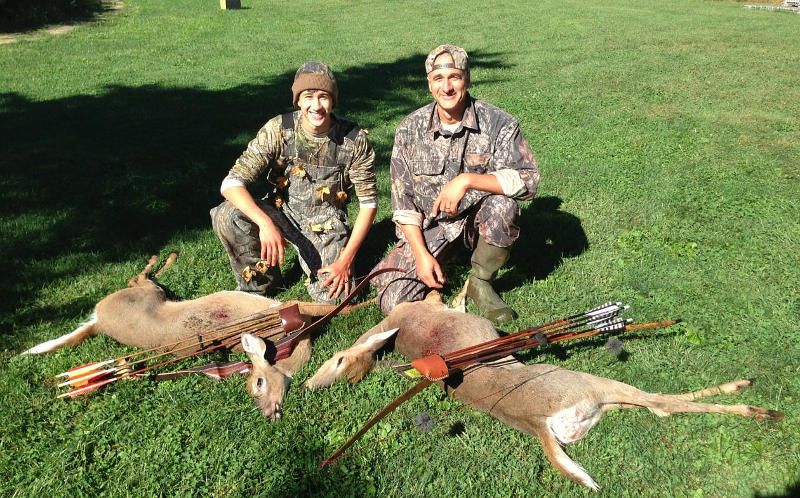 ---
Maggie Roden of Clark, N.J. was the winner of one of the 2 custom made Maple selfbows with matching arrows. They were donated by TANJ member Tim (The Chief) Wills bowyer of Warpath Archery, N.J.

The bow and arrows were presented Monday night at the Union County Oak Ridge Public Archery Range in Clark, N.J.

Maggie along with her Father Marty were attending the 4th Annual New Jersey Fish and Wildlife Wild Outdoors Expo which was held at Colliers Mills WMA. They decided to enter the contest and Maggie as you can see was one very happy little girl.

She now intends to sign up for the Archery safety course this week so that she can now shoot her new bow at the Oak Ridge Range along with her Dad.

Gerry "Doc" DeCaro
President
Traditional Archers of NJ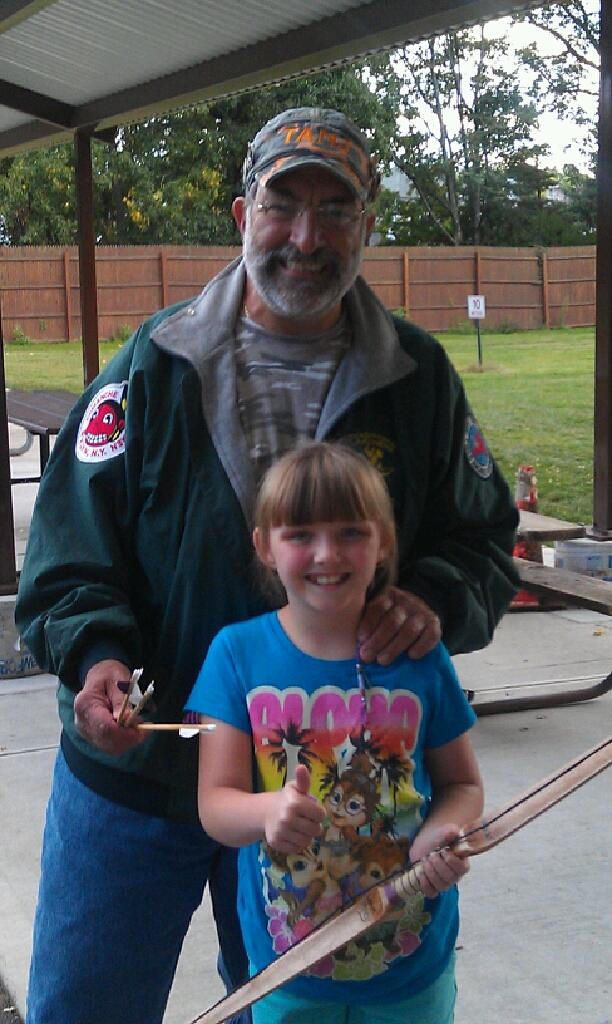 ---
Tim (Chief) Wills

The Traditional Archers of NJ would like to thank Jessica, Courtney and yourself for your kind donation of two custom made Maple selfbows and matching arrows. One for a boy and the other for a girl for our raffle that we had during the NJ Wild Outdoor weekend at Colliers Mills which was sponsored by the NJ Fish and Wildlife.

We also appreciate your working throughout the day on demonstrating your traditional skills making American Indian style arrows, knives and bows to all that attended. We raised over $250 in which proceeds will be sent to "Jason Dream for Kids".

We also like to thank you the Warpath Archery family for joining the TANJ organization. You will be receiving your new membership cards and our quarterly newsletter in the mail this week.

We would like you to write an article for our Nov/Dec "Off the Shelf" newsletter about Warpath Archery Family and what you are all about.

The TANJ membership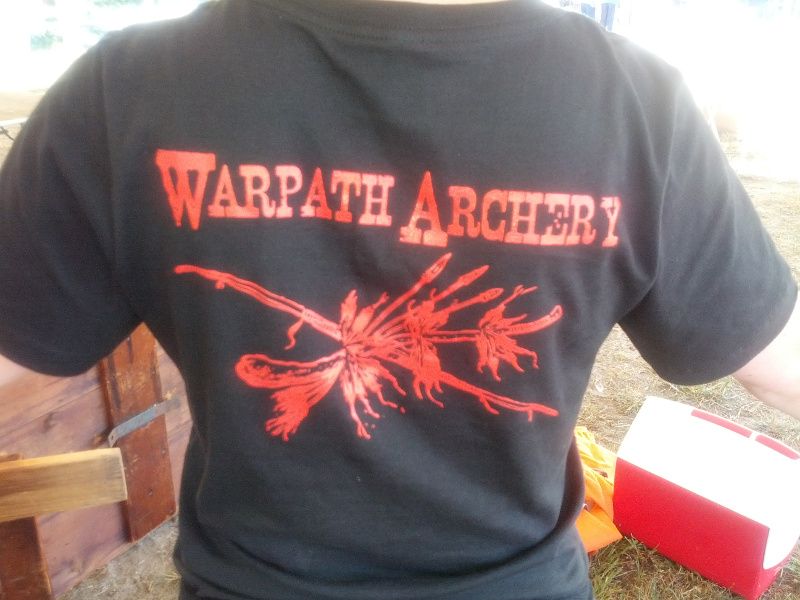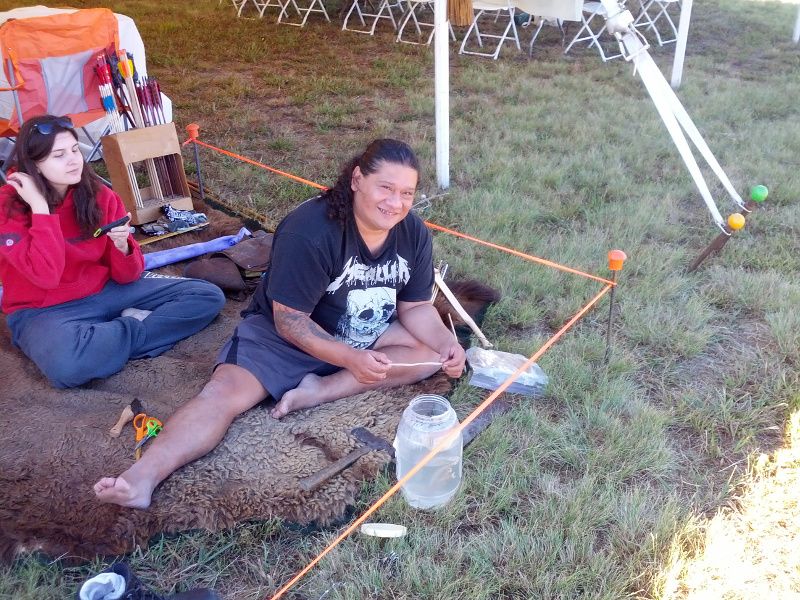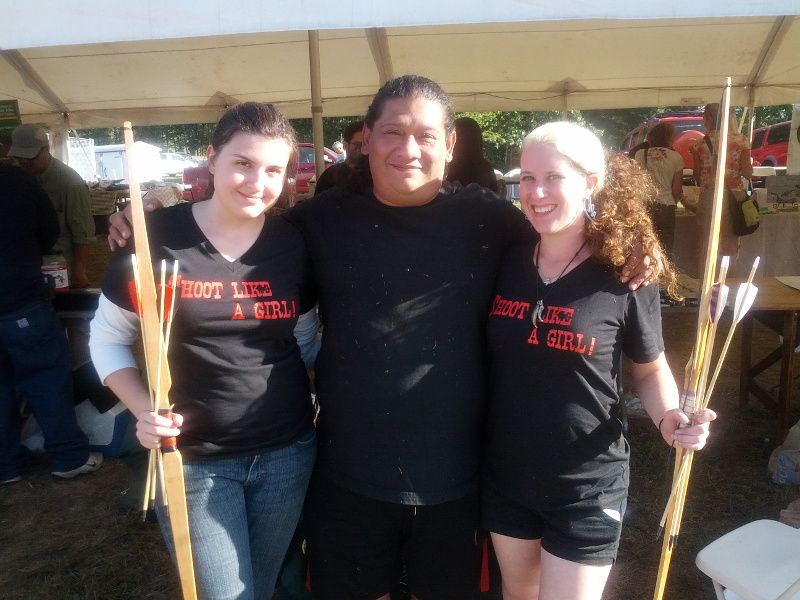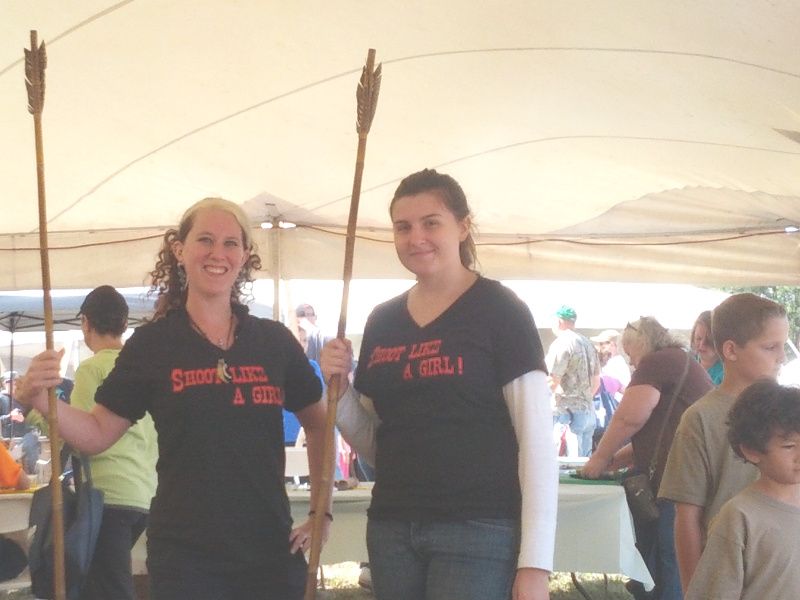 ---
TANJ would like to thank TANJ Tom Robinson for donating 2 bags of Turkey wing feathers. Many of the feathers were handed through out the weekend to many of the kids that came to NJ Wild Outdoors who wore them proudly.

Doc
TANJ President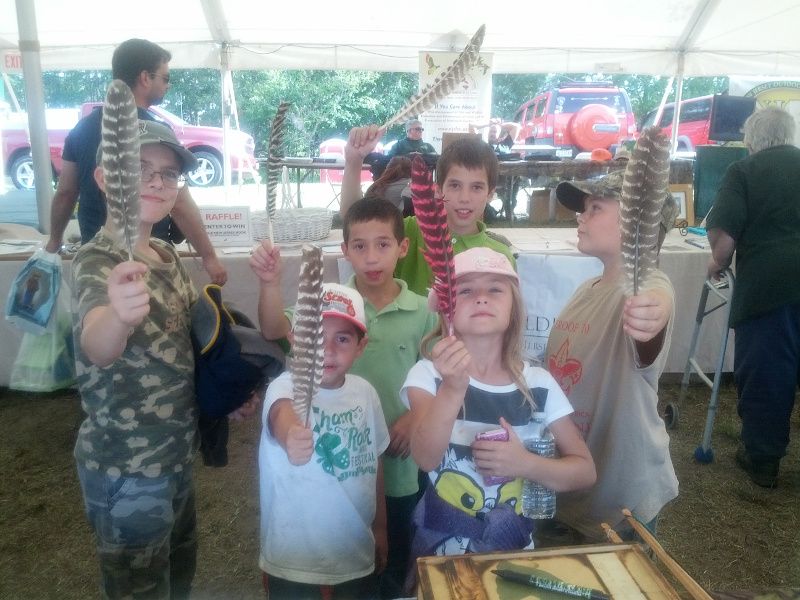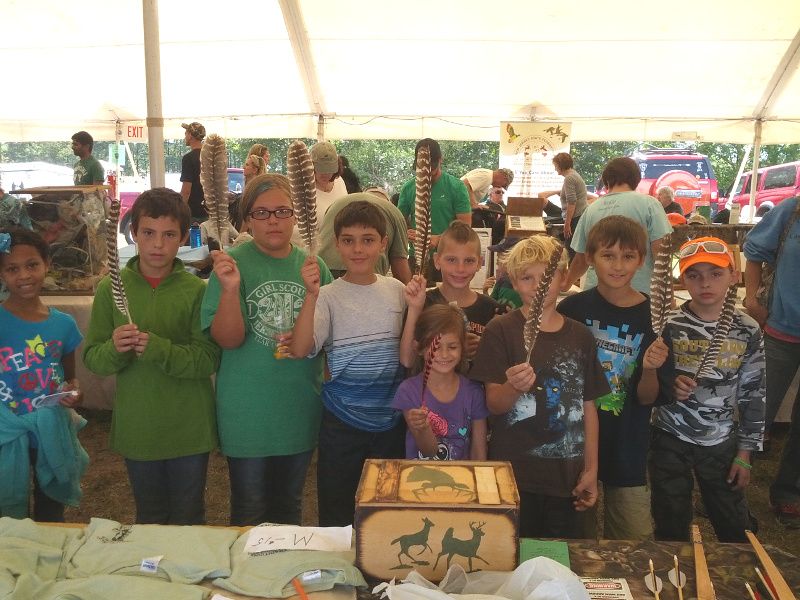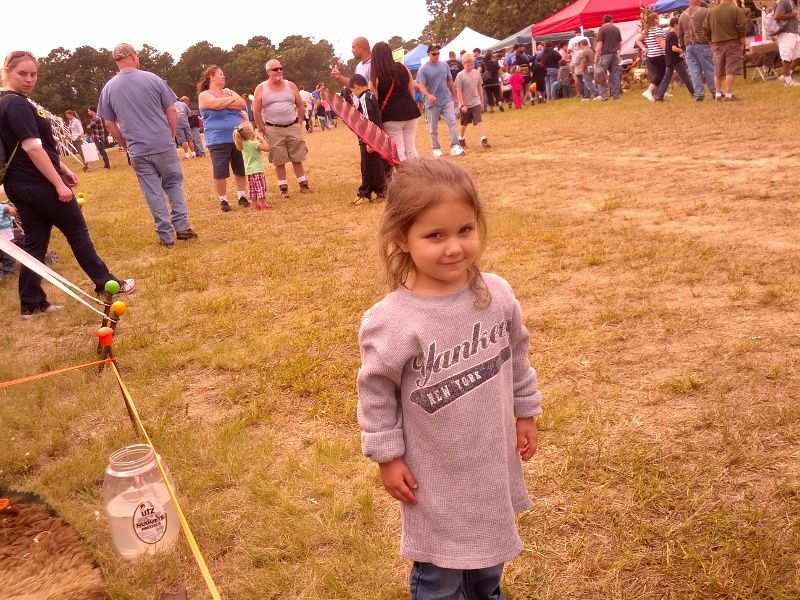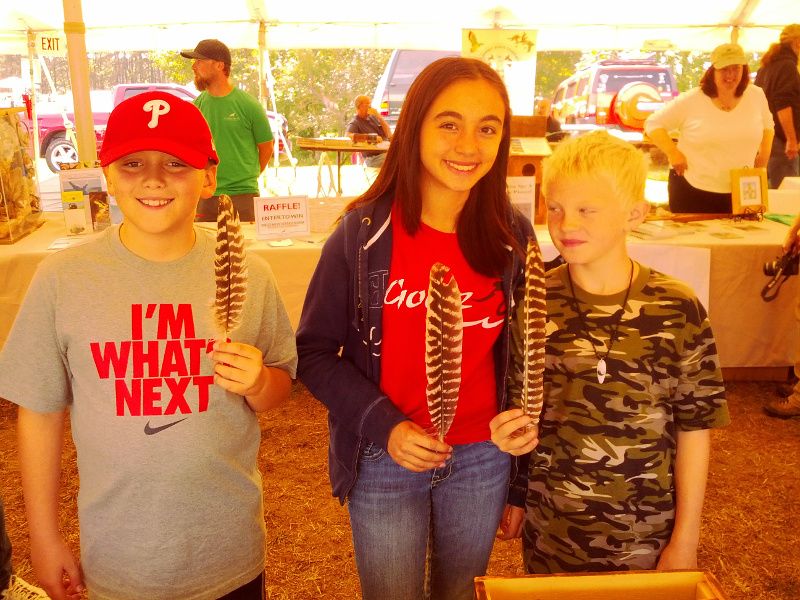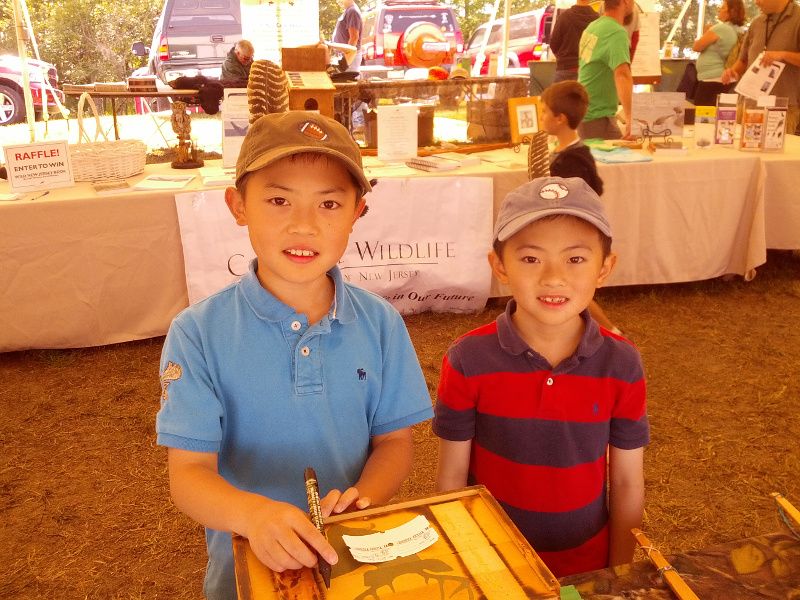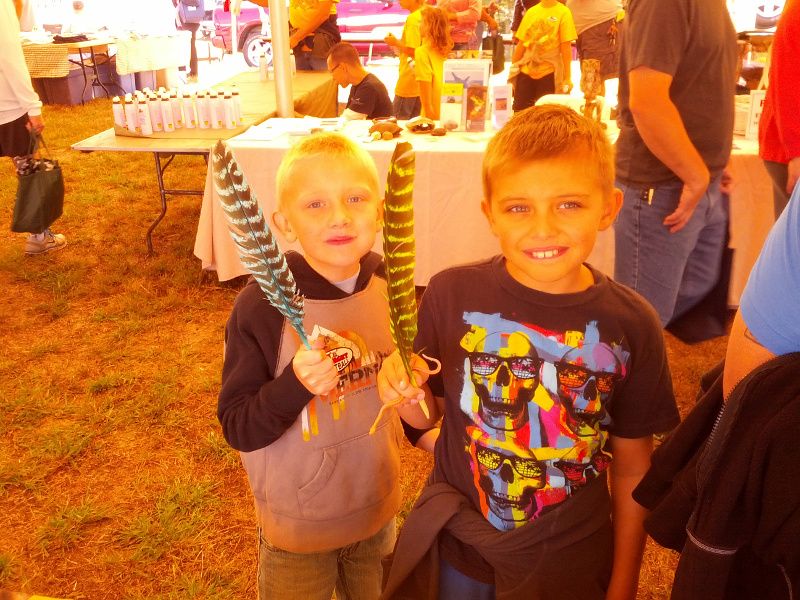 ---
The Traditional Archers of New Jersey will have a booth under the big white tent this weekend at the NJ Wild Outdoors.

I know it's the first day of the Fall Bowhunting so if you hunt Saturday come Sunday. Please its for the kids give up one day you have 6 months to fill your tag .

Just take a few hours and come join us to see whats all the fun's about

If anyone would like to help out demonstrating any traditional archery skills (not shooting this year) please contact me. So far we have Tim (The Chief) Wills, John (Carvin) Fileds, Mike (Traditional Earth Skills)Dennis and myself doing demonstration throughout the day.

If you have a skill what not pass it on especially to "Our Youth they are our Future" We will as always be selling shirts and hats and have two tables so bring your folding chair. If you bring your stickbows there will be no shooting except to show our equipment that we use to harvest game and shoot 3D.

Our Traditional Archers of New Jersey organizations name is on all flyers and web site as a sponsor.This year we again sponsored Archery Traditional (TANJ Junior member) Trick Shooter Chris Hurt.Chris will perform 3 shows on Saturday including hitting aspirins and BB's out of the air at 15 yds with his Leon Stuart longbow. Last year the parents especially kids enjoyed his show that we were kindly asked if we could sponsor him again?

The NJ Fish and Wildlife expect over 7500 again this year to attend so bring the family and especially the kids. Plenty of parking and no long lines.There will be so many things for the kids to learn and be involved in. Know someone who wants to take the Hunter Education course shooting bow or gun that can qualify at the event.

We need your help T.A.N.J. is your organization so get involved

www.wildoutdoorexpo.com

To find it use Google maps type in
299 East Colliers Mills Road
New Eqypt N.J. 08533

Thank You,
Doc DeCaro
El Presidente
Traditional Archers of New Jersey

T.A.N.J.
(732) 673 2065 cell




---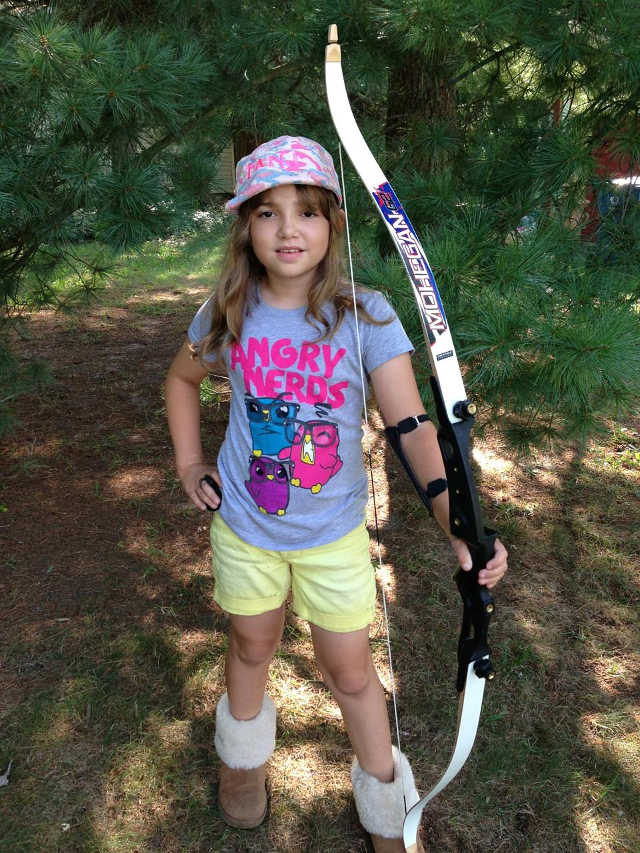 Analisa Viterbo our new Black Knight and TANJ rising Olympic Archery Star and the Viterbo family including her Mother Kelly, sister Gabby and brother Frank shoot every Thursday.

Analisa can be found from the minute you drive in until dark practicing the art of archery and now with the bow that she won during Big Foot's Texas -Wac- Em. when her name was drawn from among the many adult archer's that entered the contest over the weekend.

All monies raised that weekend ( $350) was donated today to Jason's Dream for Kids in New Jersey in the name of the B.K.B. & TANJ organizations. This charity located in Red Bank, N.J grants wishes for children with life threatening illnesses (www.jasondreamsforkids.com)

Doc DeCaro
President
T.A.N.J




---
Girl Scouts at BKB! ...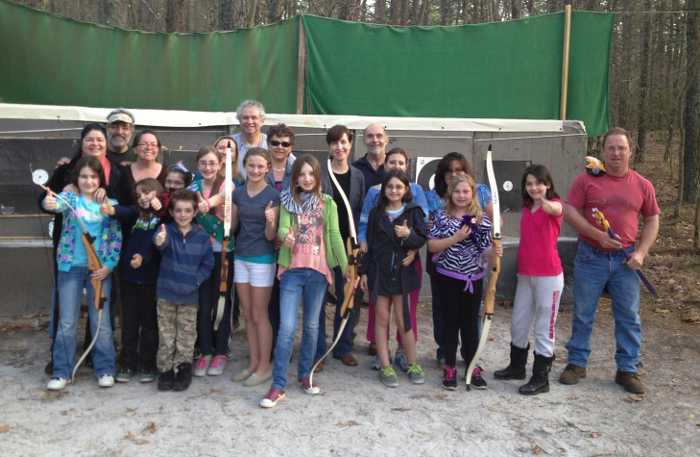 Doc and Alex Montefusco at Denton Hill ETAR shoot. He sez Doc is is "stickbow idol" and calls him "Uncle Doc" - boy is he in trouble! hahah!!! ...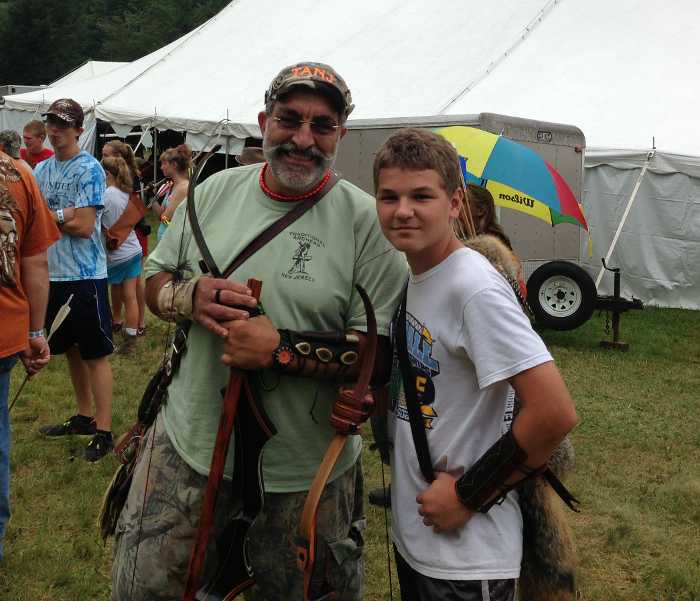 Charlie DeCaro out shoots his Dad (Doc) at 35 yds during UBNJ shoot on Fathers Day at Black Knights! ...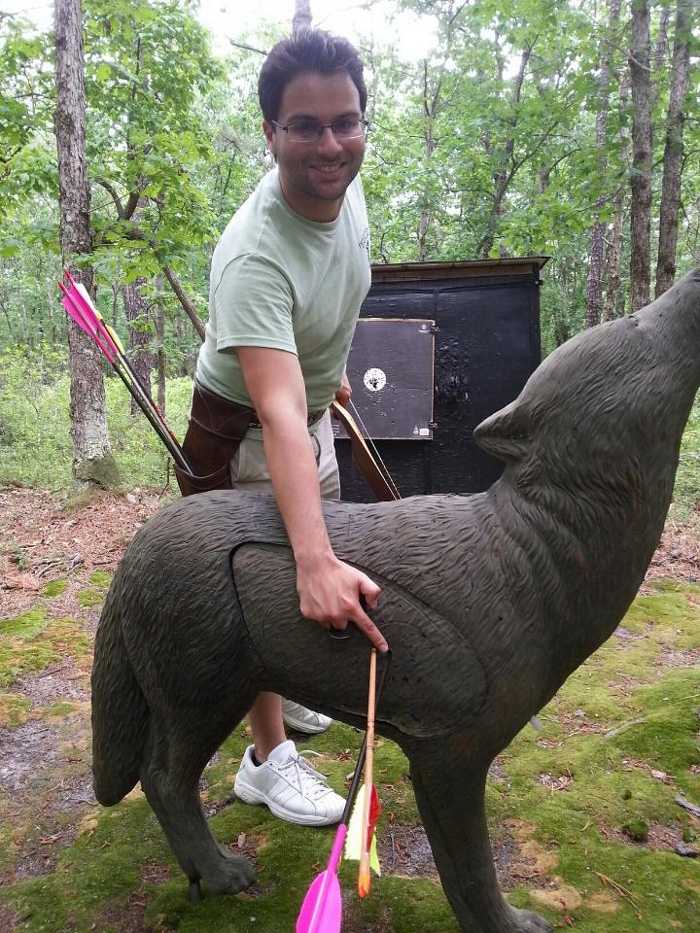 ---
Last night at Black Knights Thursday Open to the Public night Lil 5 year old Joey came to shoot. It was his first time and within a short time he was hooked on archery thanks to Mike "MGM" Luster you taught him how to shoot, what form!

His Grandfather said his dream is to be on the wrestling team in school when he grows up. What a great kid and all night his grandfather was having a ball watching him shoot. Within minutes Joey was hitting the shark target time and time again I guess in honor of shark week on the Discovery Channel.

Doc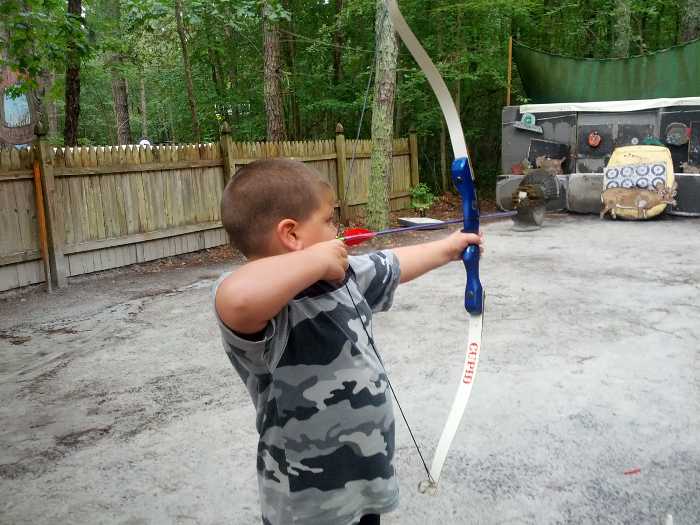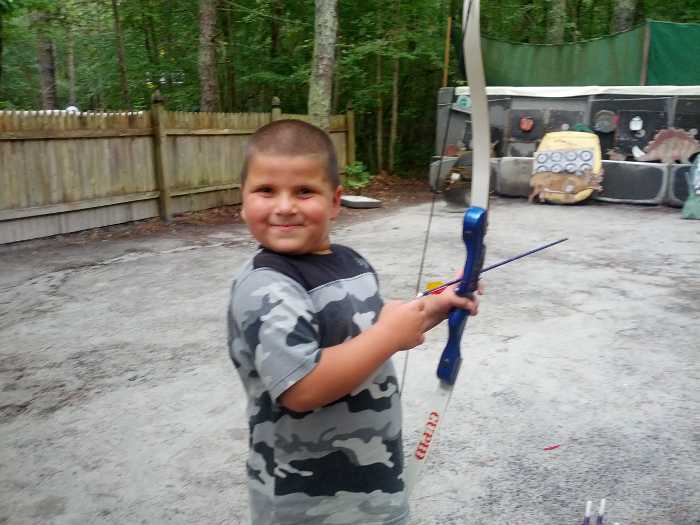 ---
All Friends of the Bow

This Sunday (Aug 11th) we hope to see many Archers from Black Knights, SCFGPA , TANJ , WaXoBe & UBNJ attending the Garden State Archers 3-D Shoot "Hunters Helping Heroes". A total field of 50 3-D Targets ! Prizes ! Raffles! Food & Drink !

Hunters Helping Heroes

"Support Our Troops ~ God Bless Them All"

Gerry "Doc" DeCaro
President
T.A.N.J.


---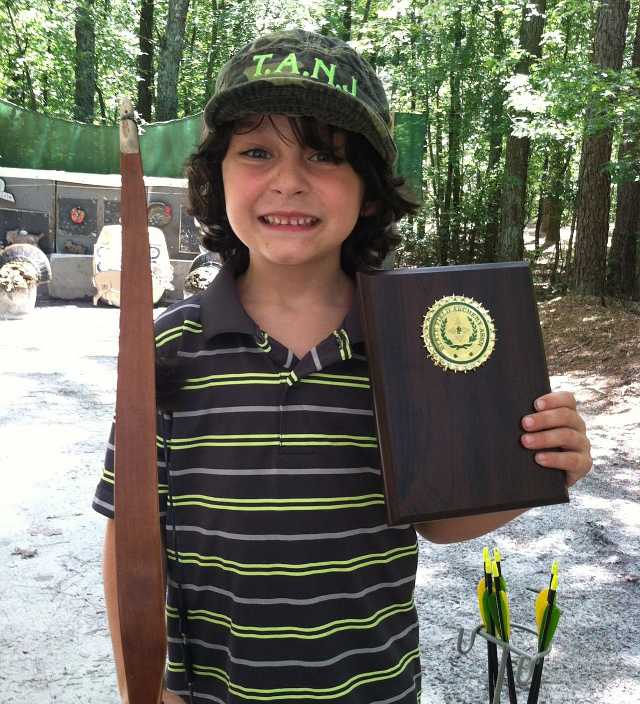 TANJ youth member Mason Avon age 6 proudly wearing his TANJ lucky hat won first place Cub Male Division of the NJ- SFAA which was held at Black Knight Club on Aug 4th 2013
---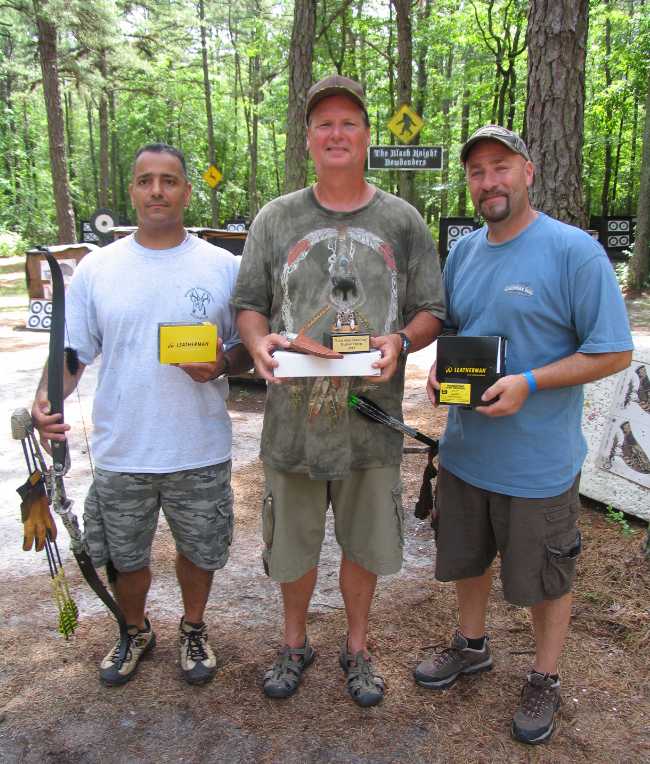 "Last Man Standing" 2013 - Ray Inglasius #2, Professor Tom Higgins #1, Pete Fazzaro #3.
Thanks to Blake Brothers Fence, Toms River and The Terfenko's of Homestead Auto of Avenel
and The Traditional Archers of NJ for making LMS a Major Part of BIGFOOT!
---
---
---
Dear Gerry "Doc" DeCaro
President
Traditional Archers of New Jersey
T.A.N.J.

The Gutyanker group would like to thank all of the T.A.N.J. members and friends of the stickbow 
who have helped us fulfill our mission this year. We have received donations from caring T.A.N.J. 
members at Black Knights,  Denton Hill  Farmers Sportsmen, Sawmill,  Wa-Xo-Be , Whittingham, and 
at the Heritage Guild Sportsman Shop in Branchburg ,N.J. 

If you do not know us, we are a organization whose members swore a solemn oath at the Denton Hill 
campfires many years ago to help any youth in need of stick and string equipment.

Anyone that knows of a young adult in need of traditional archery equipment and the family is not 
able to financially fill that need, is urged to contact us @ 908 - 403 -2760.

Thanks,
Mike Tully
Gutyanker Ambassador
xringman@verizon.net
~*~*~*~*~*~*~*~*~*~*~*~*~*~*~*~*~*~*~*~*~*~*~*~*~*~*~*~*~*~*~*~*~*~*~
Dear Gerry

On behalf of the Union County Department of Parks & Community Renewal, I'd like to express my 
thanks to you taking your time in helping teach archery to those that attended in the 2013 Olympic 
Day Celebration.  Having the North Jersey Navigators and Lightening Wheels archery teams at the 
range together was great.  I sincerely appreciate the time the coaches, team members and their 
families made in their busy schedules to gather at the range.

When the story becomes available on The Patch, I will pass it along to you. 

I wish the teams all the best at Nationals- they are a talented group of young athletes and I'm 
proud to know you!  Both teams and their coaches appreciated the helpful tips on their shooting 
form that you gave before their trip to compete and going for the gold!  

Please forward this to the members of the T.A.N.J. organization and appreciate your attending as always.

thanks!

Sincerely,

Margaret Heisey
Program Coordinator
908-527-4806
---
To All TANJ members and Friends of the Bow


Its time for you to get involved next Hunting Season Please donate your deer to HHH. Just follow the simple instructions below ...



HHH Hunters Helping The Hungry


Dear TANJ member after tagging your deer, and calling for your transportation number, take your deer to one of the participating butchers listed on our website, and in the hunter's digest. The food bank is not allowed to distribute the meat unless the deer is processed at a butcher that has been inspected by the State Health Dept. All participating butchers have passed this inspection. Fill out the form at the butcher shop (name, address, license number, transportation number, etc).

If the dressed weight of your deer is more than 50 lbs, you pay at least the first $10 of the processing fee, and HHH pays the balance. If the dressed weight of your deer is less than 50 lbs, then you pay at least the first $25 of the processing fee. HHH is not a state funded program. All funding comes from donations, and fundraisers. Since there have been years when we had to close the program down during the hunting season due to lack of funding, we need to ask the hunter to share in the processing fee.

The butcher will then process your deer, and the food bank will pick your processed deer up at the butcher, and distribute the meat to various food pantries, emergency shelters, churches, etc. Your deer, and your willingness to share in the cost of the processing fees will then help feed hungry families in New Jersey.

Thank you TANJ membership for being a vital part of the Hunters Helping the Hungry program.

Bud Thomas
Treasurer
Black Knight
HHH Council Member

---
Today we went Turkey Hunting but God had other plans!


This morning at 5:30 am. my friend John Castle and I were going to try our luck again turkey hunting with our stickbows and started to walk across two large fields to a set of large oak trees. We again heard turkey's gobbling in the distance as we have last few days .I thought to myself today is going to be our day. We arrived above a creek bed and I set up our blind. as John put out the decoys and we then tried to call in some birds.

John is a new TANJ member and now a die hard traditional hunter. We met two years ago at Colliers Mills Outdoor expo and just became friends. We applied for two turkey permits earlier in the year for a certain zone where I have seen birds during the deer hunting season.

During the last two weeks we were having a great time ever morning chasing the birds but could not get them to come in. In the early morning we would call and call after they flew down from their roost and no luck again.

.We then decided to walk towards the creek around 10 am where every morning in the early morning light I have seen deer slowly walking down to the creek bed from another field with my binoculars at dawn was breaking for anew day. On the way along the same trail walking very quietly there in the middle of a one foot wide very high tick infested grass trail about 25yds away was a huge doe lying down with what looked like two newborn fawns in the distance. We watched for a while and saw her licking the cute guys. The wind shifted and the doe got up looked our way and snorted but slowly walked away leaving the twins.

We can then saw two fawns trying to stand on very shaky legs. We could not find their mother after waiting 10 minutes on the side of the trail she never came back, so then two fawns decided to come towards us and made a beeline for John, maybe he looked like Mommy? We started to slowly back up but the two l'il guys stayed behind John as we walked back out the trail ha! It was so funny John asking me what are we going to do?

You can see from the pictures they were only inches away. We did not want to touch them feeling their mother might not want to care for them. These fawns must have been born within hours since they had a hard time standing with back legs shaking but with every step they were improving.

We then did some fast moves (well not that fast ha) and finally hid behind some pine trees. We could see them looking for us and you could hear them crying for over an hour after they went back down the trail looking for their Mother down by the creek bed. It was killing me not to help them or to look to see if there mother came back.

The last picture of the both of them at our feet was a killer looks like a mirror image two identical deer a once in a lifetime picture. You can see the longbow and one gloved Michael Jackson maneuver on the bottom left of one of the pictures.

When I arrived home I saw that my custom J&J Hunting knife was missing from its sheath. I immediately took a ride back to the hunting area Hmm I had my excuse to also check on these little guys.

I walked back to the spot where we set up our blind and then where we first saw the fawns. I did not find the knife or see the fawns.Hopefully Mom came back and gave them a good talking to?

When I finally walked back to the my truck I went over to the east side of the parking area where I parked my tuck earlier that morning and there was my knife lying where I removed my wet boots for sneakers for the drive home.

Doc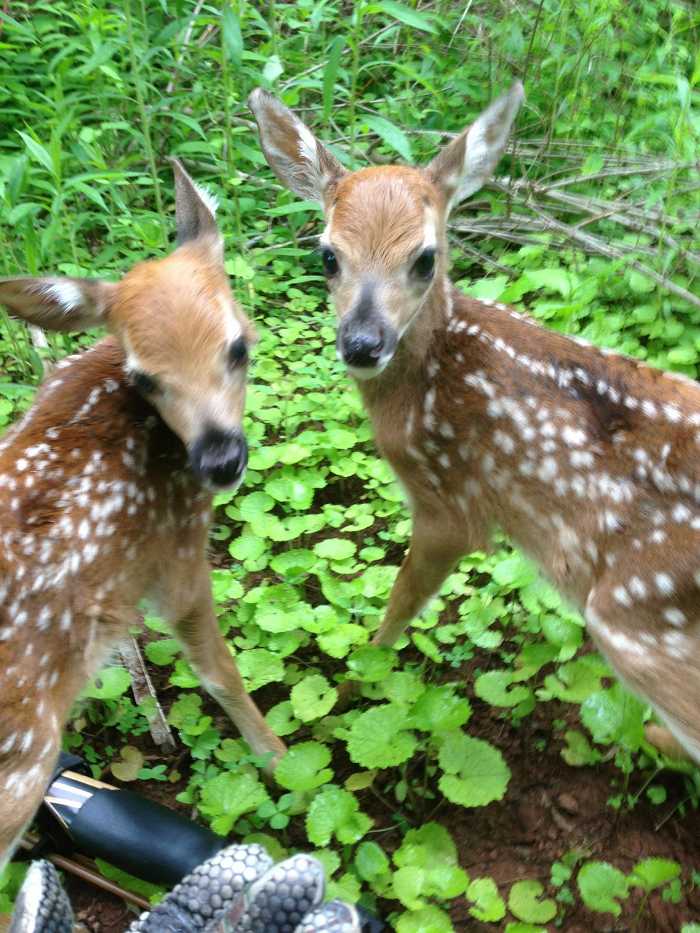 ---
Annual Texas Wac-Um Charity event which was held at the 21st. Annual Whittingham Traditional Rendezvous. The winner was Eon Woods from Princeton, Maine. Proceeds raised during the 3 day event will go towards our "Al Reader Archery for our Youth Program". The beautiful grand prize was a bow that was graciously donated again by Jeff and Jen Strauss of Allegheny Mt. Bow Co. Anyone interested in buying a truly custom made Allegheny Mt. bow please give Jeff a call at (201) 988 9213). This is Jeff's 4th year as the grand prize sponsor of this event.



Eon Woods, Jessica Strauss, Al Klenk, Gerry DeCaro



---
A photo of the TANJ members that received awards at our 21st Annual members meeting which was held on Saturday April 27th during the Whittingham Traditional Rendezvous weekend for going beyond the call of duty.



Mike Tully, Joel Riotto, George Sappah, Gerry DeCaro, Phil Muller , Frank Zsenak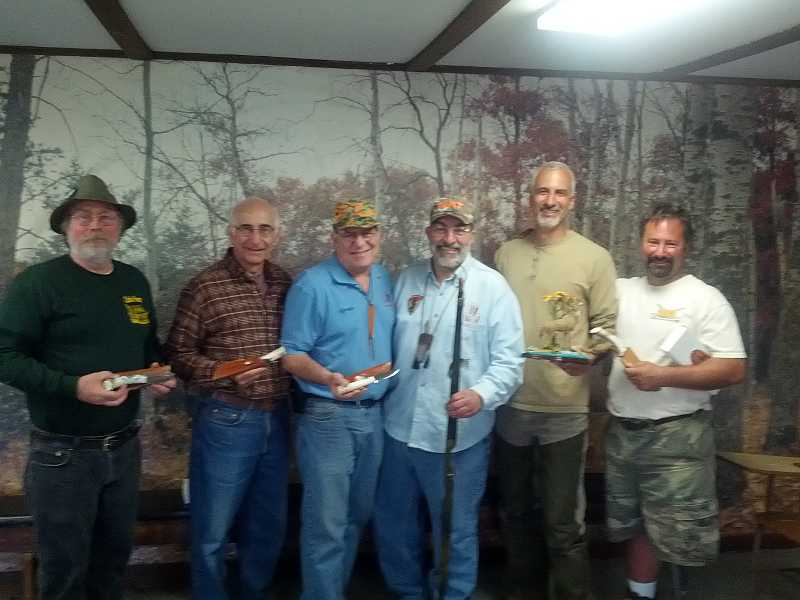 ---
"Sherlocking Capt Dan's Bow - Lost and Found in N.J."

One year ago I lost my favorite bow off the back of my motorcycle. It's a 2pc BamaBows Royal, Nate's top-of-the-line model. Beautiful Curly Maple in a gloss finish. I hadn't even gotten her tuned in yet as I got it just before my motorcycle accident.

I stupidly took off from the cleaners forgetting she wasn't strapped down. When I got to my next stop I reached for her and my heart dropped a good foot when I realized what I had just done. I immediately flew back over my route and found no sign of her. The area has a lot of traffic and I assumed someone scooped her up.

I've never come so close to crying over an inanimate object! I watched craigs list and the auction site for awhile then gave-up on ever seeing her again.

Well, it turns out a fellow bow hunter, a compound shooter, had stopped and dodged traffic to recover it. Matt is his name. Matt posted flyers but I never saw them. He tried everything to track me down, but the BamaBows logo looks like BanaBows so he hit a dead-end.

Recently while sitting in his truck at a Home Depot waiting for his wife, Matt was approached by Gene G.from a local archery club, (Black Knight Bowbenders), due to his bow hunting stickers and camo. Gene G. is the author of the CJAN Central Jersey Archery News email letter that is sent out free every month to the Archery Community in New Jersey and Pa.

Matt thought to mention my bow and ask him advise on tracking the owner down. Gene then directed him to Doc DeCaro, President of the 'Traditional Archers of New Jersey'. After a phone call from Matt that same day Doc called our TradGang Web Guru Rob D. who is very familiar with Nate's BamaBows and passed on Nate's number.

Doc then called Nate confirmed that he built the bow for me, then emailed me. I was floored! I couldn't believe my Bama Royal was coming home. What are the odds that after a year of being lost on a busy roadway a bow especially a stickbow, would ever be returned? The bow is still absolutely mint too.

I can't thank Matt enough for rescuing my bow from that roadway and his dedication and efforts to return her to her rightful owner. He even turned down an offer to sell her. He is a true gentleman and man of honor. My hats-off to you Sir!

I also want to thank Doc D.and Rob D. for their "Sherlocking' the bow to me. I'll see you guys at the Whittingham Traditional Rendezvous in April ! Guess what bow I'll be shooting? This bow was obviously meant for me and she's just got to have huge MOJO!

Here's a couple pics of the bow and one of Matt returning the bow to me. Matt is on the right.

Capt Dan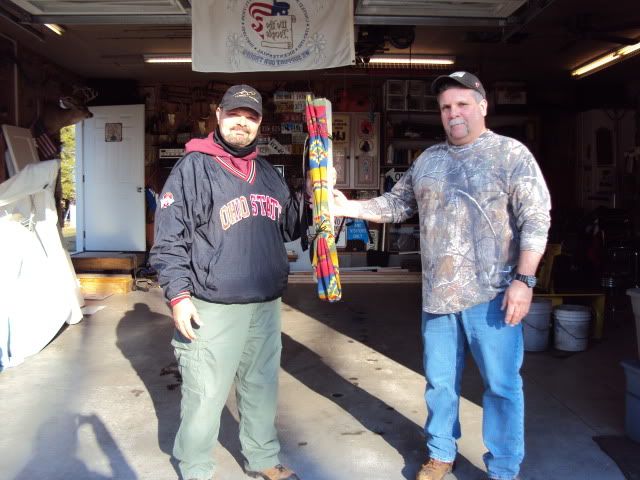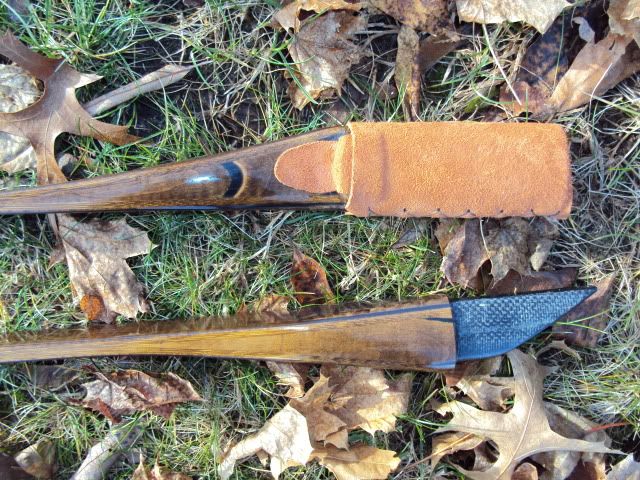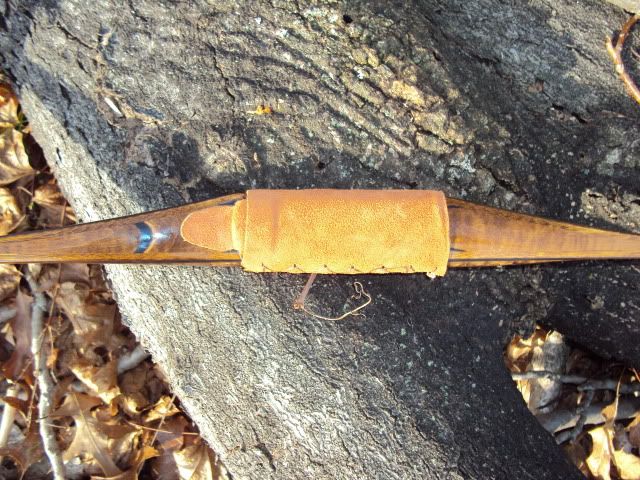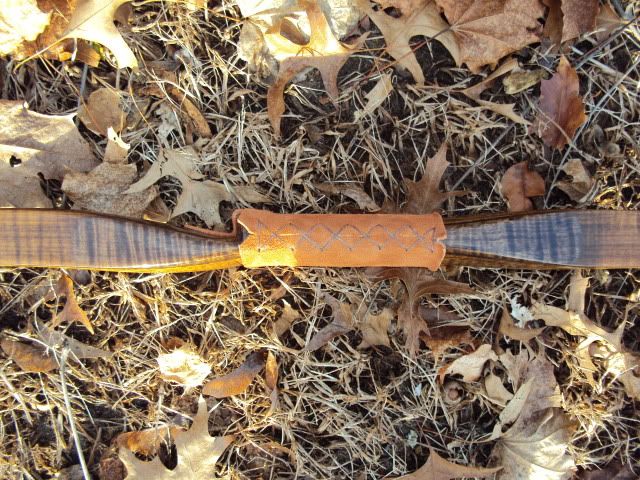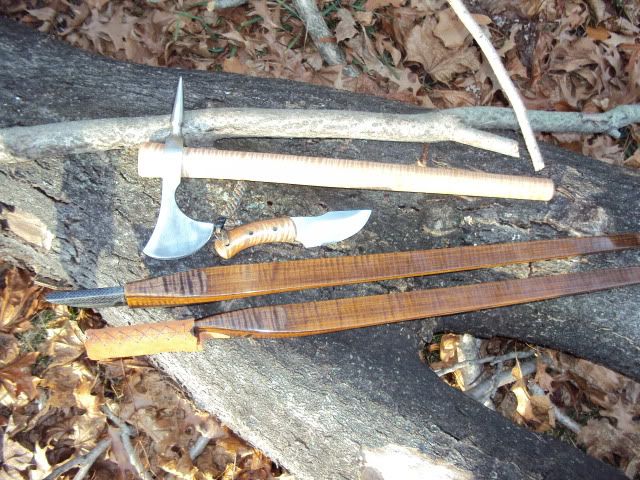 ---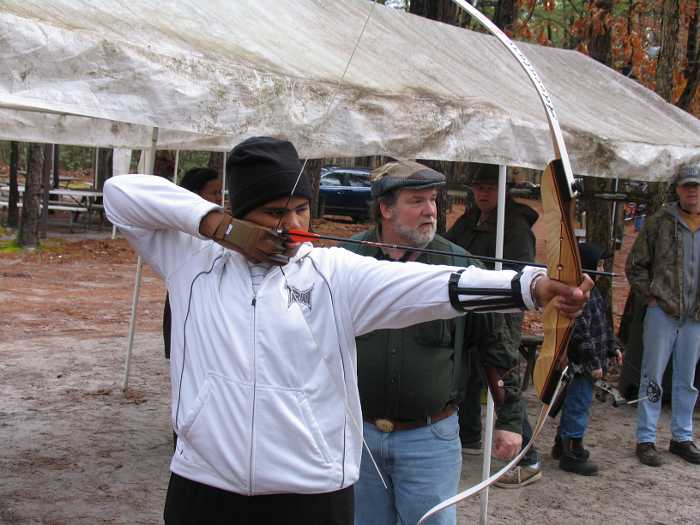 Mr. Gerry DeCaro
President
Traditional Archers of N.J.
T.A.N.J.

I was very surprised and happy when I saw you at the Black Knights event last Sunday February 24th. We could not believe all the people that attended your Cabin Fever shoot. I was even more surprised when you asked me did I purchase a bow yet when my family and I came with my family over to the registration booth to sign up to shoot.

Since I did not have a bow and it seemed that all the other archers had bows, I was more than a little curious. When you told me you had a surprise for me, I was simply hoping for a bow. To my amazement in front of everyone you presented me with a new t/d recurve 28# bow, 12 matched set of arrows, side quiver, new shooting glove, arm guard all donated by the Gutyankers of New Jersey.

My sincere thanks goes out to you, Mr.Mike Tully and all the members of the Gutyankers club that made this possible.

You also stated that the Traditional Archers of New Jersey T.A.N.J. will be donating a t/d bow travel case, Morell NASP Youth Target , camo bow sock & bow stringer from their "Al Reader Archery for our Youth program".

I sincerely appreciate the donations and the countless hours of coaching that I have received from Mr .Tom Robinson, yourself the other members from the Black Knights and WaXoBe organization.

Sincerely,
Elijah (Eli) Bland
Youth T.A.N.J member
Jersey City, N.J.
---
---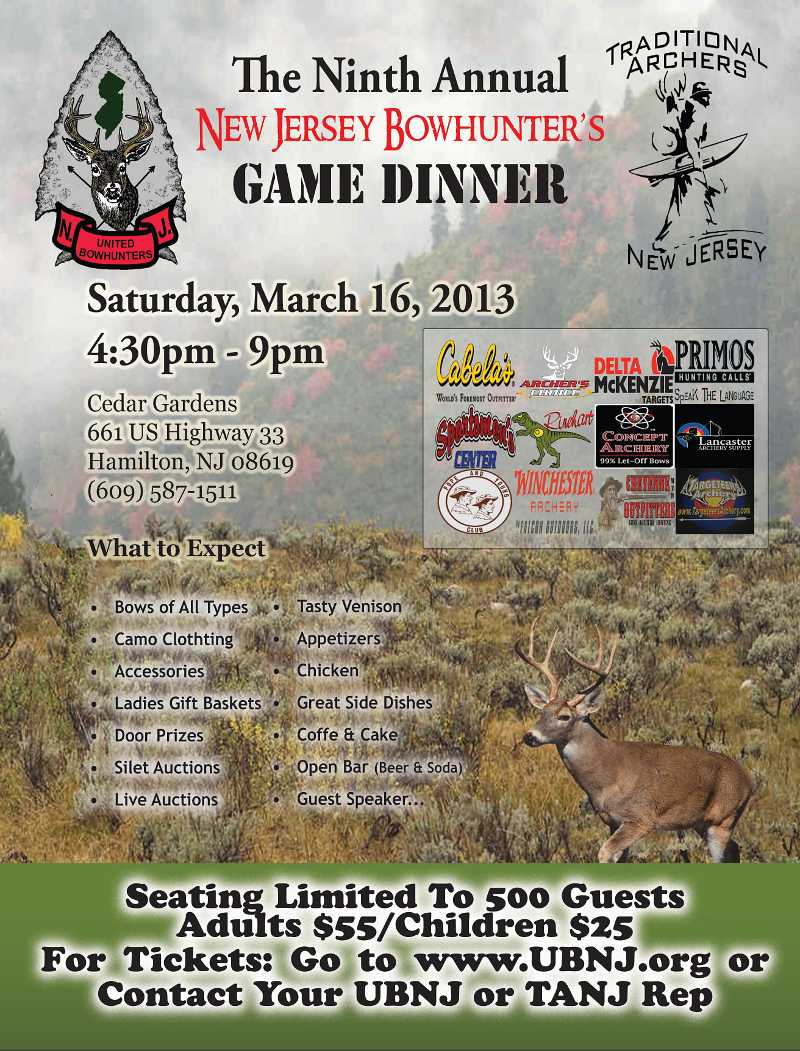 ---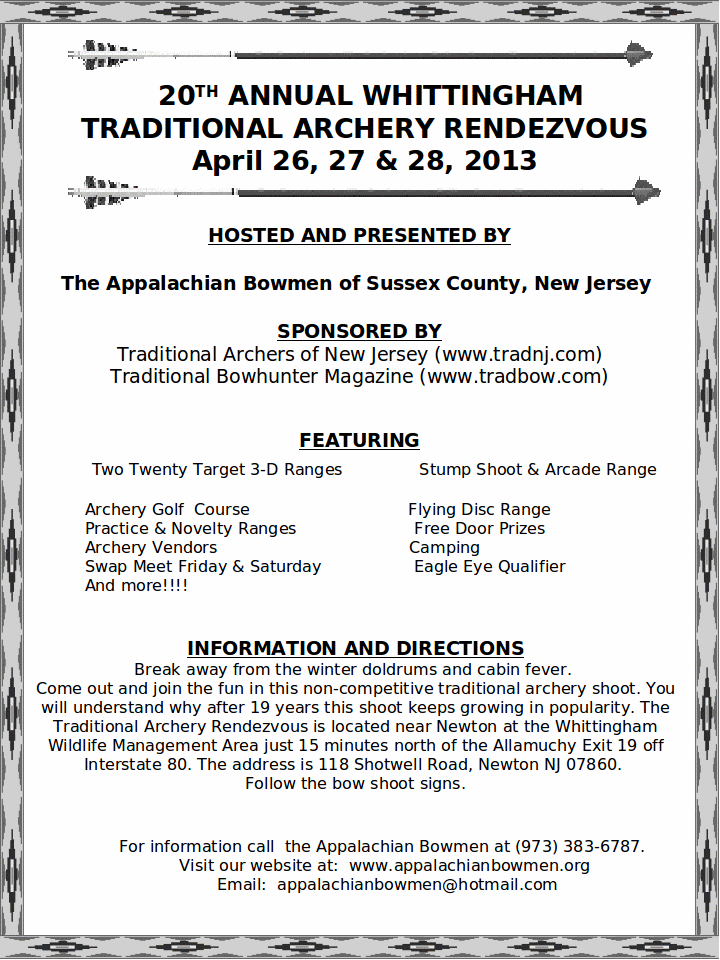 ---
---
First Lady Mary Pat Christie

Please accept our T.A.N.J. organizations donation for $100 to the Hurricane Sandy Relief fund that you and Gov Christie set up to help the victims of Hurricane Sandy. In the past month our outdoor sportsman organization The Traditional Archers of New Jersey of Middletown, N.J. along with our sister organization the Black Knight Bow Benders Archery Club of Jackson, N.J. have donated over $600 in supplies to help the victims of Union Beach which as we all know Hurricane Sandy brought unthinkable devastation to this area destroying homes & businesses.

We have donated in the last few week's clothes, food, brooms, shovels, rakes, mold cleanup spray, garbage pails, maskS, axes & garbage bags to name a few items. We are asking our membership this week again to step up and help donate funds so that we can purchase additional supplies. Next week we will be donating a pickup full of new Sweatshirts to residents and Union Beach Fire Dept and other hard hit areas to hand out to those in need, donated by Jennifer Scaccia of Twisted Stitches of Upstate New York that wanted to help out the victims of Sandy.

Since Sandy hit we have been in contact with Jennifer Nance who we met at the Union Beach Fire Dept. We know that she has done an outstanding job managing all the donations that they have been receiving at the Fire Dept building. She has been working non-stop every day since the day after Sandy struck. Many of us reside in Monmouth and Ocean county and even though we along like many others were also without power for more than 12 days we still came to assist those in need and will continue to do so.

There is a long road ahead for everyone especially with winter season approaching and we are urging other organizations and individuals to support our friends, neighbors and communities impacted by the storm.

"No Retreat - No Surrender - We are Jersey Strong"

Sincerely,
Gerry "Doc" DeCaro
President
The Traditional Archers of New Jersey
20 Spruce Drive
Middletown, N.J. 07748

Email-dadocman47@gmail.com
Web-www.tradnj.com
Web-blacknightbowbenders.com
Home - (732) 957 1960
Cell - (732) 673 2065


---
TANJ Annual "BOWTOBERFEST"

3D Shoot and Swap Meet

To be held at the WaXoBe Archery Outdoor Range
53 Major Road, Monmouth Junction, N.J

Sunday Oct 21st, 2012
Registration opens 7:30 A.M.

TANJ will be holding a 3D shoot this coming Sunday, Oct 21st. at WaXoBe, Monmouth Junction N.J. (3/4 mile from Route 1 North). All the 3D Targets are already set up and this is a fun shoot for all. Don't forget as always Archery & Outdoor Flea Market Sale- bring your Traditional or Old Wheel Bows, Arrows, Camo & Camping Equipment to sell or barter at no charge, free to all ! All Archers must register in order to shoot sell or barter! Look in that Attic or Garage! What a great way set up your bow for hunting or target shooting and if you just like just to fling some arrows equipment will be available. WaXoBe will have their kitchen open for Breakfast and Lunch as always ! Great food & Drink the entire day.

More Info- www.waxobe.com for Directions!

Gerry DeCaro TANJ President
(732) 957 1960 home
(732) 673 2065 cell




---
---
Dear Mr. Tully and members of the Gutyankers,

Thank you very much for the new PSE Recurve with the extended limbs. I am shooting much better now compared to my other bow. I can't thank you enough for the donation. This past weekend, I worked with the Boy Scouts, using the new bow to demonstrate proper form and technique at the Monmouth County Fall Camporee. I plan on using this bow to train for competitive archery. My dream is to compete in woman's bare bow competition and eventually the Olympics. I also plan on being an assistant archery instructor at Camp Sacajawea next summer for the Girl Scout archery program. I practice as often as I can in my backyard and at the Blacknights Range. The donation of the bow and quiver and all of the many hours of instruction time by Mr. DeCaro are greatly appreciated.

Sincerely, Meghan Casper - age 14, member of TANJ and Blacknight Bowbenders.


---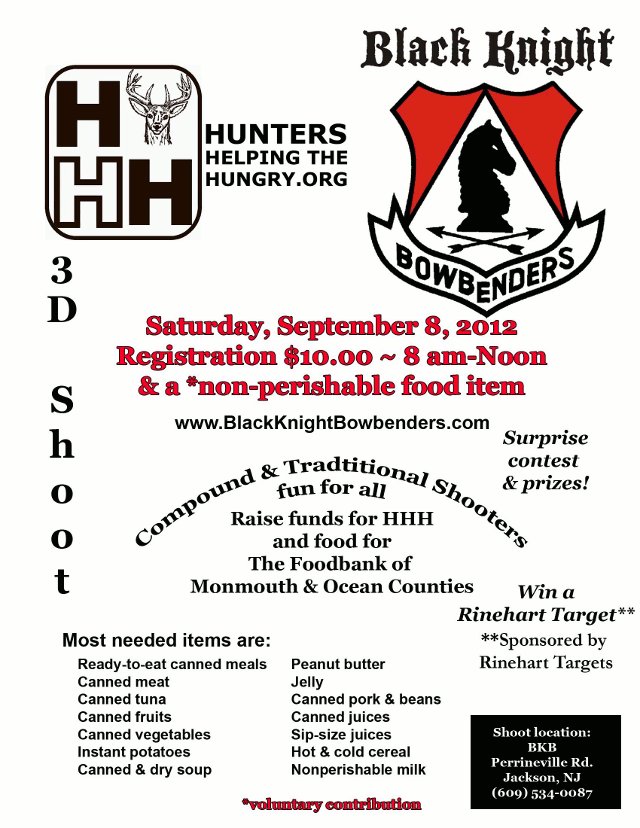 ---
TANJ members and Friends of the Stickbow,

Here is 3 pictures of a Silver Stag Hunter model knife made in the U.S.A. that T.A.N. J. again graciously donated. It was designed by Irene Bowers after many conversations with her over the phone during the last few weeks.This one of a kind work of art is for the Big Foot -"Lastman Standing" winner .The event will be held next Sunday July 15th.

The Lastman Standing starts Sunday 11:30 A.M. and anyone can enter and win. The format is : that you shoot two arrows at marked distances at paper targets 15-35 yds+ at the Black Knights practice range. The top scorers move on to the next rounds and unmarked distances. After every round those shooting low scores will be eliminated. I have been talking to many stickbow shooters in the last few weeks who are practicing for the event and after you see the attached photos we hope to have a record turnout and standing room only audience to cheer us on.

T.A.N.J. & B.K.B will be having our annual Texas-Wac-Um both days at the kids practice range and have many great award prizes. We are looking for any item that you would like to donate. This easy contest is open to all stickbow and compound shooters- 3 shots for $5 at 12.5 yards (wow need a range finder?)hit the playing cards on the target butt 3 times you name will be entered to win 3 times. The drawing will be on Sunday at 2 P.M.

You do not need to be present to win. Proceeds from the Texas-Wac-Um shoot will donated to a charity towards their youth archery program and will be from the T.A.N.J. & Black Knight membership.

Good Luck!

Doc DeCaro
President, TANJ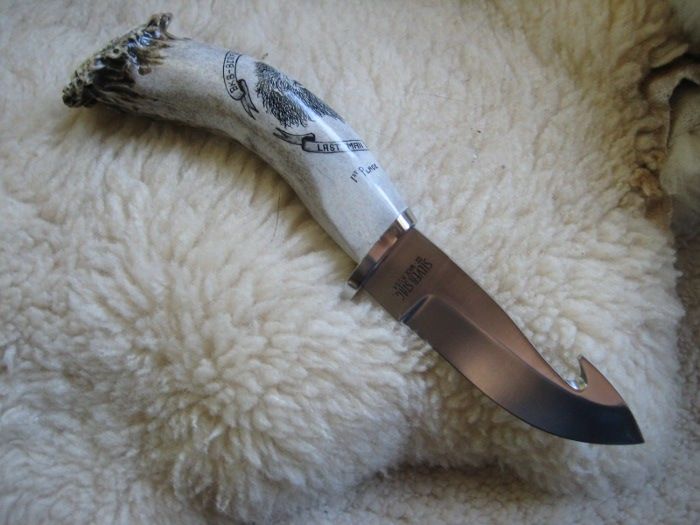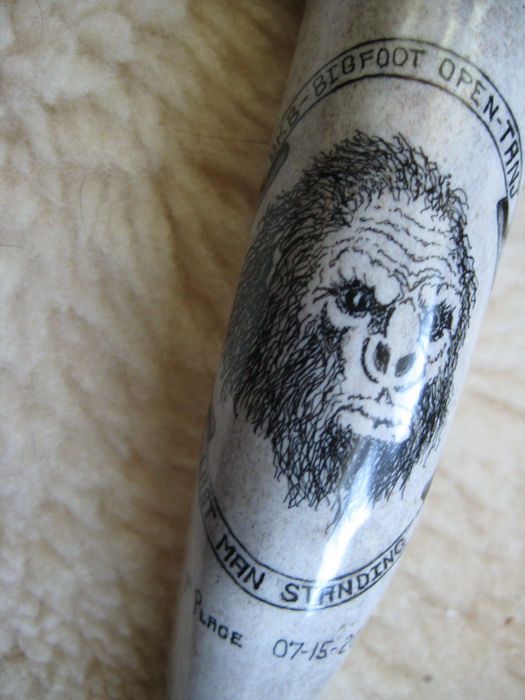 ---
Council and Members,

I wanted to thank everyone on the beautiful one of a kind knife that was presented to me by our VP Ron Ellison at our 19th Annual TANJ Whittingham 2012 meeting on behalf of our council and membership.

Later that day I handed it to Irene Bowers to design. She told me that there was only a few small open areas that she could work with on the Mule Deer Antler and when I return home give her a call.

The knife was one of her Silver Stag 11" Bowie Knife but with a Damascus blade along with a Mule Deer Antler Handle.

After a couple of phone calls to Irene I decided to have her etch the TANJ "Man Walking" logo along with deer tracks on the left side of the handle walking all the way to the back to butt.

I asked her for only one single deer track on butt end and on the right side handle I would like etched inside an Eagle Feather "President TANJ 2007-2012 " she stated "sport Doc can't the council wanted "El Presidente" and those were her only orders the rest would be whatever I wanted.

God Bless Everyone -

My Brothers and Sisters of the Traditional Bow

Gerry "Doc" DeCaro
El Presidente
TANJ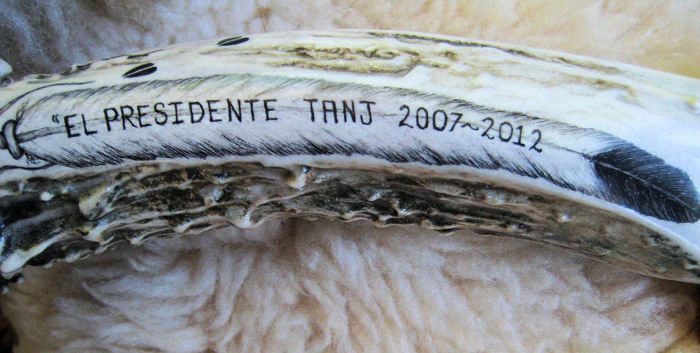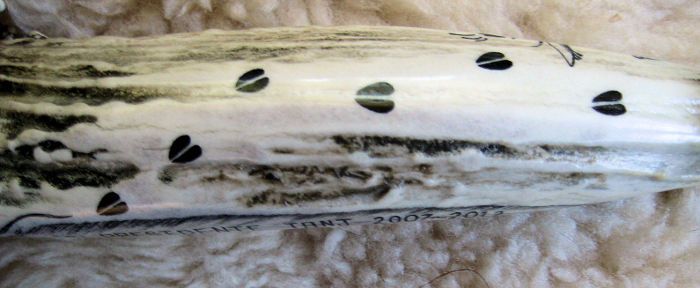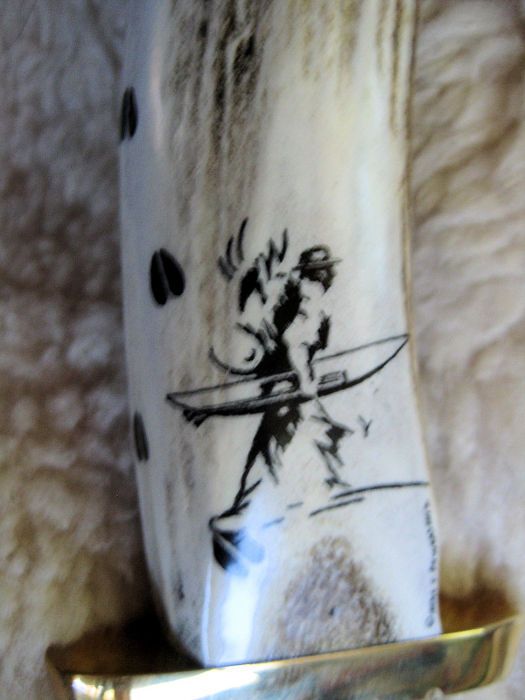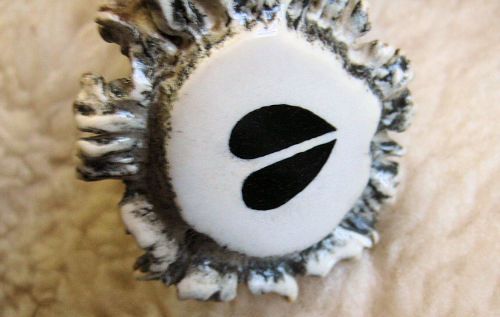 ---
---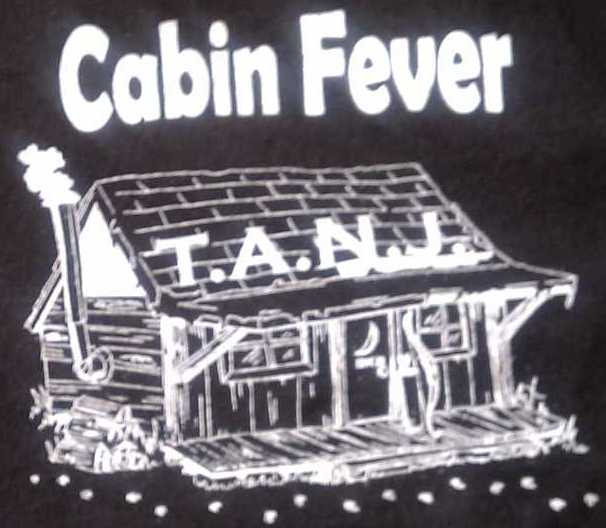 TO MY FRIENDS IN BKB AND TANJ,

THIS PAST WEEKEND SAW A GREAT EFFORT BETWEEN TANJ AND BKB TO GET THE COURSES READY FOR THE SUNDAY SHOOT. EXCELLENT COOPERATION AND TEAM WORK.

THE EFFORT PAID OFF TEN FOLD. ONE HUNDRED AND TWENTY FIVE PAID SHOOTERS AND APPROXIMATELY ONE HUNDRED AND FIFTY PEOPLE AT THE EVENT. THIS IS A NEW HIGH. IN FACT THE SINGLE DAY HIGH FOR BIGFOOT IS ONLY ONE HUNDRED AND THIRTY WITH A LITTLE LUCK CABIN FEVER WILL CATCH THAT NUMBER NEXT YEAR.

GREAT EXECUTION AND TEAMWORK BY EVERYONE IS WHAT KEEPS THE ARCHERS COMING BACK. THANKS TO ALL BKB MEMBERS AND OUR SISTER CLUB TANJ MEMBERS WHO MADE THIS A GREAT EVENT OVER ONLY A FEW YEARS.

THANKS AGAIN, PAUL W.
BKB PRES.


---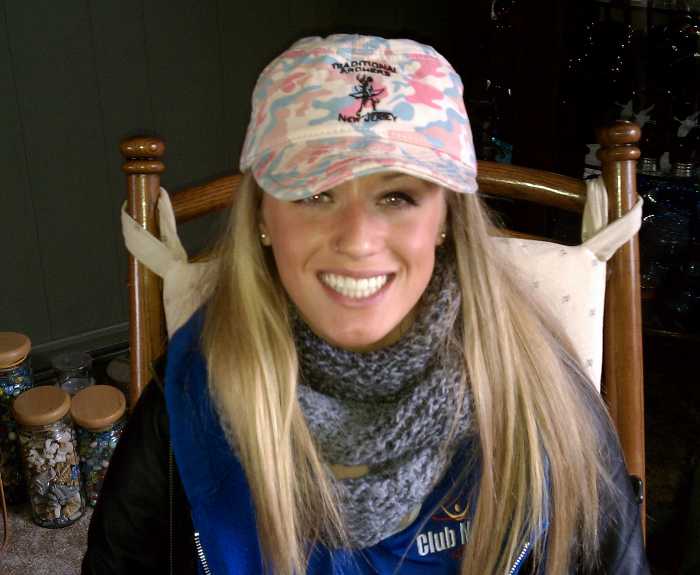 Randi Schaffer models the the new TANJ Pink Camo hat for women!
---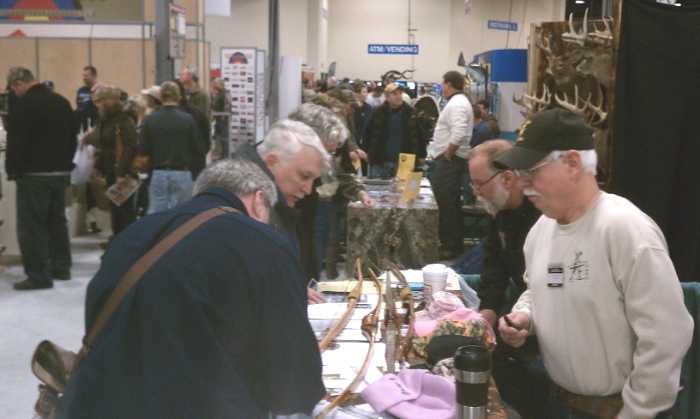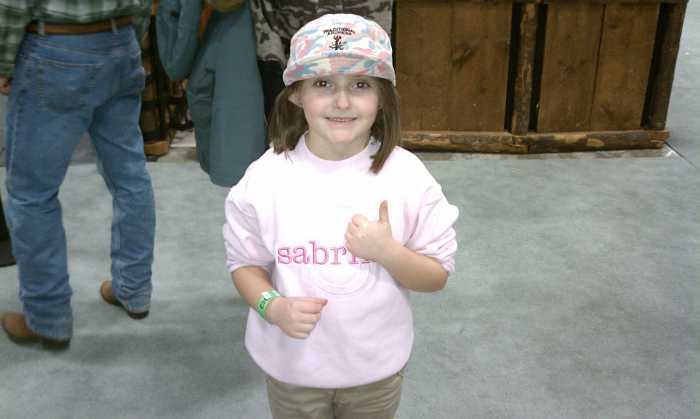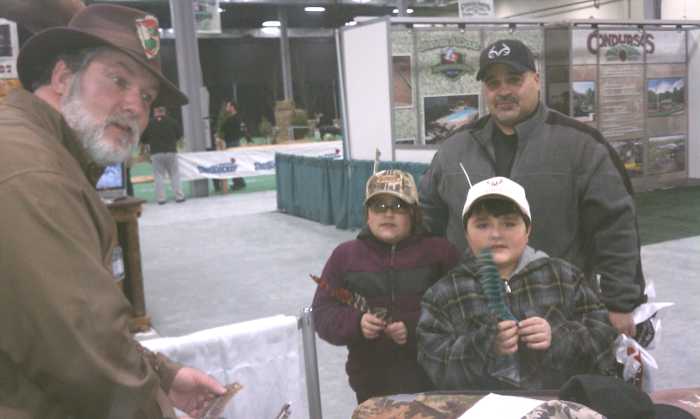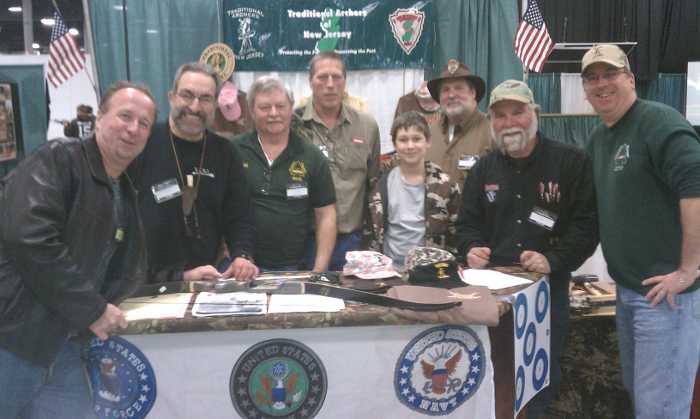 The TANJ Council and members in front of our Booth
at the Garden State Outdoor Sportsman Show

.


---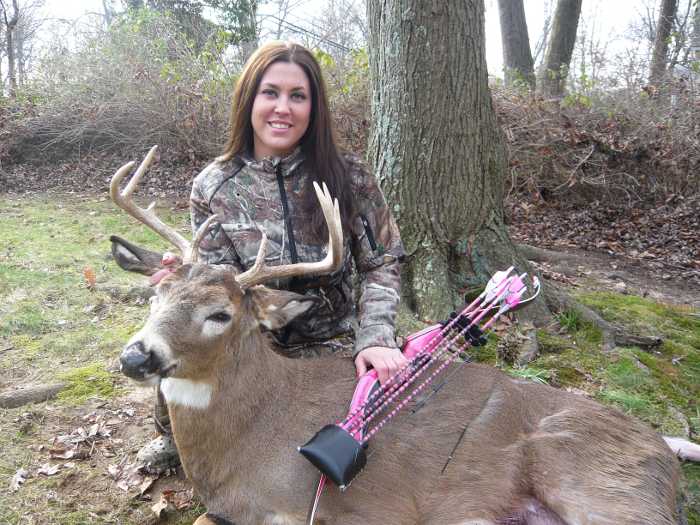 TANJ Secretary kate Pachuta with her 2011 harvest taken with a custom Bob Lee Bicentennial, 45@26, 58". A 15 yard shot for this fine buck, congrats Kate!

Gerry "Doc" DeCaro
TANJ
President


---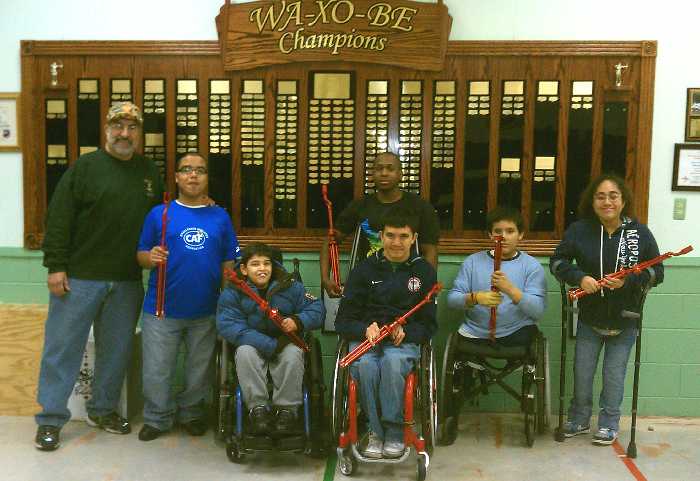 The Traditional Archers of NJ T.A.N.J. on Saturday December 3rd,2011 donated a another box of Cartel red custom aluminum anodized bow stands to the North Jersey Spinal Navigators Archery Team during their weekly practice at WaXoBe Archery Club and Range, Monmouth Junction N.J.

Gerry "Doc" DeCaro
TANJ
President


---
TANJ 1st Annual Turkey Trot 3D at WaXobe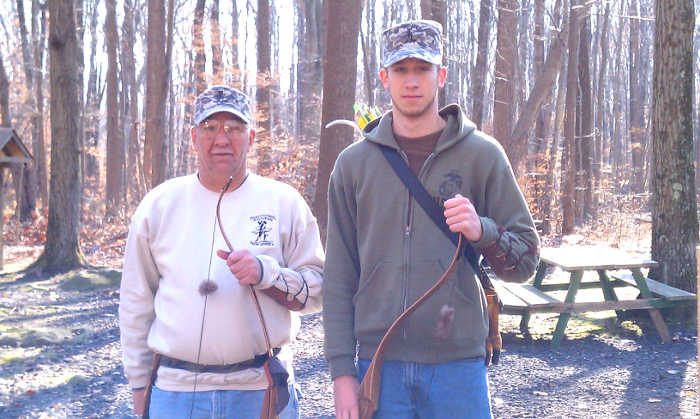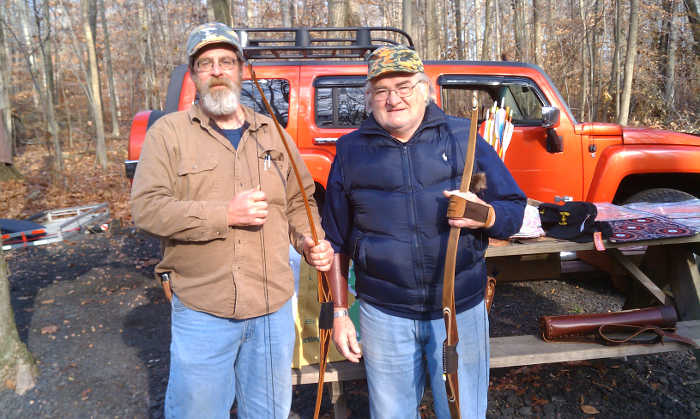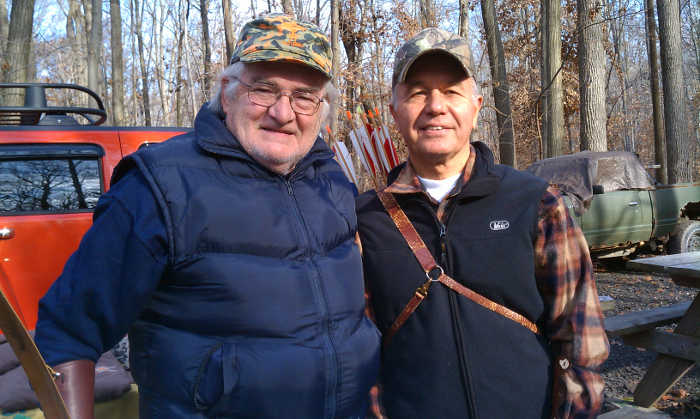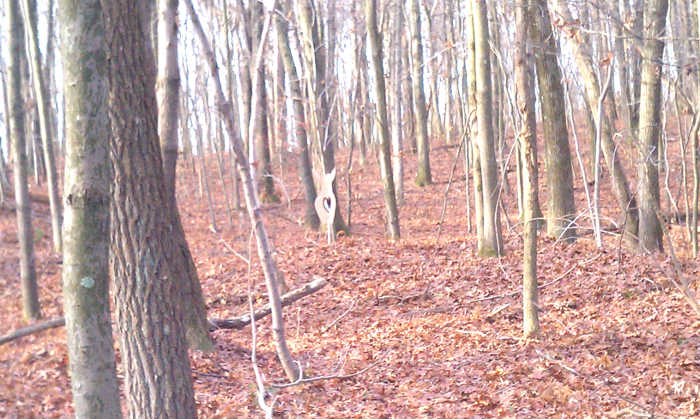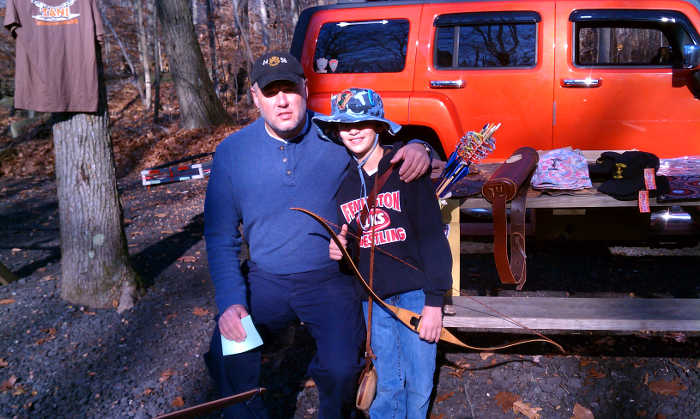 ---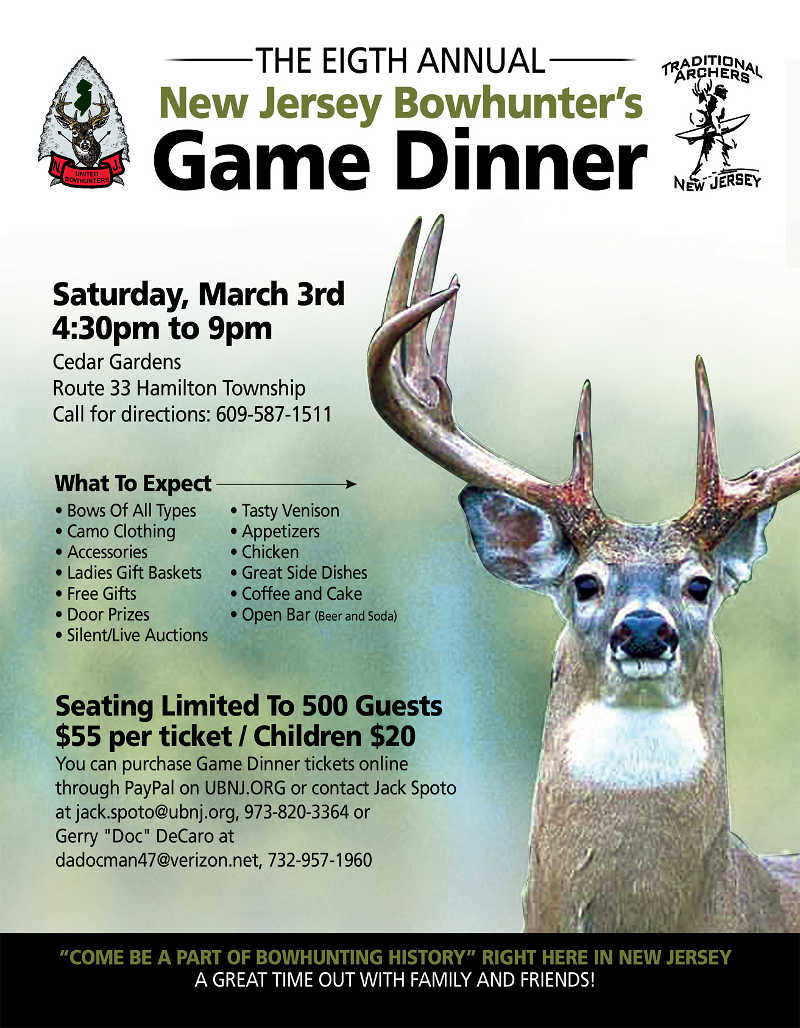 ---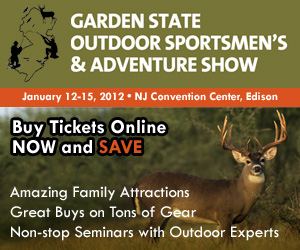 TANJ Council and Friends,

The upcoming Garden State Outdoor Sportsman show will be held on January 12th-15th, 2012. As in the past The Traditional Archers of New Jersey will have a booth next to the NJ Deer Classic. Please see the attached GROSS Ad that is already on our website and will be in our upcoming TANJ Winter 2011 newsletter.

If you know of any organization, club or outdoor related company who would like to have a booth here is their contact information on the upcoming show:

Jennifer Bain
Met Event Group
201-355-0641
jennifer@metevent.com

TANJ also reserved a booth for the end fall of next year September 28-30, 2012.

Please Save these Dates! Mark your Calendars Now!

TANJ will need your help and support as in the past. Any TANJ member or friends wishing to volunteer at our booth please contact our TANJ 3-D Shoot and Event Director Mr.Tom (Sarge) Robinson via email at bldtrailer@aol.comso that he can set up a work schedule for the January 12-15th Outdoor Show.

As in the past we will need help at our booth Thursday Jan.12th, Friday Jan.13th, Saturday Jan.14th and Sunday Jan.15th ( New Jersey Deer Classic Awards in afternoon)

The Met Event Group will be hosting the Atlantic City Outdoor Sports Show featuring the Fall Archery Classic.That weekend should draw many Target, 3-D Archery and Bowhunters from New Jersey who are not presently members in any of our organizations.

Good luck,

Doc DeCaro
TANJ President


---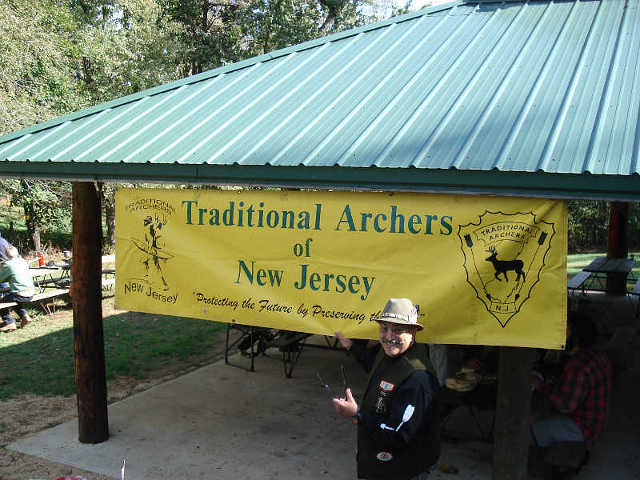 Boy Scouts Camporee - Quail Hill 2011
---
Traditional Archers of New Jersey

On Saturday October 8, 2011 my family and I attended an event for wounded military warriors that was held at Central Jersey Rifle Pistol Cub Jackson, New Jersey.. The Traditional Archers of New Jersey sponsored the archery exhibit and worked with each individual during that long hot day.

I would like to send a special thanks to Tom Robinson who mentored my son Elijah through approximately 3 hours and 100 arrows (plus numerous trips down range to retrieve the arrows) on Saturday.

The devotion and compassion that Tom and Doc DeCaro showed to all the soldiers and their families will never be forgotten.

Sincerely,
Master Sergeant Vera Bland
Wounded Warrior
United States Army
---

Bent Creek is NOW Open for the Season!

Hope everyone had a GREAT summer!
Back to school, back to routines,
back to Pheasant Hunting! A few of our Specials are listed below!
Make your reservation today!

BENT CREEK UPLAND HUNTING PRESERVE
Allentown, New Jersey

PHEASANT SPECIALS

10 Pheasants (1-2 Hunters) $ 235.00
15 Pheasants (1-4 Hunters) $ 325.00
30 Pheasants (1-4 Hunters) $ 550.00
Available Sept. 15 thru October 31, 2011


BENT CREEK'S CUSTOM PRIVATE TOWER SHOOTS

Our Private Custom Tower Shoots were a BIG hit last season, 
so we brought them back again for this season!!!  
Schedule yours TODAY!
100 Pheasants, Hunt After the Shoot
$1,500.00 (minimum is 10 Shooters)
You can have 10-24 shooters it is up to you.
Get Your Friends, Family,
Co-Workers Together!

If you want MORE pheasants,
we can do that!

If you want Bird Cleaning or Lunch included, we can do that too!

Just give us a call at 609-259-9501, and we will be happy to get a quote
together for you and your group! Make your reservation TODAY!

Thanks,
Randy & Michele Gravatt
Bent Creek Game Farm, LLC
Upland Hunting Preserve
www.bentcreekpreserve.net

609-259-9501

---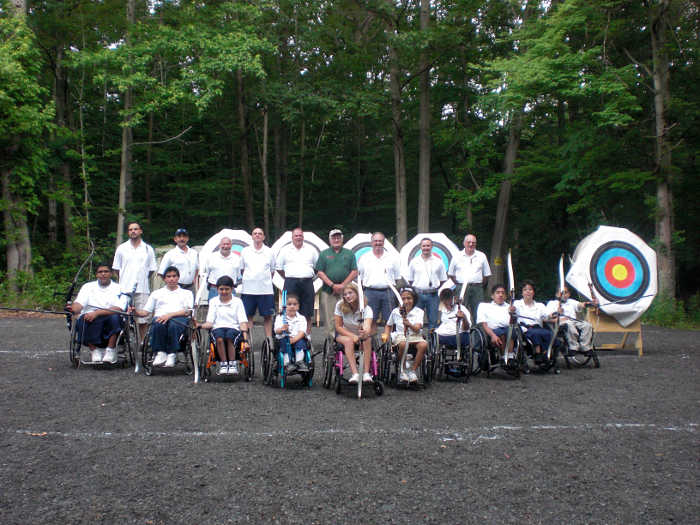 Dear Mr. DeCaro;

On behalf of the North Jersey Navigators and the Wa-Xo-Be Archers we would like to extend a very warm thank you to the Traditional Archers of NJ (TANJ)for their generosity in supporting our organization again and for your donation of the Pacific Bow Super Target Butt and a dozen GreatTree Archery Deluxe Aluminum Bow stands from your T.A.N.J Al Reader "Archery for our Youth Program". This Target Butt and the Bow stands will be now be used during our "Adaptive Archery" Program for children with disabilities run by Wa-Xo-Be Archers. We also appreciate your time with the kids every Saturday and they value your advise.

The North Jersey Navigators is a non-profit organization and our mission is to develop, implement and coordinate special programs to help children with disabilities increase their mobility skills competencies, social skills, self-esteem, and activity levels; as well as; to inspire children with disabilities to achieve an increased participation in all physical activities. Our program is comprised of a wide range of recreational and adaptive sports that have been specially designed to develop and enhance the mobility skills and athletic skills of children with disabilities.

Our goal is to continue to excel in Archery as we have done in other adaptive sports; a be able to compete in archery events at International level representing the USA. As a result of our excellent performance, over the past three years several athletes and members of the coaching staff from the Navigators have been selected as members of the Jr. USA Teams that participated at the 2008 and 2009 IWAS Junior World Championships that took place in New Jersey and Switzerland; respectively. The performance of the three Navigators' athletes representing the US competing in track and field events at the IWAS Junior World Championships in Switzerland was outstanding and they netted a total of 11 medals (7 Gold, 3 Silver, and 1 Bronze); and one of the athletes broke the 100 meters junior world record in his class (T52 - Under 16 years-old). Last Year five members of the Navigators participated in the 2010 Junior USA Team at IWAS Junior World Championships in Czech Republic; August 20-29, 2010.

Thank you for your continued support and for allowing us to continue to expand our program to more eligible children with disabilities from the states of New Jersey and New York. We'll keep you informed of our progress and include you in our contact list of organizations dedicated to the welfare of people with disabilities. We wish you must success in your efforts to serve the community. The North Jersey Navigators is registered with the State of New Jersey and qualifies under the IRS tax code section 501(c)(3). All donations are tax-deductible to the fullest extent allowable under the law. The organization's Tax Exempt ID number is 22-0007488.

Sincerely,
Jimmy Cuevas
North Jersey Navigators Adaptive Sports
Wa-Xo-Be Adaptive Archery
---

*** NEW JERSEY WILD OUTDOOR EXPO ***
September 17th and 18th, 2011, Jackson, NJ

Members and Friends,

TANJ will have a booth and will be demonstrating Traditional Archery both days. We know its the second weekend of Bowhunting season but we are asking you to give up a few hours on Saturday or Sunday for our youth and your TANJ organization!

We need members to step up and help man our booth help teach kids archery, and/or sell our merchandise, and hopefully get people to join our organization.

Below are directions and the itinerary for the weekend ...

TANJ sponsored TANJ member Chris Hurt Archery Trick Shooter for Saturday 11 am & 2 pm show!

Please note that TANJ will be set up in the Shooting Range area and Chris Hurt's demos will be in the .22 Rifle Range area.

Anyone that would like to volunteer please contact Tom Robinson (not me), his email is bldtrailer@aol.com.

PDF files - Expo Agenda ~~~~ Expo Directions

Expo website - www.wildoutdoorexpo.com

P.S. - Your TANJ summer newsletter will be going out this week and the Fall newsletter will be arriving by Oct 1st. We would like to thank our new newsletter Editor Brian Koch and his daughter Portia for all their work and wish them well. Thanks for stepping up!

To All Members - There will not be a Muzzy type Knock-r-Block at Black Knights on Saturday Sept 17th due to no one signing up and or inquiring about the event since Whittingham. Please help! We can't do these events alone we need your help!

We will plan one for next spring as promised but again need your help! Lets get involved!

Gerry DeCaro
President, TANJ


---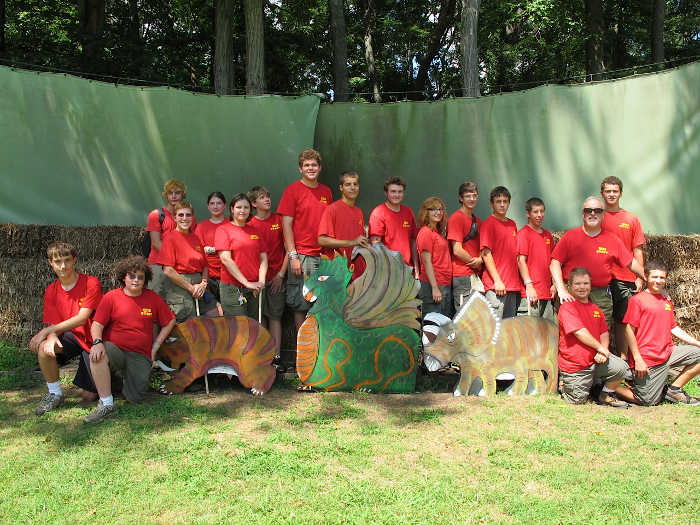 TANJ donated three 3D Rubber Dragon Sabre Tooth Tiger & Dinosaur to the BSA Monmouth County Quail Hill Scout Reservation. Here is a picture of the staff behind the kids targets. These were made by Tom Robinson Shoot Coordinator, Mad Artist and Target Builder. These are also for sale if a parent or guardian would like to purchase for their backyard. Monies generated will go to material to future donation to archery ranges.

Gerry DeCaro
El Presidente


---



A Time of Sorrow


Mary DeCaro, Mother of TANJ President Gerry "Doc" DeCaro, passed away on August 23, 2011. In lieu of flowers donations can be made to Hospice Visiting Nurse Services of Staten Island, NY Prayers and sincere condolences to Doc and all his family.



A Time of Support and Need


A message from Tom Robinson, TANJ Shoot Coordinator ...

"Guys this is where the rubber meets the road - we need someone to step up and FILL Doc's shoes for a shoot, OR WE WILL BE FORCED TO CANCEL KNOCK A BLOCK on September 17th. Doc normally runs the shoot, but due to his need of a surgical procedure for his heart, and family crisis (his loving Mother's death) he's unable to run the Knock a Block event. I would run it BUT I'm already running the TANJ booth and kids shoot at the NJ state EXPO at Colliers Mills on September 17th & 18th.

We need someone to contact Paul Wins Black Knights Bow Benders president and I if you can help. Doc has done so much for others NOW IS THE TIME TO SAY THANK YOU AND SHOW HIM WE CAN STEP UP TO THE PLATE and make him proud!! Paul Wins can be reached at Black Knight Bow Benders - www.blackknightbowbenders.com - or e-mail crkd_arrow@juno.com

Our President is out of action for a little while, so I need to ask and see if anyone can help with running the TANJ booth and kids range on either day (9/17 or 9/18). We will be show casing TRADITIONAL ARCHERY SKILLS making fletching from feathers, cresting, bow string making and having a small kids trad archery range with dinosaur targets. We want to show what makes traditional archery different from those other weapons, that it is an ART form and that the journey is as important as the result (yes I know that the 9/17 date is the same day as Knock a block).

PLEASE! If you want to help, contact me ...

Email - Bldtrailer@aol.comBldtrailer@aol.com
Phone -



Thank you, Tom Robinson"

---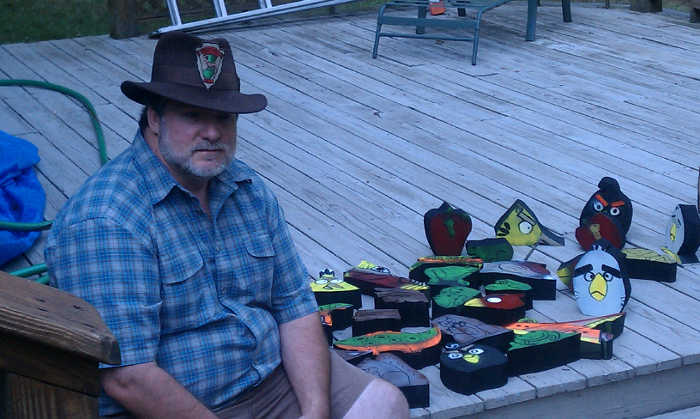 As you can see, TANJ Shoot Coordinator Tom Robinson had some time on his hands and filled my deck and garage with 3 D kids targets! ! Doc.
---
"Eagle Eye" 2011 Winner - Ron Swartz!
Ron (from
KME Sharpener
) bested a tough field of archers at the 2011 Denton Hill Eagle Eye shoot to come out on top! Congrats Ron!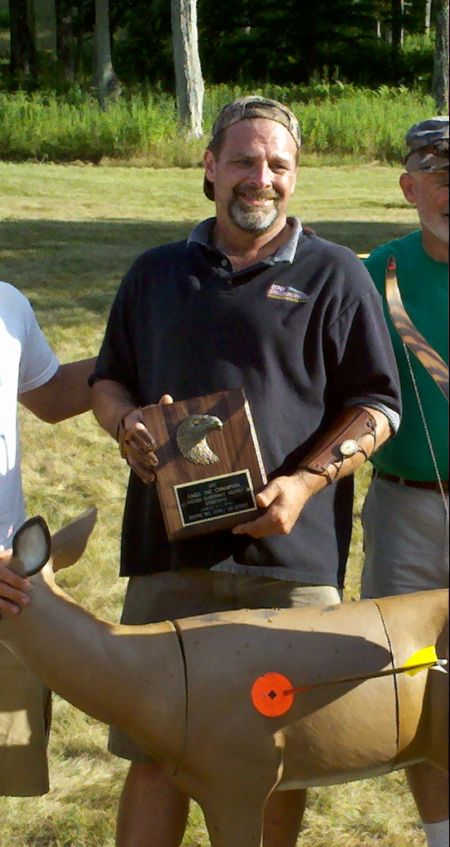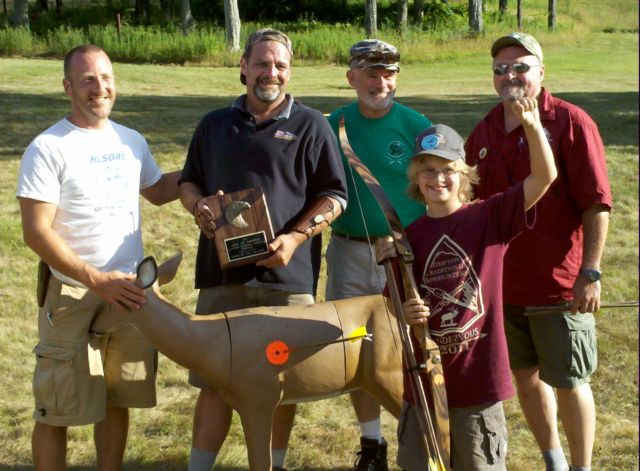 And congrats to Ron's son, Ethan, for qualifying for the kid's Eagle Eye shootout - way to go!!!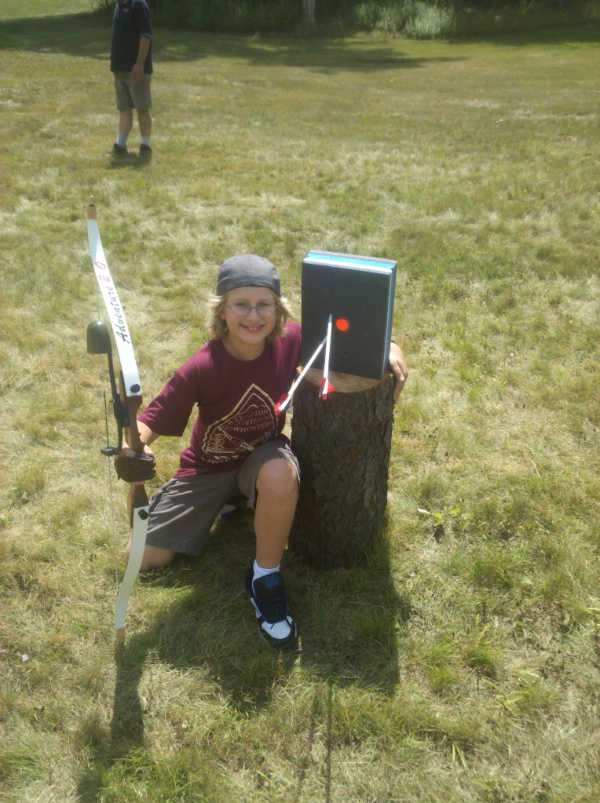 ---
Last Man Standing 2011
---
UBNJ/TANJ Pics from 3D Monday 6/16/11 at BKB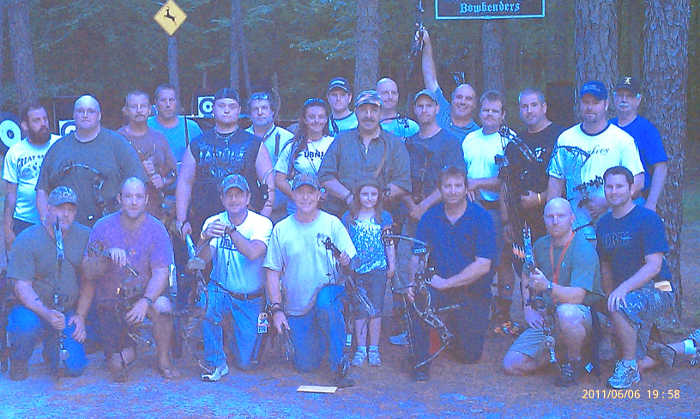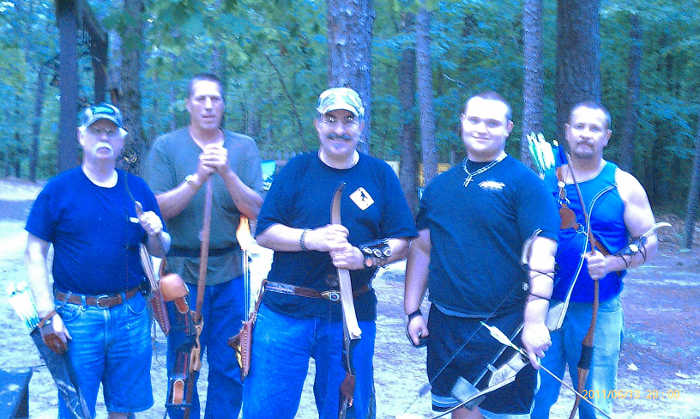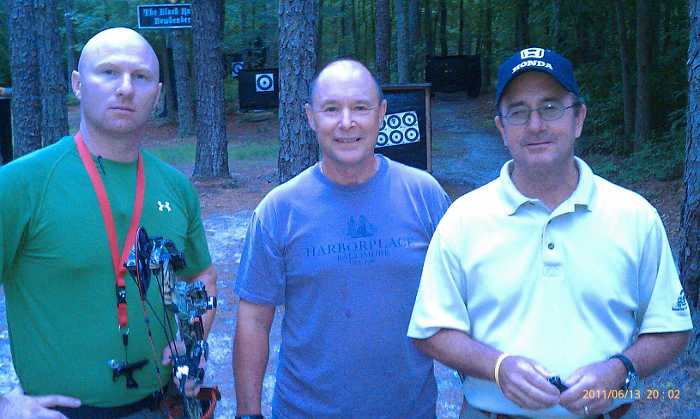 ---
"Dear Mr. DeCaro and The Black Knight Bowbenders Archery Club,

On behalf of Girl Scout Troop 207 in conjunction with the Monmouth & Ocean County Girl Scout Council I would like to personally thank you for the most delightful archery event which you and the Black Knight Bowbenders Archery Club hosted for our girls on May 12, 2011. As troop leader I always try to find activities that the girls would not ordinarily engage in and this archery lesson fit the bill to a tee! All the Girl Scout moms who attended the program where very impressed with the one on one instruction given by the club members and raved about the club facility as well. Needless to say all the folks who attended the archery event had a good time, Great Job! I have attached a few pictures which you can feel free to use in the club news letter as all the Girl Scout parents have given consent.

Thanks Again,
William Patterson
Activity Troop Leader"


---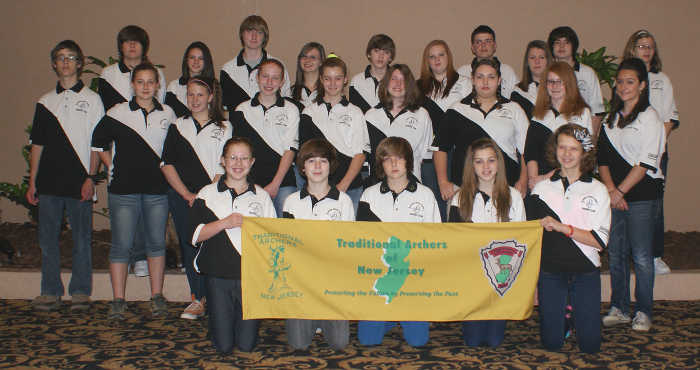 The Oxford Central School Archery Team traveled for the 4th year to Kentucky to compete in the NASP (National Archery in the Schools Program) National competition. TANJ was a co-sponsor and again donated $500 in addition to 26 TANJ patches for their team shirts.
---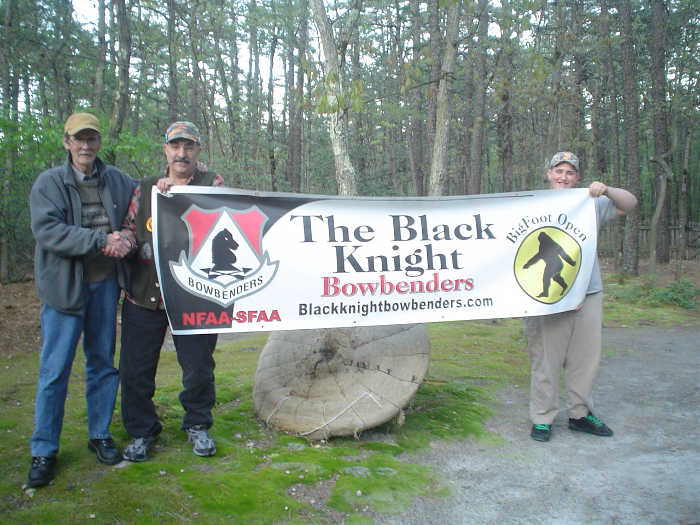 On May 5th during their May 5th. meeting the TANJ surprised the Black Knight members with a custom made banner for their Jackson NJ range. It was to thank Paul Winans BKB President and his membership for their continued support of TANJ throughout the years.

In picture: Paul Winans, Doc, Eric Anthony.